As Fans Build A Team Of Their Own...Yokohama Readies For The World Cup
Sebastian Moffett
For most of his 41 years, Tomio Tsujino was a typical Japanese sports fan. As a kid, he liked baseball. As a young adult, he followed professional wrestling. And when the J. League, Japan's first professional soccer league, started in 1993, he fell in love with soccer. That relationship threatened to end in tears in 1998, when his money-losing team, the Yokohama Flugels, was closed down. So he and other fans took radical action. They created Japan's first-ever people's soccer club, owned and run by members. Tsujino, a failed TV and radio writer, became president. "I am not a natural leader," he explains. "But I was really angry and wanted to do something."
In mid-December, after two years in the minor Japan Football League (JFL), Yokohama FC will be formally admitted to the J. League--albeit J2, the second division. The achievement is remarkable for Japan, where sports and entertainment are, more than elsewhere, top-down affairs: Large corporate sponsors field the teams, and fans' opinions hardly matter.
Yokohama FC may not signal a revolution--although a group in Shizuoka is already trying to emulate its model--but it does indicate that some Japanese would now rather run their own show. "Baseball always seemed like the fans were supposed to go along gratefully to watch something corporations had made for them," says Tsujino. "But sport should be about the community."
Until recently, most Japanese sports teams were run as branches of big companies' marketing activities. Professional baseball teams are mostly named after their owners--such as the Nippon Ham Fighters. The J. League was supposed to change all that by naming teams after hometowns. But as attendance fell and Japan's economy tanked, Flugels owner All Nippon Airways (ANA) announced the team would "merge" with Nissan-owned rival Yokohama Marinos. The lesson: No matter what the league's ideals, owners still regarded them as marketing tools to be jettisoned if necessary.
AUTO PARTS. Tsujino used as his model the socio (member) system of Spain's FC Barcelona. Yokohama now has 3,004 members and this year attracted an average home attendance of about 4,000--far higher than for any other JFL team, and more than many in J2. It also won all its games, partly thanks to a famous coach: Pierre Littbarski, a World Cup winner with West Germany in 1990. "In Japan, players want to learn something. So in one year here we could make a big improvement," says Littbarski.
Unfortunately, he won't be there next year. Littbarski announced in November that he's probably leaving to coach in Germany. "I wanted to take the team to J1," he says, "but there isn't enough money to compete properly." Indeed, revenues this year were just $3 million, roughly a third each from membership fees, gate receipts, and sponsors such as Citibank and German auto-parts maker Bosch. The club lost money, and Tsujino himself resigned as president in November to take responsibility. But he still believes the socio model will work in Japan: At this stage, "it's experimental, trial and error."
A reminder of how much more comfy life is under the umbrella of Japan Inc. looms outside the window of YFC's cramped office, in the form of giant Yokohama International Stadium. That's where the merged Nissan-ANA team plays--and the venue for the 2002 World Cup final.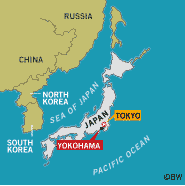 The idea to hold the final in Yokohama followed a 1980s plan to revive the city's image. Yokohama has long lived in the shadow of giant neighbor Tokyo. So planners decided to put the city on the map with Minato Mirai 21, a waterside redevelopment project that now houses multinationals, hotels, shopping centers, and the Pacifico Yokohama conference center. The World Cup final was the cherry on the cake.
Despite the decline in J. League attendance, there's no danger of sparse crowds at the World Cup. The Japanese love big events, and the national team always plays to full houses. "The Japanese are most interested when Japan as a nation is competing," explains Kazumi Horiguchi, of the City of Yokohama's World Cup Soccer Promotion Div. "But soccer has not really taken root yet in Japan, which is why not enough people go to watch their town's team." And why Yokohama FC has a long struggle ahead.