U.S.: Be Patient, Investors. The Fed Certainly Is
Policy decisions are on hold until the labor market loosens up
by
Prior to the Federal Reserve's Nov. 15 policy meeting, many investors were looking for signs that Greenspan & Co. were thinking about cutting interest rates. Judging by the Fed's statement after the meeting, some of that anticipation was obviously wishful thinking. The Fed said that the possible inflation threat from tight labor markets and higher oil prices was still too great for it to relax its guard just yet.
However, despite the hard edge of the Fed's words, more and more evidence supports the view that the outlook is falling into line with what the central bank wants to see. The Fed even suggested that the softening in business and household demand, along with tighter financial conditions, could result in a slowing of the economy's growth rate to a pace below its so-called noninflationary speed limit, generally taken to be about 3.5% to 4%.
But it will take a while longer for the soft landing to fall into place. Although consumers have dialed back their buying a couple notches right at the start of the important holiday season, credit is still flowing easily to households, and housing demand is actually strengthening a bit (chart). The Fed at least can count on foreign trade to subtract from future growth. The trade gap widened sharply in September, as imports jumped and exports fell. If economies elsewhere in the world slow by more than the U.S.'s next year, foreign trade will continue to be a drag on U.S. growth.
Even if growth slows to 3%, though, that's not a pace that will quickly relieve what the Fed describes as "the unusually high level" of utilization of labor resources. In fact, the Fed's statement makes it clear that policy decisions are on hold--and that rising inflation is a threat--until there are concrete signs that overall demand has slowed enough to ease the drum-tight conditions in the labor markets.
INVESTORS CAN TAKE HEART that some loosening in the labor markets seems likely next year. That's because consumers and businesses are both feeling the effects of tighter financial conditions. For consumers, the brake is coming from the diminished stimulus from the wealth effect, since stock prices generally have gone nowhere for a year and a half. Businesses meanwhile are getting hit with tighter borrowing conditions across a broad front, including banks and both the credit and equity markets.
In particular, the Fed's latest survey of bank lending practices shows that loan officers continue to get increasingly picky about business borrowing in the fourth quarter. The net percentage of domestic banks that tightened their standards for commercial and industrial loans rose to the highest level in 10 years, and that's true for both large and small businesses alike (chart). Still, while conditions are tight, banks are not as stringent as they were prior to the last recession.
However, more than half of the domestic and foreign banks surveyed said they anticipated a further tightening of both loan standards and terms before the end of 2001. And the Fed said a net 60% of large domestic banks reported that the increase in commercial and industrial loan delinquency rates over the past year was "somewhat greater than expected."
INTERESTINGLY, BANKS' ATTITUDES toward consumer lending remain fairly lax. Credit standards for all types of household borrowing were little changed during the past three months. The net percentage of banks tightening conditions for installment loans is actually lower than it was in 1999, and mortgage lending standards have changed little since 1995.
That, plus mortgage rates that are below 8%--down some 70 basis points from their May highs--is a key reason why housing's weakness earlier this year now seems finished. Housing starts declined from an annual rate of 1.82 million in February to 1.52 million in August, but have edged up to 1.53 million in both September and October.
And starts will likely drift up some more, since builders are increasingly optimistic. The National Association of Home Builders' index of housing market conditions rose in November to 65, the highest reading in nine months. The index measures current and expected sales and buyer traffic through model homes, and all of the November increase reflected increasing current sales. So after subtracting substantially from third-quarter economic growth, housing will very likely be at least a small plus for growth in the fourth quarter.
THE STRONG HOUSING MARKET is also exerting some upward pressure on inflation, especially the important service side of the equation. Overall, inflation looks quite quiescent. The consumer price index increased 0.2% from September to October. Excluding food and energy, core prices were also up a small 0.2%.
But compared with their levels of a year ago, both total inflation and the core rate are accelerating (chart). Top-line inflation has, of course, been boosted by the spike in energy costs this year, but the core rate is rising because of an upward tilt in service prices. Core service prices increased 3.5% from a year ago, a full percentage point higher than in October, 1999.
One area where service prices are accelerating quickly is shelter, which accounts for 30% of the total CPI and 56% of core service costs. The cost of shelter rose 3.6% over the past year, up from 2.5% in October, 1999. One reason is that the robust housing market and rising home prices are pushing up actual rents as well as the rents homeowners would theoretically pay if they were leasing out their own homes. This trend won't ease up until the housing market cools off.
Energy, though, continues to be a major worry for the Fed. And it isn't just fuel costs per se that have policymakers concerned. It is what workers will do if fuel costs do not back down. As the Fed's Nov. 15 statement noted, the increase in energy prices "still harbors the possibility of raising inflation expectations." That means that if consumers are still paying big bucks for gasoline and heating oil next year, they will demand bigger pay raises in 2001 in order to keep pace with higher overall inflation. Fatter pay raises will also kick in for workers covered by cost-of-living adjustments.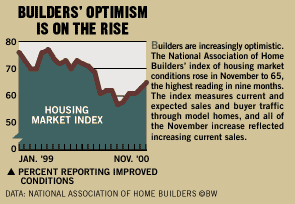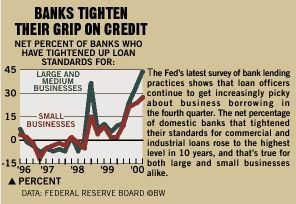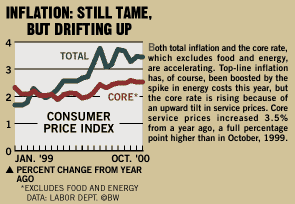 So far in this expansion, pay increases have been largely covered by productivity gains, so they have not been inflationary. But it will be harder to eke out productivity increases when output is slowing. So pay raises in 2001 may force businesses either to mark up prices or suffer on the bottom line.
All this means that investors who are waiting for relief from the Fed's tighter credit conditions are simply going to have to be patient. So far, the soft landing is on track, and nothing suggests that a crash is imminent. When the labor markets start to loosen up, that's when the Fed will think about easing its grip.
Before it's here, it's on the Bloomberg Terminal.
LEARN MORE