Lazard And Mediobanca: Shocks To The System
Two Old World banks face investor revolts. Both are putting up a fight
Gail Edmondson
Anyone with doubts that the days of Old World-style finance are passing needed only to take a look at recent goings-on at two legendary European investment banks, France's Lazard Freres & Co. and Italy's Mediobanca. Once all-but-unassailable, they now both face shareholder revolts, internal power struggles, defections, and forced restructuring of their labyrinthine organizations. And all this is happening under a media microscope that has given the public a closer view than ever before of these historically powerful, secretive institutions.
For most of the post-World War II era, Lazard and Mediobanca have exemplified European high finance. Through their carnets d'adresses--their connections--they masterminded corporate mergers, advised their governments on the disposal of state-owned companies, and helped protect national champions from foreign marauders. And they have a shared history--though the Lazard group, whose origins go back 150 years, has long been a global player, while Mediobanca's arena was Italy. Andre Meyer, who ran Lazard after the war, and Enrico Cuccia, Mediobanca's founder, were allies and pioneers in modern financial engineering. In 1956, Lazard took a stake in Mediobanca. That connection is also unraveling now.
What's at work is a combination of factors. For one thing, such entities as Lazard and Mediobanca are increasingly anomalous in an investment banking world dominated by the global giants, who can offer transatlantic teams of experts and cash to fund transactions they broker. And the opaque style of Lazard and Mediobanca--each holds large and valuable stakes in publicly traded companies through other public companies --is increasingly out of fashion in a world where corporate transparency is expected. But they still house immense resources and are repositories of institutional memory. Here, BUSINESS WEEK looks at both these entities and what's in store for them in a turbulent season of change.
LAZARD
La maison. The house. That's invariably how Michel David-Weill refers to Lazard Freres, the legendary international investment bank that the courtly Frenchman has run for almost a quarter of a century. The term fits the 123-year-old bank's view of itself as an intimate power broker of the corporate high and mighty in both Europe and the United States.
David-Weill professes serene confidence in the business his ancestors founded in the mid-19th century. "I'm rather optimistic," he says. "The house is working quite well." But his patrician world view jars with the reality of global finance today, where giants like Goldman, Sachs & Co. and Morgan Stanley Dean Witter & Co. woo clients with armies of experts and wads of capital to finance their deals. And lately it's at odds with the day-to-day reality of life at Lazard as well.
Indeed, David-Weill's cozy world is being shaken as never before. Amid an unprecedented exodus of talented bankers and the loss of key clients, particularly in the U.S., Lazard has slipped in rankings of global merger-and-acquisition deals to 11th place this year, compared with 6th place in 1997. And a revolt of shareholders in the web of publicly held companies that Lazard and four families control forced it to announce a reorganization of the structure on Nov. 13.
On the investment banking front, David-Weill, 67, appointed Lazard veteran William R. Loomis as the bank's first American CEO on Nov. 15. The amiable Californian, who attended his first Lazard supervisory board meeting in Paris that day, says he and his partners are already drawing up plans to anchor star performers at the privately held firm, whose once largely autonomous Paris, New York, and London partnerships were melded into one this year. The moves will include granting options to invest in new equity and hedge funds the bank is setting up. Moreover, says Loomis, the bank is considering trimming the profits that flow to the four French families--including David-Weill's--who control 40% of the firm through direct and indirect holdings. The goal, says Loomis, is to attract the best people: "The idea is to keep the standards of partnership very high, not to lower them."
Loomis will remain in New York--in an office next to the one David-Weill keeps there. Geographically, anyway, that puts him at some remove from the turmoil in the empire's Paris nerve center. That office is fending off a public revolt by minority shareholders led by UBS Warburg and French dealmaker Vincent Bollore. The mutiny has forced David-Weill to begin simplifying the outmoded structure that holds some 17% of Lazard LLC and valuable stakes of blue chip outfits like French food giant Danone, Italian insurer Assicurazioni Generali and British media giant Pearson. The shareholder activists are trying to unlock the value of the shares by forcing their sale (chart).
Though Lazard as a business isn't directly involved, the dispute has drawn unwanted attention to the way the private entities use labyrinthine structures to control public companies, hobbling minority shareholders in the process. "The way they have managed the holding companies makes it look bad," says a senior London-based investment banker.
David-Weill and Loomis staunchly defend the bank's practices and prospects, pointing out that business has never been so good. Loomis says that earnings this year will exceed $500 million and that the backlog of business is at record levels.
EMBODIMENT. One thing is clear: The arrival of the loyal and mild-mannered Loomis' doesn't signal major change. "We've been through a period of turmoil and now need stability," says Loomis. "Without Michel's 100% backing, I couldn't be successful. He truly embodies the perspective of the firm."
Even with that acquiescent perspective, Loomis, who's not known as one of the bank's top rainmakers, might not get a chance to truly put his imprimatur on Lazard. For one thing, the French patriarch insists he has no plans to retire. Moreover, David-Weill has shown a discouraging lack of interest in sharing control with putative successors--who usually don't last long in their No. 2 roles. Early this year, vice-chairman Steven Rattner--a previous heir apparent--jumped ship, taking three promising young partners with him to start a private equity business. Even David-Weill's talented son-in-law Edouard Stern, who had tried to reduce overhead and bring in younger partners, walked away in mid-1997. "Michel," says one former partner, "has never developed the loyalty of people in the firm."
Similar frustrations are behind the broader talent exodus, say other former partners. The defections read like a roll call of the best and brightest dealmakers on both sides of the Atlantic. In 1998, Lazard's star financial institutions specialist, Ken Wilson, bolted for Goldman Sachs, followed by Gerald Rosenfeld, now chief executive of Rothschild North America Inc. and Michael J. Price, who headed up Lazard's valuable telecommunications business. Most recently, two high-profile departures rocked the staid Paris branch: Co-head of M&A David Dautresme, a Lazard veteran, resigned, as did top dealmaker Pierre Tattevin, who left to join Rosenfeld at Rothschild. "You can't afford that," says one former associate.
The talent drain in New York is one part of the now-global partnership's problems. The U.S. traditionally provided the lion's share of Lazard profits, so the merger structure assumed that the U.S. business was worth three times that of France and Britain. With the falling away of such stalwart clients as United Technologies, WorldCom, and Time Warner, New York-generated business has now fallen sharply relative to London and especially Paris.
Loomis disputes the extent of these problems. Although acknowledging the loss of talent in New York, he notes that a dozen new partners have hired on there in the past 15 months, including prominent Washington insider Vernon E. Jordan Jr. And last year Loomis brought in the restructuring team from bt Alex. Brown following Deutsche Bank's merger with Brown parent Bankers Trust. It is now advising on the restructuring of South Korea's Daewoo Group, one of the largest such deals in history.
As for Lazard's future, David-Weill and Loomis insist that the preference for ever-bigger investment banks is a passing fad. Clients, Loomis says, might use giant banks for more commodity-type transactions like bridge financing, while retaining Lazard for focused advisory work. And he says ambitious young bankers will always be attracted to elite operations like Lazard. "There are people who don't want to work in those huge places," Loomis says.
Certainly, a merger or an outright sale is not in the cards--even if various Lazard partners have quietly broached the issue. For instance, the $1.4 billion Dresdner Bank is paying for New York investment boutique Wasserstein Perella & Co. generated much interest in Lazard offices. David-Weill--the last word at Lazard--says he has no intention of selling, and certainly not for the $4 billion accounting group Ernst & Young says the firm is worth. "If we were to sell, let's say I'd be disappointed to only get that much," he notes with a smile. But it remains to be seen whether he and Loomis can restore the luster of the Maison Lazard.
By John Rossant in Paris
MEDIOBANCA
When legendary Mediobanca Chairman Enrico Cuccia died in June at age 92, Italians held their breath. For five decades, the charismatic Cuccia held sway over a vast Italian industrial and financial empire through a web of cross-shareholdings. So great was his influence that Mediobanca controlled many of its key shareholders, not the reverse. Secretive and power-hungry, Cuccia shunned international expansion, always maneuvering to maximize Mediobanca's iron grip over Italian markets. Along the way, he ran roughshod over shareholders' interests--and shielded Italian markets from the forces of globalization.
When Cuccia died, Italian business leaders expected a kind of corporate Vesuvius to erupt. With Mediobanca no longer in control of Italy Inc., a long-awaited industrial shakeout would ensue. Yet for months, nothing happened as Cuccia's successor, Vincenzo Maranghi, defended his legacy. Now, the pent-up tension has snapped, and the siege of Mediobanca is underway. Major shareholders, including the Agnellis of Fiat, are turning the tables on Mediobanca in a naked bid for control of its trove of corporate holdings, including its 10.2% stake in Assicurazioni Generali, Europe's third largest insurer.
POWER PLAY. It's too early to forecast who will win. Maranghi has been working overtime to seal pacts with new allies and win over former enemies. His backers for now include fashion-and-publishing group HdP, financial-services group Mediolanum, Swiss Life, and UniCredito. Rival shareholders allied with the Agnellis are Fiat, Banca di Roma, Deutsche Bank, Marzotto, Pirelli, Stefanel, and San Paolo-IMI. Sources close to Mediobanca believe the ultimate goal of both parties is to keep Mediobanca and Generali from slipping into foreign hands. "It's a mistake to think it's a battle between new forces and the old," says economic commentator and author Enrico Cisnetto. "It's a power play among old groups of the Italian Establishment, trying to divide the spoils."
Still, once the conflict is over, the changes in Mediobanca's structure and holdings will ripple through Italian industry and finance, unleashing a wave of consolidation and weakening the ossified alliances that have kept a clubby elite in power. In addition to Generali, Mediobanca also holds 15% of energy and chemicals conglomerate Compart-Montedison and 11.3% of HdP. Investors estimate Mediobanca trades at a 20% discount to the market value of its holdings.
The possibility of a putsch already has investors and potential raiders betting some of that hidden value may be unlocked soon. Swiss investor Martin Ebner's BZ Gruppe recently grabbed 1.8% of Mediobanca. Deutsche Bank bought 2.5%, and San Paolo-IMI, Italy's largest bank, bought 3.13%. "We hope to make a lot of money out of the investment as the share price rises in response to shareholder pressure," says one senior executive at Deutsche Bank, who stresses that Deutsche doesn't want to buy Generali. Mediobanca's stock is up 42% since Cuccia's June 23 death.
Meanwhile, Maranghi continues to cut deals designed to bolster Mediobanca's control over key holdings. On Nov. 13, French investment bank Lazard LLC announced it would sell Mediobanca options to acquire the stakes in Generali (3.9%) and Mediobanca (1.9%) owned by companies in its own shareholding web. If it exercises the option for Generali, Mediobanca's stake in the insurer would rise to 14.1%, giving it more leverage should it come into play.
As the dealmaking continues, the internal struggle for the soul of the firm rages on. The rebel group led by Agnelli is eager to instill modern corporate governance at Mediobanca, unlock some of the value of the corporate holdings and pursue a merger with a larger Italian bank, such as UniCredito or San Paolo-IMI. For starters, it aims to separate the investment banking arm from management of assets.
That won't happen if Maranghi can stop it. Maranghi, 63, is steeped in Cuccia's Machiavellian traditions and shares his mentor's penchant for intrigue. "He will fight to the death to stay in power," says a Milan-based attorney who's followed the bank closely. "He believes he is the incarnation of Cuccia." While avoiding modernization might appear an unsustainable strategy, Maranghi manages his power base with great skill, and may be difficult to topple.
Shareholders, including the Agnellis, were jolted out of their post-Cuccia daze in September when Maranghi secretly cut a deal to sell 2.13% of Mediobanca to Swiss Life. That strengthened his grip on the bank, since Swiss Life is in the Maranghi camp. Irate Mediobanca shareholders learned about it from the newspapers. "That was the moment when the revolt started," says Cisnetto.
For now, the forces lined up against Maranghi say they wish to avoid a bitter public rupture. "Reality is moving faster than some people like. We would prefer to persuade Maranghi," says one dissident. The next showdown comes on Jan. 31, when Mediobanca shareholders are scheduled to vote on a new system of corporate governance.
It could take a year for one group to win decisive control. In March, a shareholders' pact controlling slightly more than 50% of the bank's stock expires. That has insiders maneuvering feverishly to maximize leverage. But alliances may shift again when rival factions reveal their hands in March. "It's a transition time. Anything could happen," says one shareholder.
FOREIGN ONSLAUGHT. A key question for the victors will be the fate of Mediobanca's investment-banking activities. One of the last of the boutique merchant banks, the Milan institution faces an onslaught of competition from the likes of Morgan Stanley Dean Witter, Goldman Sachs and Credit Suisse First Boston. While Mediobanca still dominates the share-underwriting business in Italy, its lack of international presence makes it increasingly vulnerable to global rivals.
Critics blame Maranghi for undercutting the investment banking franchise, which brings in 90% of the profits, by chasing away talent. In 1997, he forced out high-profile rainmaker Gerardo Braggiotti. This year, top banker Matteo Arpe left. Both had been agitating to modernize the business.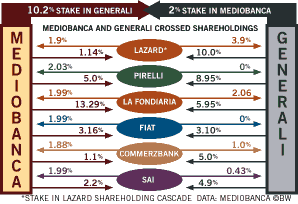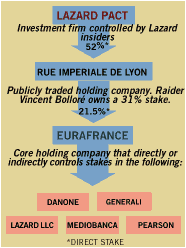 For the long run, insiders see the bank merging with one of its larger banking allies--most likely San Paulo-IMI or UniCredito. Investment banking would likely continue under the Mediobanca brand. "Together with a big Italian institution, Mediobanca could compete on an international basis," says Massimo Fortuzzi, director of investments at Finanza & Futuro, a Milan based investment fund.
Some disagree. "The only value Mediobanca has today is a portfolio of shareholdings in Italian companies," says one senior European-based investment banker. "The mystique of Mediobanca and Cuccia won't linger much longer. Their only expertise is in the cloak-and-dagger world of Italian industry and politics." That's the danger--that protracted corporate intrigue over Mediobanca could whittle away its value--an incongruous epilogue for an institution that epitomized the art of wielding power.
Before it's here, it's on the Bloomberg Terminal.
LEARN MORE