business
Gotta Get That Gatorade
Why suitors are lining up for the sports drink
Julie Forster
Jessica Goldin, an Illinois high school swimming champion, is the kind of consumer companies pay good money for. She's devoted to a brand--the 16-year-old drinks only Gatorade when she's practicing or competing. And she has absorbed the marketing message: The salty sweet liquid is "the thirst-quencher," Goldin says. She won't even touch plain water.
Millions of other athletes are right there with her. Gatorade commands a stunning 83% share of the sports-drink market. In the food and beverage industry, that kind of market share is "almost illegal," says William Leach, a food analyst at Banc of America Securities. Coca-Cola Co.'s (KO) Powerade has captured no more than 11% of the market; PepsiCo's (PEP) All Sport has just 3%. Gatorade is so dominant that Quaker Oats Co. (OAT) executives smugly say its main competitor is tap water. "When we're done, tap water will be relegated to showers and washing dishes," Susan D. Wellington, president of Quaker's U.S. beverages division, said to analysts earlier this year. Quaker executives declined to comment for this article.
It's no wonder that rivals are thirsting after the brand. Pepsi's $14 billion stock offer for Quaker was rebuffed by Chief Executive Robert S. Morrison on Nov. 2. Pepsi may well try again. But if it doesn't, Coke, Danone Group, and Nestle are all possible buyers.
Why so much interest in Gatorade now? After all, its sales have been growing by about 10% a year for the past decade. First, the global food and beverage industry is consolidating. Second, U.S. consumers are taking to what's known as nutraceuticals, those drinks with nutrients, vitamins, herbs--anything that seems healthy. It's a market that could grow as much as 20% annually over the next several years, according to Patrick Schumann, an analyst at St. Louis brokerage Edward Jones. And, although Gatorade is only a borderline nutraceutical (providing sodium, potassium, and chloride), it could bill itself as one. Sales are already up 15%, to $1.82 billion, for the first nine months of 2000. Morrison has said he expects a double-digit profit increase this year, following last year's 18% rise.
PRECIOUS FLUIDS. If there were ever a testament to the power of marketing, Gatorade is it. The company sells consumers on the idea that the drink is the best way to replenish minerals and fluid lost during exercise. Truth is, a blend of water, sugar, and salt would work just as well. But what fun is that?
Last year, Quaker spent $81 million on advertising; that was about five times as much as Coke gave to Powerade and 275 times as much as Pepsi devoted to All Sport. Gatorade is now the official drink of almost every major sports league, except the National Hockey League (that went to Powerade). The company sponsors some 1,000 athletic events a year, including the New York City and Boston marathons.
Gatorade's most prominent spokesman has long been superathlete Michael Jordan. Quaker signed him to a 10-year endorsement contract back in 1991. Two years later, Gatorade hit the $1 billion mark in sales. "The promotions they built around Jordan, particularly the `Be Like Mike' campaign, are some of the best known among their target audience," says Christie Nordhielm, a market-ing professor at Northwestern University's Kellogg Graduate School of Management. More recently, the company has signed on soccer star Mia Hamm and the New York Yankees shortstop Derek Jeter.
Having sewn up the sports-drink market, Gatorade is trying to broaden its base from the serious competitor to the weekend athlete. Its ads now ask: "Is it in you?" The idea is to "drive up the emotional equity in the brand," says John Fraser, senior vice-president at FCB Worldwide, the Chicago advertising company that holds the Gatorade account.
Quaker is also working to expand distribution beyond grocery and convenience stores. It's putting Gatorade in vending machines and kiosks near golf courses, parks, and schools. The company expects to increase such distribution from a January level of some 50% of the country to 70% by yearend. That will mean adding about 15,000 "alternative sites" to the existing 40,000.
Gatorade won cult status in the late 1960s. University of Florida researchers had developed the concoction in 1965 to prevent dehydration, testing it on the school football team. It seemed to work: The Gators often outplayed their opponents in the second half of games. In 1967, Stokely-Van Camp Inc., of baked beans fame, bought the rights to distribute the drink nationally.
But Gatorade really took off when Quaker acquired it in 1983. The company's former chief executive, William D. Smithburg, had been drinking Gatorade on the tennis court for years. When he took over the brand, Gatorade was still largely a southern drink with modest sales of $90 million. It was available only in glass bottles and in only two flavors--lemon-lime and orange. Smithburg gets most of the credit for improving the taste and the packaging, and for broadening the distribution. Gatorade now is available in 19 flavors; there are two other versions (one that's crisper and one that's sweeter); and it sells energy bars in a few cities.
Over the years, some 100 rival drinks have come and gone. Even Coke and Pepsi have failed to pose a serious threat to Gatorade. In part, that's because of Gatorade's dominance. But in Coke's case, it was also because former CEO M. Douglas Ivester resisted making a big commitment to sports drinks and other noncarbonated products--figuring it was more profitable to churn out more Cokes and Sprites than to take on entrenched brands such as Gatorade. "Coke and Pepsi had distribution, but we had brand equity," says Smithburg.
PARTS UNKNOWN. All Sport, Pepsi's sports drink, remains only a small piece of its business. The brand was launched nationally in 1994. Recently, though, Pepsi has targeted states such as Washington, West Virginia, and Oregon, where outdoor sports are particularly popular. "Even for marketing powerhouses like Coke and Pepsi, competing against a brand which is well-established, strong, and continuously well-marketed is very difficult," says John Sicher, editor of Beverage Digest. He's impressed that Coke has won as much as 11% of the market.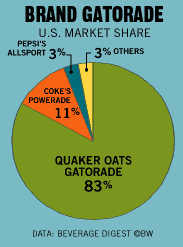 Quaker's real challenge lies in international markets, where it is easily overtaken by rivals such as Coke, Danone, and Nestle. "Quaker isn't big, so they don't have the wherewithal to get better distribution," says Leach of Banc of America Securities. In 1999, international sales were $333 million, down 10% from the previous year. The company was hurt by currency devaluations in Latin America, its largest international market. It's struggling to make an impact in Europe, where Gatorade's gung-ho, All-American message doesn't always play well, and in China, where it's still a relatively unknown brand.
Under such circumstances, Quaker might be expected to form a joint venture for international distribution. But Quaker is likely to go it alone overseas. That will make it easier to sell the company, Quaker's ultimate endgame.
Before it's here, it's on the Bloomberg Terminal.
LEARN MORE