Reading, Writing, And Rote Learning...Drive Students To Western Schools
Michael Cheung
Jardine Fleming, the Hong Kong-based investment bank, faces a problem that afflicts many foreign companies in the former British colony. Seeking to recruit well-trained professionals, it has tried to tap a large pool of graduates from the eight local universities. But there aren't enough qualified students to meet its specialized needs. So Jardine invariably ends up looking abroad. "We are very powerfully oriented toward foreign recruitment at the professional level," says David Dodwell, the firm's corporate-communications chief.
As Hong Kong strives to keep its edge as Asia's premier metropolitan hub, the demands placed on its workforce have become greater. It needs employees that are more creative--the type of freethinkers the current system fails to produce. Another sticking point is English fluency, which isn't at the proficiency levels the business community would like to see. "Hong Kong is a highly specialized economy with highly specialized needs, just like London or New York," says Dodwell, who is also the organizer of the Business Coalition on Education, representing more than 15,000 companies.
Hong Kong's rote-learning system, modeled on Britain's, rewards memorization. Students prepped to regurgitate facts often lack the thinking patterns to apply this knowledge to real-world problems. It's a classroom world of drilling and testing, not reading and analysis--an examination culture that not only devalues the broadening experience provided by extracurricular activities but tracks students for the duration of their education into tiered schools, from elite to perfunctory, with predictable mischief played on the morale of those with lower exam scores.
A government think tank, the Education Commission, proposes to reform and revitalize the entire system from kindergarten to university. Its ideas include adding a fourth year to the university system and reducing student stress by scheduling far fewer exams. Using exams to track students will soon be abolished, with the ultimate goal that students with mixed abilities will be taught together in one institution. The commission wants to introduce community colleges, not only as stepping stones to university but as centers for lifelong learning. "Our recommendations deal with setting the system free so students can pursue a more balanced education," says Antony Leung, the commission's chairman.
Already, admissions deans are being advised to consider a candidate's all-around skills in addition to exam results. The proposal has been greeted warmly by some universities, but elsewhere there is discontent. Some universities say they can't add a fourth year of education without more government funding--money the Education Commission thinks the institutions should raise themselves. Leung says that in a laissez-faire economy such as Hong Kong's, the government shouldn't have to finance more than 80% of the universities' spending and that students should bear a larger burden than the $5,500 a year they now pay in tuition.
Some parents can't wait for the reforms and are enrolling their children in Hong Kong's 40 international schools, which offer broader curriculums and more emphasis on discussion and creativity. "They give the child a more rounded education, covering all aspects of the student's development," says Joise Tan, who has sent her four kids to Hong Kong International School.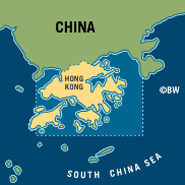 The 24,000 children attending the international schools are only 3% of Hong Kong's total student body, but the growth rate is astonishing, with one-third of the schools established just in the past decade. Despite this increase and high tuition fees ranging from $5,000 to $20,000 a year, some students have to wait up to two years for an opening.
Less than a decade ago, these schools were still catering mainly to the Western expatriate population, but today, many have an overwhelmingly Asian student base. Island School Principal David James notes that when local parents visit his school, they are often shocked by the amount of classroom interaction between students and teachers. "The students who come out of our school can be Western with Westerners and Chinese with Chinese," says James--exactly the sort of graduates the business community seeks.
Before it's here, it's on the Bloomberg Terminal.
LEARN MORE