Taken For A Ride
How the DaimlerChrysler "marriage of equals" crumbled
Bill Vlasic and Bradley A. Stertz
It was the deal heard 'round the world. In May, 1998, a stunning $36 billion merger was announced by Daimler Benz, the German manufacturer of Mercedes-Benz luxury cars, and Chrysler Corp., the all-American maker of minivans and Jeeps. The marriage of Daimler and Chrysler promised to rock the global auto industry and provide a blueprint for international consolidation on an epic scale.

But the union didn't turn out to be a merger made in heaven. When the dust settled, Daimler was firmly in control of Chrysler, and the shock waves were reverberating on both sides of the Atlantic. An American icon would lose its independence, and a German giant would grow in power and influence. Daimler chief Jurgen E. Schrempp grabbed the wheel of DaimlerChrysler. His co-chairman from Chrysler, Robert J. Eaton, took a back seat. And Thomas T. Stallkamp, Chrysler's president, got caught in between.

The lofty expectations of management, employees, and shareholders would be dashed in DaimlerChrysler's first year. The challenges ahead became crystal clear at the first meeting of the global management team, just a month after the deal was completed.
Every senior DaimlerChrysler executive in the world flew into Seville, Spain, for the first "Top Management Meeting" that kicked off on Dec. 11, 1998. The Germans outnumbered the Americans by about two to one. Jurgen Schrempp, 54, the new company's co-chairman, hoped Seville would be a rallying cry, a chance to instill in the troops the surging spirit he felt for DaimlerChrysler.
The officers ate, drank, mixed, and matched for two days; Germans joined Americans in discussion groups, with a member of the board of management--the company's top executives--heading up each table. Every team's assignment was to come up with one provocative question for Eaton and Schrempp. The conversations endlessly circled the huge range of issues facing the $130 billion business: productivity, quality, capital expenditures, and compensation. When his table's turn came, Bud Liebler, head of Chrysler marketing, stood up. "I don't know how we're going to get anything done," Liebler said to the packed room. "We talk about speed, but all I hear about is committees."
Schrempp just about jumped off the podium. He jabbed his finger in the air, then pointed it directly at Liebler. "We are not going to slow anything down!" he boomed. "If you can come up with any example of slowing down, next time we meet I'll buy you the best bottle of red wine you have ever had!"
After the breakout sessions and dinner, the hotel turned into a giant, free-form cocktail party of, in most cases, total strangers. Spanish wine and German beer flowed as Americans mingled with Germans and crossed the cultural divide. More than a few jet-lagged Chrysler officers left for their rooms shortly after dinner, and more boisterous German voices filled the air as the night wore on. A small but hardy crew of Americans matched their new colleagues drink for drink, as things got festive. A Chrysler finance exec, Thomas F. Gilman, began playing piano in the bar, and Americans and Germans alike joined in to sing along to everything from "Jingle Bells" to show tunes to Sinatra.
Nobody sang louder, longer, and more exuberantly than Schrempp. He was leading the company and the chorus, raising the rafters in song. "This is the guy," laughed Tony Cervone, a Chrysler public-relations exec, "that you always wanted in your fraternity in college." Schrempp got rowdier and funnier as the night progressed, raising his glass in a litany of toasts, calling out for another favorite tune, slapping backs, and roaring with laughter.
Ties and coats were shed and shirtsleeves rolled up. Schrempp and the group bellowed song after song until the wee hours. The German co-chairman led one final chorus of "Bye, Bye, Miss American Pie." Then, with a wild gleam in his eye, Schrempp grabbed his ever-present assistant, Lydia Deininger, picked her up, and threw her over his shoulder. The room exploded in laughter as Schrempp snatched a bottle of champagne in his free hand, raised it in the air, and yelled out with a grin: "See you later, boys!" Then he carried her off, not to be seen for the rest of the night.
Eaton, 58, wasn't there for Schrempp's departure. He went to bed early.
Some of the Chrysler executives looked at Schrempp a little differently after seeing him cut loose. Bounding into the morning meetings with a hearty welcome and a full agenda, he certainly didn't seem any the worse for wear.
Despite their different personalities, Schrempp and Eaton had a good rapport in Seville. Schrempp was acutely conscious of image and the repercussions he could face from U.S. politicians and investors if the merger came to be seen as a German takeover. Besides, Schrempp felt a loyalty to Eaton for doing the deal with him. They shared an accomplishment no one else could really appreciate. It was the most unusual union of two chief executives anywhere in the world, two vastly different men who had changed history.
Schrempp had carefully planned that he and Eaton would share equal time at the mike in Seville and that Eaton would deliver the closing remarks. In his speech, Eaton talked about sacrifice: sacrificing the independence of their companies, sacrificing the comfort zones they all worked in, sacrificing the present for the future. Nobody, he said, had sacrificed more for the merger than he had. Eaton had publicly said he would retire in three years or less and turn the company over to Schrempp. By giving up his own job, he made the ultimate sacrifice that all the Germans and Americans had to make if DaimlerChrysler were to achieve its destiny. "Just thinking about it," Eaton said, "makes me emotional."
A few Chrysler executives could sense it coming: Eaton grew misty-eyed and red-faced at first, then choked up, his voice cracking. Then it happened: Eaton began crying. He put his hand to his face to wipe away the tears, but he couldn't stop them. He was overcome with emotion and let it all out in front of the 300 executives. The Germans and Americans leapt to their feet, applauding the impact of Eaton's bared soul.
Some of the Germans turned to their new American colleagues for an explanation. "What is he doing?" Schrempp asked Stallkamp, who was sitting next to him. "I know! He is saying good-bye!" Stallkamp almost started laughing. "Nah, nah, you don't understand," Stallkamp said. "He's just emotional." "No," Schrempp said. "He has just admitted he is leaving now. He can't stand up in front of his people and get a standing ovation and everybody feel sorry for him and not be leaving."
"Trust me. He's just warming up," Stallkamp said. "This has happened on several occasions. He's not saying he's leaving." Schrempp looked at the crying Eaton and just didn't understand. "He's not leaving?" Schrempp said.
As the weeks went by, the Americans learned more about their new German co-chairman. Schrempp always seemed to be a step ahead, planning his next move while everyone was still trying to figure out his last one. Only a few dozen Chrysler officers had spent time with Schrempp or seen him in action. His jut-jawed attitude and dramatic speeches impressed even seen-it-all Chrysler veterans.
Schrempp knew no limits. He climbed in the Italian Alps with Reinhold Messner, the first mountaineer to scale Mount Everest without oxygen. He played chess champion Gary Kasparov in matches at Daimler headquarters. A restless spirit, he had started at Daimler as a 23-year-old engineer, but in 1974, yearning to break free of the provincial boundaries of southern Germany, he moved with his wife and two young sons to South Africa.
Nothing better exemplified Schrempp's passion for life than his love affair with South Africa. He rose to become chairman of Daimler's operation there and in the '80s struck up a relationship with Nelson Mandela through tense negotiations with the African National Congress over the German company's factories. Years later, after he had risen to CEO of Daimler, Schrempp would return often to South Africa to hike the cliffs above the ocean, tromping through the veldt on foot, a 9-millimeter Glock pistol on his hip for protection. He drank in the smells and sounds and sights of the wild landscape around the rustic game preserve he had purchased, christened the "Crocodile Haus." After a hearty day, Schrempp would head to his favorite restaurants in Cape Town to mix with old Mercedes friends and carouse with artists and adventurers, ending up in funky clubs where the jazz played on until the morning light.
Schrempp ran DaimlerChrysler with the same mix of swagger and intense focus. His secret weapon was his "kitchen cabinet," a cadre of loyal execs. Eckhard Cordes, Schrempp's chief strategist, and Alexander Dibelius, a Goldman, Sachs & Co. investment banker, crafted the deals. Rudiger Grube, a key aide, handled the post-merger integration team and internal strategy. Christoph Walther kept a tight grip as head of Daimler communications. A junior executive, Cornelius Bronder, moved to Chrysler's Auburn Hills, Mich., headquarters to act as Schrempp's eyes and ears inside the old Chrysler.
The Chrysler execs soon realized that Lydia Deininger was far more than Schrempp's secretary and companion. The petite brunette sat in on every high-level meeting, taking notes, producing documents, and placing a Marlboro in Schrempp's hand when he waved it a certain way. Deininger kept Schrempp's schedule and fielded all his phone calls. Her influence on Schrempp could not be underestimated, although their intimacy made some of the Americans uncomfortable. Executives in Auburn Hills just weren't accustomed to a married CEO openly carrying on a relationship with his attractive assistant. "It's odd," Stallkamp said. "Some people say it's Continental, but it's not appropriate business behavior."
It was only the tip of the cultural iceberg. The Germans and Americans simply did business differently. The six-hour time difference didn't help. By the time the Americans started their day, the Germans had already had lunch. Stuttgart always seemed to have a head start on Auburn Hills.
German management-board members had executive assistants who prepared detailed position papers on any number of issues. The Americans didn't have assigned aides and formulated their decisions by talking directly to engineers or other specialists. A German decision worked its way through the bureaucracy for final approval at the top. Then it was set in stone. The Americans allowed midlevel employees to proceed on their own initiative, sometimes without waiting for executive-level approval.
The Germans smoked, drank wine with lunch, and worked late hours, sending out for pizza and beer at their desks. The old Chrysler banned smoking and alcohol in its facilities. The Americans worked around the clock on deadlines but didn't stay late as a routine. The sniping had already started. "You might work late, but you don't work smart," Cervone, head of Chrysler internal communications, snapped at his counterpart in Stuttgart.
The Mercedes car executives wanted any product recall to be associated only with the vehicle brand, such as Dodge or Plymouth, and not the corporate name, DaimlerChrysler. "You can't say Dodge is recalling cars," Cervone scoffed. "The company is recalling cars." The Germans also didn't understand that some public-relations issues were beyond their control. Walther's top aide, Roland Klein, went ballistic one day when a personal-injury lawyer called a press conference to publicize a lawsuit against DaimlerChrysler. "We can't allow these people to have press conferences!" Klein stormed. The outburst bemused Cervone. "You can't predict when some scumbag lawyer is going to call a press conference," he shot back.
The Americans, to their dismay, saw their worst fear become reality. Eaton slowly but surely withdrew, grew detached, and didn't contribute. He isolated himself in his office for days at a time. He rarely talked to Schrempp, often using Cordes or Manfred Gentz, DaimlerChrysler's CFO, as a conduit to his co-chairman.
Schrempp didn't exactly intimidate Eaton. He overwhelmed him. Eaton didn't cower. He abdicated. For his part, Eaton saw himself as a team builder: "I think my legacy is the cultural change and building the strong team. It wouldn't have happened if I wasn't there." But some of his own execs could not get past the barriers Eaton had erected. Stallkamp had hoped the Chrysler side could use Eaton as a "silver bullet" to be fired at crucial times to tip an issue their way. But that couldn't happen if Eaton wasn't up for it.
Eaton knew that some Chrysler executives, especially his then No. 2 man, Robert E. Lutz, resented how he had dropped into the driver's seat at Chrysler in 1992, just as the company was revving up from its near-death experience. He had never set foot in a Chrysler factory or office before he was hired from General Motors Corp. to be Lee Iacocca's successor-in-waiting. Having reinvented itself to obliterate the walls between design, engineering, manufacturing, and purchasing, Chrysler was about to launch a fleet of new cars and trucks into a booming U.S. auto market.
Eaton candidly admitted that his contributions to Chrysler's roaring success were minimal. He exuded the simple optimism of his boyhood in Arkansas City, Kan. As the son of an introverted railroad-conductor father, Eaton showed an early interest in cars: When he was all of 11 years old, he bought a 1933 Chevrolet two-door that was missing its rear axle. An engineering student at the University of Kansas, Eaton left in 1963 to join GM. There he would stay for 29 years, rising to chief engineer of the new front-wheel-drive X-Cars and president of GM Europe. After the Continent's economy soared during the late '80s, Eaton was picked to run Chrysler. His job was to stay the course, make incremental improvements, and polish the company's rough edges.
Some of the Germans saw Eaton for what he was: a solid engineer, a low-key manager, and a decent person. Compared with Schrempp, it wasn't enough. Schrempp had adventure in his veins and an indomitable, competitive spirit. Yet he was petrified of being perceived as imposing his will on Eaton or, worse, forcing him out. Eight months after the merger announcement, Schrempp still had not given a speech to employees at the old Chrysler headquarters in Auburn Hills. Instinctively, he wanted to communicate with them, but held back for fear of encroaching on Eaton's turf.
It created a classic no-win situation. By not showing himself to the troops, Schrempp left the rank and file to form opinions of him based on gossip, speculation, and media reports. Oddly enough, Eaton didn't address his middle managers either. That was left to Stallkamp. "You do the internal stuff," Eaton told him. Stallkamp held dozens of "town hall" meetings and responded daily to e-mail messages from across the Chrysler system. He ran the operations while attending to his amorphous duties of integrating the two companies.
Stallkamp felt the Americans were outmanned and out-organized. Grube and his staff prepared positions on every conceivable issue, and Schrempp came to board meetings meticulously briefed and ready to tear through his agenda. The Chrysler side could hardly grasp some of the decisions on the nonautomotive parts of the old Daimler.
The struggling Adtranz rail-transport unit was a prime example. Daimler owned Adtranz in partnership with the Swiss ABB Group, and the venture was mired in losses and in dire need of restructuring. Stallkamp suggested at one board meeting that Adtranz be allowed to go bankrupt. Schrempp shot him an icy stare. "You don't understand this," Schrempp said. "This is Europe. Bankruptcy is not good over here." Schrempp's solution? Buy ABB's 50% share, which Daimler Chrysler did in January for $472 million.
Stallkamp quietly assigned a team of Auburn Hills planners to prepare position papers for the American board members. If Adtranz or anything else was put on the table, he wanted to be ready for it.
Stallkamp and the other Americans were on the alert, but even they didn't expect Schrempp's next bold move: a bid to take over Nissan Motor Co., the debt-ridden Japanese auto maker. Stallkamp huddled with Gary C. Valade, DaimlerChrysler's global purchasing chief, and Thomas C. Gale, Chrysler's head of design. All three men believed DaimlerChrysler could succeed despite its cultural differences and clumsy, top-heavy structure. But adding Nissan to the mix, trying to take on the problems of a badly managed Japanese competitor, was too much to ask.
It wasn't the debt that frightened them. It was the unknown. Valade foresaw huge troubles with Nissan's suppliers. To cut costs, Nissan had forced painful price reductions on its suppliers, in many of which it had an ownership stake. If the suppliers faltered, DaimlerChrysler would have to prop them up. The Americans tried to persuade Schrempp to consider a smaller, less risky deal with Mitsubishi Motors Corp. Stallkamp composed a three-page memo to the board. "Nissan is going to go bankrupt and would be better off going bankrupt," Stallkamp wrote. "The world doesn't need it."
That's not at all what Schrempp wanted to hear. He lusted after a strong Asian complement to Daimler's European strength and Chrysler's muscle in the U.S. And here was the second-largest Japanese carmaker available for a song.
The DaimlerChrysler management board convened on Mar. 10 at the Hotel Beau-Rivage outside Lausanne, Switzerland, almost a year to the day from when Eaton and Schrempp discussed their merger in the same hotel. Schrempp seemed agitated. The Nissan decision was coming to a vote and some board members, Schrempp complained, had made up their minds before they even sat down. But throughout the meeting, Schrempp stayed above the fray, letting the drama play out and refraining from steering the debate one way or the other. This was a decision he could not force on his board, lest he destroy any illusion of German-American cooperation.
After a lunch of German sausages, potatoes, and wine, Schrempp stood up. He told the staffs to leave. The doors closed, and each board member had 10 minutes to air his views. One by one, they spoke their minds. Manfred Bischoff, head of DaimlerChrysler's aerospace unit, worried that Nissan's midlevel managers would balk at receiving help from Germans and Americans. Kurt J. Lauk, Mercedes' heavy-truck chief, argued that Nissan could be managed but that the financial risk was "impossible to define." The Americans, from Eaton on down, spoke against it. "It's the right deal at the wrong time," said Theodor R. Cunningham, Chrysler's international-sales boss. "We are not ready to take on the challenge because we haven't resolved our own issues."
Stallkamp weighed in with a slightly sarcastic read of Nissan's true intentions. Maybe Nissan just wanted DaimlerChrysler to save it. Who knew if it sincerely would accept the Germans and Americans as partners? "You know, you're real anxious to have the doctor help you when you're sick," he said. "But once you get well, you don't exactly want the doctor around every day to see how you're doing."
Schrempp had heard enough. Nobody wants to buy into his strategy to gain control of an enormous Asian competitor at a bargain price? Nobody thinks they are up to managing Nissan? One American even questions the Japanese willingness to be a part of DaimlerChryslerNissan? "O.K.," Schrempp said abruptly. "We have made the decision. I am now going to get on an airplane and fly to Japan. I will tell them eyeball to eyeball our decision, rather than have them hear it secondhand."
Schrempp simmered during the seventeen-hour flight from Switzerland to Japan. Having spent hours with Nissan President Yoshikazu Hanawa trying to hatch a deal, Schrempp felt he owed him a face-to-face explanation. He couldn't hide his disappointment at the board's rejection of his initiative. "If they had said give it a shot, I would have done it!" Schrempp boomed. "But I turn around, and there are no troops left behind me." Three weeks later, Renault agreed to buy 37% of Nissan for $5.4 billion and put in charge a tough-talking Renault executive, Carlos Ghosn. The deal DaimlerChrysler walked away from had fallen into the laps of the French.
The public view of DaimlerChrysler as a "merger of equals" had begun to crack. U.S. investors fled from the stock after Standard & Poor's Corp. banished it from the S&P 500 index because the company wasn't incorporated in America. By late March, the percentage of U.S. shareholders had fallen from 43% on Day One to 25%. High-profile defections of Chrysler execs fed the image of German control. Two vice-presidents, engineering boss Chris Theodore and manufacturing specialist Shamel T. Rushwin, quit to join Ford Motor Co. Their moves weren't necessarily related to German influence. But American media pounced on them as evidence of German dominance at DaimlerChrysler.
Privately, the American executives chafed at the coverage but couldn't deny its accuracy. The strategy of trumpeting DaimlerChrysler as a merger of equals had been flawed from the start. It was a mistake, and a serious one. "We should have never called this a `merger of equals,"' Liebler said. "It was an acquisition, and by calling it something else, we confused a lot of people on both sides of the Atlantic."
Cultural integration also was proving to be a slippery commodity. The yawning gap in pay scales fueled an undercurrent of tension. The Americans earned two, three, and, in some cases, four times as much as their German counterparts. But the expenses of U.S. workers were tightly controlled compared with the German system. Daimler-side employees thought nothing of flying to Paris or New York for a half-day meeting, then capping the visit with a fancy dinner and a night in an expensive hotel. The Americans blanched at the extravagance.
The pace of travel had begun to wear on the management board. In April, Schrempp moved the meetings permanently to New York. Typically, the board members would arrive at the St. Regis or the Waldorf-Astoria, check in to individual suites, then convene in a large conference room. The sessions often ran through dinner, which Schrempp insisted was part of the bonding process. Stallkamp, for one, thought the arrangements overblown. Why did every executive need a $500-a-night suite in a top hotel when most of them didn't even spend the night? He calculated that the cost of booking rooms and dining out could run between $3 million and $5 million annually.
Stallkamp fretted about the message the expense sent to the troops, particularly the Chrysler-side managers who traveled coach and stayed in Holiday Inns on the road. Stallkamp circulated a critical memo, which Schrempp immediately took offense at. The costs, Schrempp scolded Stallkamp, were inconsequential. As president of the Chrysler unit and head of integration, he should be spending more time on making the merger work than sweating meaningless details of hotel rooms and the price of wine.
Chastened, Stallkamp backed off. But the criticism was just starting.
Schrempp took Stallkamp to task for creating the Chrysler team that prepared strategic reports for the American executives. Schrempp called for a closed-door session of the eight members of the chairmen's integration council: Schrempp, Cordes, Jurgen Hubbert, Gentz, and Lauk from the German side, Eaton, Stallkamp, and Valade representing the Americans. When the other nine board members left the room, Schrempp waved a memo that confirmed the existence of Chrysler's in-house advisory staff. "And what the f--- is the problem with that?" Stallkamp said. "This shows that there is block voting on your side," Schrempp charged.
Block voting? Schrempp thought the planning staff was set up to help the Americans vote together? "This isn't block voting," Stallkamp protested. "We have no staff. I have nobody that directly reports to me as a staff. I have a secretary and that's it. We can't figure out how to face off with you people because you have so much staff."
"You're right, you're right," Schrempp said. "You need the staff, but you don't need to block vote. Everyone on the management board is his own man and we will have no block voting." "I never talked about block voting," Stallkamp argued. What about the Nissan decision, wasn't that block voting? "That's bull----," Stallkamp snapped. "We all thought individually it was a stupid idea."
Stallkamp looked to Eaton for support but didn't get it. Eaton sat placidly during the bickering. Stallkamp couldn't believe it. Tuning out was one thing, but Eaton seemed oblivious to the struggle some of the Americans waged to preserve Chrysler's influence. The Germans noticed Stallkamp's frustration, how he treated Eaton as if he had given up on the co-chairman. The Germans, so conscious of hierarchy and structure, wondered about the ramifications of Stallkamp's growing contempt for his boss.
But Schrempp's patience also was wearing thin over this clunky, bothersome co-chairmen arrangement. He bristled at the notion that somehow Chrysler had been injured or invaded in the merger. He had lost a couple of executives too, including his legal counsel. He had to deal with German managers and workers who worried about being Americanized.
Throughout his career, Schrempp always laid it on the line. He stuck his neck out, took the risk, and time and time again bet his future on a move he believed in. Didn't the Americans understand that greatness means struggle? Schrempp cut thousands of jobs in Germany and took the heat. He let Dutch aircraft maker Fokker go bankrupt and bore the pressure. He merged Mercedes-Benz into Daimler and withstood the firestorm of criticism.
His operatives in Auburn Hills told Schrempp that Stallkamp spent more time defending "the Chrysler way" to his people than promoting the integration of this grand, transatlantic merger. This wasn't the Chrysler that Schrempp thought he'd bought. His image of Chrysler was rough-and-ready, dashing and daring. Instead, the Americans too often acted timid or thin-skinned and focused on reaching consensus and protecting their own interests. Where were the Chrysler "cowboys" that Schrempp had read so much about?
He knew where to find one of them. In May, Schrempp met at the Ritz-Carlton hotel in suburban Dearborn, Mich., with the man he believed to be the spiritual leader of the old Chrysler. If anybody could sort this out for him, it was Bob Lutz, Chrysler's retired vice-chairman who was pushed out by Eaton. Lutz had landed a new job as chairman of Exide Corp., the world's biggest manufacturer of auto batteries.
They talked over martinis. "The leadership in Auburn Hills is nonexistent," Schrempp complained. "Where are the people who speak their minds, who make decisions?" "Jurgen," Lutz said, "the Chrysler Corporation you bought, from a personnel standpoint, is not the same Chrysler Corporation that established its reputation. Three of the key figures were removed from it"--former manufacturing chief Dennis Pawley, engineering boss Francois Castaing, and Lutz. "You can't take the three change agents out and expect it to work."
Stallkamp, Lutz said, was a great navigator, but not a pilot to give the controls to. Schrempp couldn't agree more. But who could take charge in Auburn Hills? Who was a leader? "Why don't you just take your best German and put him in charge?" Lutz asked. No, never, Schrempp said. That would be a disaster. "Holden has leadership qualities," Lutz said, referring to James P. Holden, Chrysler's head of sales. "There is never any question where he wants to go."
Schrempp had been watching Holden. While Holden didn't speak up often in board meetings, Schrempp noticed his polish, his salesman's touch that wouldn't offend customers. He knew Holden had stood up to Dieter Zetsche, Daimler's sales chief, in the early sales meetings and saw him fight for what he wanted. Schrempp trusted Lutz's judgment.
For Stallkamp, the final straw came with DaimlerChrysler's closely watched first six-month earnings, the report card on the merger that was "made in heaven." The U.S. auto market was heading toward the best year in history. The question was, what would the company show, and how? American corporations kept a close watch on quarterly earnings estimates conjured up on Wall Street and discreetly let analysts know if the companies would hit their target. German companies and stockholders focused on full-year results, the better to crank up in the fourth quarter to make strong numbers. Gentz, a stubborn stickler for German practices, argued that the press release should emphasize six-month numbers and relegate quarterly results to a column in the financial breakdown.
The Americans were aghast. It just wasn't done. To make matters worse, the numbers were published in eurodollars in the financial table, requiring a quick conversion to U.S. dollars. Analysts were furious. And the numbers were a monumental letdown. DaimlerChrysler's revenues rose 10% in the second quarter, to $38.5 billion, but its profits were the same $1.53 billion as the year before. The company had promised that profits would grow faster than revenues. It was an enormous, and costly, misimpression.
DaimlerChrysler stock fell from $85 a share to $72 in two days, wiping out over $10 billion in value. DaimlerChrysler was selling more Jeeps and Benzes but not making more money, and Wall Street was ruthless. "It's looking more and more like a big, ugly, cyclical car company," one analyst said.
The honeymoon wasn't just over--now the pots and pans started flying. Stallkamp railed against the stupidity of not preparing analysts for such a huge disappointment. Gentz dished blame and provoked Stallkamp. "Your forecasts for the rest of the year aren't good," Gentz said, according to Stallkamp. "We're having trouble adjusting to your forecasting techniques." Stallkamp lost it. "I don't need to listen to you about forecasts. I know where I am. You're the CFO! You don't even know how much cash we have!"
Stallkamp penned a one-page letter entitled "Personal Frustrations," and sent it to Schrempp and Eaton. He poured it all out. Financial analysis didn't exist. The management-board structure needed changing. Accounting methods had to be refined. His role as head of integration required clarification. "I would like to talk with each of you," Stallkamp wrote, "concerning exactly what you anticipate or are looking for as my role in the company, particularly regarding integration...I am not upset, just wondering what direction we are taking." He never received a reply.
The Germans take off most of August for summer break. Schrempp flew to Cape Town and wouldn't reemerge for two weeks. Auburn Hills executives left for their big vacation homes on the lakes of northern Michigan.
Stallkamp arrived on Aug. 10 for two weeks off at the house he had just built in the exclusive Bay Harbor development overlooking Lake Michigan. On the first day, Eaton's secretary, Mary Ann Demski, called him. "Mr. Eaton is going up north to check on his new home and he'd like to see you," she said. "O.K., sure," Stallkamp said.
Eaton let Stallkamp in the front door, and they sat down in the living room. Then Eaton pulled out a handwritten piece of paper and began reading the reasons why Stallkamp had to leave DaimlerChrysler.
Eaton would never publicly discuss what was said next. Stallkamp, for his part, would keep detailed notes of their conversation. "You've been too negative, and as a result your staff, your direct reports, also think you're too negative and too critical," Eaton said, reading word for word off the paper. "Because of it, you can no longer lead."
What? Stallkamp was floored. "You're not happy," Eaton said, his voice shaky. "You've become negative." "Who have you talked to?" Stallkamp probed. "What do you mean, my direct reports?" Eaton said he had talked to the other American executive vice-presidents. "I have personally determined that you have lost their support and can no longer lead," Eaton said stiffly.
Stallkamp didn't know how to respond. Instinctively, he defended himself. "Look, Bob, I am raising issues that I think are critical to the integration of the company," Stallkamp jabbed. "You have not supported me on any of those issues, like leanness, how Chrysler was lean. Look at the opulence on the German side vs. our side. We can't ask our people to be lean if people are flying the Concorde. We can't be lean if we're staying in a suite at the St. Regis even if we don't stay there the night. They give you a day room, and it's a suite? It's crazy. When I ask you about it, you go, uh, so what?"
Eaton kept fumbling with his script. "Am I," Stallkamp said, "being fired?" "No," Eaton said. "If I wanted you to leave I'd ask you to leave now. You come back with some other alternatives of what you want to do."
Stallkamp's mind raced. If he was being removed as president, there was a lot at stake. If he was demoted or fired without specific cause, his contract triggered a $5.4 million severance package. It was in the merger agreement. "You've triggered me," Stallkamp declared. "Talk to [Bill] O'Brien," Eaton blurted out. Talk to the company lawyer? Stallkamp erupted. "What the hell is going on?" he said, too loud.
Eaton's hands shook, and he choked on his words. Stallkamp thought Eaton was set to start crying. This is strange, Stallkamp said to himself. I should be emotional, not him.
When he returned to Auburn Hills, Stallkamp confronted Holden. He asked if he had orchestrated the whole affair. "We need to get on with life," Holden said. "All of us."
On Sept. 24, after a tense meeting in Frankfurt, the supervisory board dropped the bomb. The management board would shrink from seventeen members to thirteen, with eight Germans and five Americans. A new business structure was put in place, with three equal automotive pillars. Hubbert headed Mercedes-Benz cars. Holden ran Chrysler. Zetsche took over heavy trucks. Stallkamp, following an agreement on his severance pay, said in the press release he was retiring.
In Auburn Hills, they called it Black Friday. The press release went out at 6:36 a.m., Detroit time. An hour later, the American officers gathered at the old Chrysler headquarters to hear Eaton's explanation. Most were beside themselves with anger. When Eaton stood before them and said Stallkamp wanted to retire, the place went crazy. "This is unbelievable!" Gary L. Henson, the manufacturing chief, said. "Stallkamp has never talked about retirement. You guys aren't credible anymore. Why didn't you tell us sooner?" Eaton was flustered. When he claimed Cunningham wanted to step down from the board, Cunningham jumped up from the audience and denied it.
Stallkamp was invited to, but didn't attend, the second annual top-management meeting for DaimlerChrysler executives, the successor to Seville. Instead of traveling to a Spanish resort, the 300 officers gathered at the Sheraton Premiere at Tysons Corner, Va., near a huge shopping mall outside Washington, D.C. A fleet of black and silver S-Class Mercedes sedans ferried them to the front door. Security seemed unusually tight, with dozens of uniformed guards patrolling the perimeter and bomb squads on the alert.
The euphoria and camaraderie of Seville seemed a distant memory. The meetings bored in on specific business topics. The piano bar was as quiet as a tomb.
Today, DaimlerChrysler still hasn't made money for its shareholders. The stock trades near its low of 53 and is off about 33% from November, 1998. Nissan, under the leadership of Renault, recently reported a $6.3 billion loss for its fiscal year. Schrempp finally got his foot into Asia by purchasing 34% of Mitsubishi for $2.1 billion. Last year, he and his wife of 35 years, Renate, broke up. Schrempp said he faced a choice of "work or marriage" and chose work.

Former Chrysler executives have gone their separate ways. Stallkamp became CEO of MSX International Inc., an engineering-services company. And in January, Eaton stood before 350 American managers and told them he would retire on March 31. "I will think about you guys and silently thank you every day for the rest of my life," he said.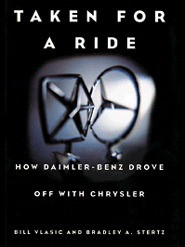 EDITOR'S NOTE: This excerpt is adapted from the book Taken for a Ride: How Daimler-Benz Drove Off With Chrysler, copyright 2000 by Bill Vlasic and Bradley A. Stertz. Published by William Morrow & Co., an imprint of HarperCollins Publishers. Reprinted by permission. Vlasic, a former BUSINESS WEEK correspondent who is now a reporter for the Detroit News, has covered Chrysler since 1994. Stertz covered the auto industry and is now an assistant managing editor for the Detroit News. The book is based on interviews with more than 200 people, including executives of Daimler Benz and Chrysler and other industry insiders. Conversations were based on reconstructions by participants. In a statement, DaimlerChrysler said the book "reflects the opinions and interpretations of facts by the two authors."
Before it's here, it's on the Bloomberg Terminal.
LEARN MORE