No Magic In Knight Ridder's Dot Com Idea
The newspaper company's Web plans can't get investors' interest
by
If you're an old-line newspaper company--even if you're online--it's hard to get any respect. Take Knight Ridder Inc. In 1999, the San Jose-based company's operating earnings soared 24%, to $624 million, on sales of $3.2 billion. "We set a record in every way you can measure," gushes Chairman P. Anthony Ridder. Yet Knight Ridder stock is off 30% since December. And not even the Mar. 1 news that it's paving the way for a spin-off of its pioneering KnightRidder.com Web business budged the stock.
The woes of Knight Ridder, which publishes 31 dailies including The Philadelphia Inquirer and The Miami Herald, are illustrative of a bigger problem that print businesses face in the New Economy. Web spin-offs are often embraced as hot concepts. But in the print realm, it's unclear whether such moves are savvy new business opportunities or desperate defensive steps against Web rivals. "All newspaper companies have Internet strategies," shrugs newspaper analyst John Morton. "I don't think it has any particular resonance with investors."
PULP FRICTION. Now compounding concerns about whether the Net will siphon off print ads and readers are Old Economy bogeymen of rising interest rates and paper prices. That's why stocks like Gannett, Tribune, and Times Mirror have sagged 20% or more this year. Doing a bit better are The New York Times Co. and Dow Jones & Co., whose national franchises have more investor and advertiser allure.
New York Times has already filed to create a tracking stock of its Times Company Digital unit, which Mark V. Zadell of Banc of America Securities values at about $2 billion. Zadell says the edge the Times has over other online publishers is its national reach and brand. Still, he believes KnightRidder.com--a collection of city portals where it has papers, such as Charlotte.com--should be worth roughly $750 million. For now, though, analysts say the online business has no value in Knight Ridder's $4 billion market cap.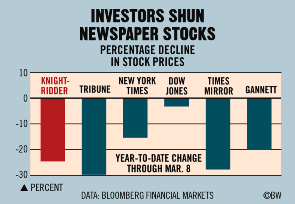 Although frustrated, Ridder continues to make smart moves like switching the 49%-owned Seattle Times from afternoon to morning delivery. He also wants to buy the San Francisco Examiner from Hearst Corp., which is acquiring the stronger San Francisco Chronicle. But Ridder says he will buy only if the Justice Dept. makes Hearst keep the papers' joint-operating agreement.
If his efforts don't impress the Street, Ridder says he might merge with another media company. "We would rule out merging with somebody else just to make us bigger," he adds. The way investors are shunning newspaper stocks, it's probably smart to stay away from them anyway.
Before it's here, it's on the Bloomberg Terminal.
LEARN MORE