Arvin Industries May Be Ready To Rev
by
Big Board-listed Arvin Industries (ARV) is yet another profitable small-cap company that the bull market has ignored. Its stock has been on the skids since early summer, when it was trading at 44. It's now at 26, even though this maker of auto parts--exhaust systems, shock absorbers, and filters--has posted record earnings per share for the past 15 quarters. "With the entire auto-parts group in disfavor, Arvin is suffering from guilt by association," notes Ed Trumpbour, managing director at Brandywine Asset Management, which has accumulated Arvin shares. The stock is "enormously cheap," he says, based on its "enterprise value," cash flow, and price-earnings ratio.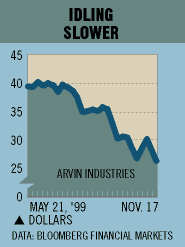 With the consolidation in the industry, big players seeking to expand their aftermarket business may find Arvin irresistible, he adds. Arvin is a major producer of both original and aftermarket equipment. In the aftermarket, Arvin's brands include Maremont and Purolator. Trumpbour figures that in a lowball buyout deal, Arvin is worth 38 a share. But it could fetch 50, he adds, based on current deals.
Merrill Lynch analyst John Casesa says Arvin's aftermarket business is once again improving, and the company is raising prices on its products. Arvin has "improved profitability through restructuring and operational excellence," says Casesa. He figures Arvin will earn $3.69 a share this year and $4 in 2000.
Before it's here, it's on the Bloomberg Terminal.
LEARN MORE