Cybersource Looks After E Business
By
As a recent IPO among the bustling Internet crowd, CyberSource (CYBS) is still hopping. Offered at 11 a share on June 23 through top-notch underwriters led by Merrill Lynch and J.P. Morgan, the stock closed at 13 9/16 on the first day. It has since vaulted to 25. Some money pros expect the stock to double this year, based on the vast market for CyberSource's products, which include fraud prevention, global payment processing, and tax calculation services to online merchants.
Part of the stock's fascination is the list of CyberSource's early investors: Microsoft co-founder Paul Allen, whose Vulcan Ventures still owns 11.5% after the IPO; General Electric Capital, with a 7.6% stake; and credit-card giant Visa International, which holds 9%. Also impressive is CyberSource's customer roster, which includes Compaq Computer, IBM Software Group, and Beyond.com, a major online computer software retailer, which spun off CyberSource in 1997.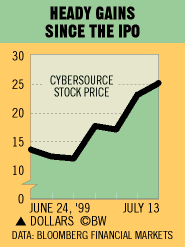 Some big investors are betting that CyberSource will attract buyout suitors once it's obvious that the market for its E-commerce transaction services is huge. One New York money manager who has been buying shares thinks that a credit-card biggie such as Visa could be interested in acquiring CyberSource. Visa and CyberSource are working together, notes the money pro, to build products that will protect Web merchants and their banks from Internet credit-card scams.
One CyberSource insider says he wouldn't be surprised if Visa or another credit-card company were to make a move. The company wouldn't comment since it was still in a "quiet period" in light of the June 23 IPO.
Before it's here, it's on the Bloomberg Terminal.
LEARN MORE