It's Not All Kisses In Candyland
by
THE EMPERORS OF CHOCOLATE
Inside the Secret World of Hershey and Mars
By Joel Glenn Brenner
Random House 366pp $25.95
There seems to be a formula for writing books about kid-focused companies: Describe in flowery terms the joy the products bring--whether toys, animated movies, or fast-food restaurants--and then compare that with the hard-nosed business behind the smiles. In several recent books of this sort, however, the competitive tactics have turned out to be rather commonplace, leaving readers with little feeling of contrast.
In Emperors of Chocolate, Joel Glenn Brenner follows the same path but ends up in a different place: She actually has found an unusual industry--one that stands out both because of its sweet image and somewhat sour reality. Her subjects are the families behind Hershey Foods Corp. and Mars Inc.--who have built most of America's $14 billion candy business. She uses them to spin an entertaining tale full of good anecdotes--but one that falls short because of reporting gaps and a perception of the business world that borders on naive.
Chocoholics will forgive her, though, because there is much to savor here. The book describes everything from the processing of cocoa beans to the search for the next big candy bar. Along the way, readers get tidbits that are excellent fodder for bar bets. Guess, for example, what percentage of M&Ms are brown? The correct answer is 30%: Red and yellow each account for 20%; and orange, blue, and green 10% each. But Mars changes the mix occasionally.
The U.S. candy business as we know it started in the late 19th century with Milton Hershey, a Mennonite who built a thriving caramel business in Pennsylvania. By 1893, when he saw a German chocolate-making machine at a world's fair, he bought it. The purchase shaped his legacy. He sold his caramel business and set up a utopian industrial town where he would make chocolate.
Chocolate was hardly a novel product. In Central America, it had been drunk as early as 1000 B.C., and Columbus brought cocoa beans back to Europe. But when Hershey broke ground on his factory in 1903, solid chocolate was just becoming a food for the American masses. He eschewed European formulas for milk chocolate and instead hit upon an entirely new process, one that actually soured the milk. That accounts for the distinctive Hershey taste--and for the enormous popularity that drove Kisses to $2 million in sales in 1907, their debut year.
The company continued to prosper in the next decades, but what made it stand out was the town it created and called home: Hershey, Pa. There, with the aroma of chocolate wafting over every street, Milton Hershey built parks and schools, paid above-average wages, opened a tuition-free junior college, and set up a school for orphans. But he was not without contradictions. When workers seized the factory in 1937 to protest the 60-hour work week, Hershey stood by as dairy farmers, who depended upon sales to the company, dragged the strikers out and beat them unconscious.
After Hershey's death in 1945, the company drifted. It eschewed advertising for decades and cut costs instead of expanding into Europe and capitalizing on the huge presence it had built during World War II. By the 1970s, Mars had closed the gap in domestic sales, even surpassing No. 1 Hershey on several occasions. Globally, Mars is now the clear leader, with 15% of all candy sales.
Mars's international success results from the family's visionary approach to business. The amalgamation of two companies--one started by Frank Mars in 1914, the other by his son Forrest--Mars has been something of an unknown laboratory for the theories of management. Almost any worker can halt the production line. Salary is based largely on company performance. And even top managers work in a large open area. Notes Brenner: "Such popular new products as General Motors Corp.'s Saturn have been built on these so-called innovative ideas."
But if Milton Hershey was something of a paradox where employees were concerned, the Mars family could be downright cruel. Over the years, family members regularly subjected workers to screaming fits. They even abused each other: Once, during a high-level meeting in Germany, Forrest Mars made his son John get on the floor for an hour and pray for the company's success, Brenner writes. With John on his knees, Forrest continued with the agenda.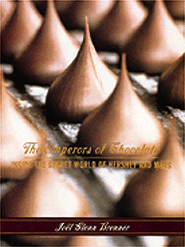 Unfortunately, such rich detail cannot overcome the book's lapses. A former Washington Post financial reporter, Brenner seems to have a surprisingly superficial understanding of Corporate America. She complains too often about company executives' refusal to cooperate with her and finds it remarkable that an industry-association spokesman declined to comment on the Hershey-Mars rivalry. The book repeats the confectionery companies' dubious claims about the nutritional value of chocolate, providing little objective comment. And the author is prone to overstatement: "Millions of people visited the park and factory each year," Brenner writes of Hershey's town. "And every one of them became a lifelong Hershey customer."
Emperors of Chocolate would have been better had it been trimmed by 100 pages and aimed to be a straightforward and entertaining history of candy. In that regard, the book resembles a chocolate bar: It's a tasty snack, but not a satisfying meal.
Before it's here, it's on the Bloomberg Terminal.
LEARN MORE