The Meat And Potatoes Of Online Shopping?
Not yet-but food cyber--retailers are still trying to get it right
By
As the skyrocketing prices of E-commerce stocks such as Amazon.com attest, the concept of shopping on the Internet is catching on, big time. Millions of consumers now routinely order books, videos, airline tickets--you name it--over the Net to avoid a trip to the mall. They're buying everything, it seems--except groceries.
That's not for a lack of companies trying to get folks to order groceries via their PCs. More than a dozen companies have gone after what seems like a great opportunity: helping the busy computer-owning families that make up the most profitable slice of the $400 billion grocery industry skip a trip to the store. But so far, the business is, well, small potatoes: close to $200 million a year, making it the laggard of E-commerce.
FATAL FLAW. Now, the industry is going through a shakeout. The hottest company of a year ago, New York-based NetGrocer Inc.--which had deals with America Online Inc. and Yahoo! Inc. plus backing from Cendant Corp.--has fired its CEO and laid off more than half of its staff. The problem: NetGrocer modeled itself after Amazon, setting up a national shipping center and mailing dry goods across the country. That's expensive. It also left consumers wanting for eggs and butter. That, says Maria LaTour Kadison, an analyst in Forrester Research Inc.'s online retail division, is the biggest obstacle: "You still have to go to the grocery store." OnCart, based in Lombard, Ill., learned a similar lesson and shut down in March.
Still, the opportunity is so large that companies are working overtime to figure out ways to make online groceries a success. Forrester predicts that Internet food and beverage sales will increase fiftyfold--to $10 billion--in the next
five years, while sales of many other items such as books will only quintuple.
So investment continues. In October, Nordstrom Inc. paid $23 million for a minority share of Streamline Inc., a Westwood (Mass.) company that fills orders for dry goods, videos, and other items over the Internet. Says Nordstrom Co-President J. Daniel Nordstrom: "Customers might like to take care of the new dress shirt as well as the groceries." Whole Foods Market Inc., the health-food chain based in Austin, Tex., plans a Web-based store for next March. And during the week of Dec. 7, Peapod Inc., the largest online grocer will set up a warehouse on Long Island from which it will deliver groceries across the New York area.
Peapod's move could start to turn the tide, analysts say. By moving to warehouses and abandoning its original tactic of sending green-aproned employees to pick items off supermarket shelves, it will boost efficiency and lower its prices. Its existing seven markets will gradually shift to the new model. Since the start of November, shares of the Skokie (Ill.) company have jumped 55%, to 6. Peapod revenues doubled, to $60 million, last year, though analysts predict it won't show a profit until 2001.
Still, Peapod faces some big hurdles. Since it will continue to buy the goods from its already established retail partners--not wholesalers--it may miss out on the best prices for its consumers. Rivals ShopLink and Streamline, by contrast, have deals with wholesalers.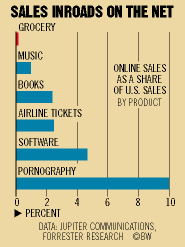 The online activity has piqued the interest of the retail grocery giants--which could provide intense competition, the way that Barnes & Noble Inc. now is challenging Amazon in books. Royal Ahold, the Dutch parent of Giant and Stop & Shop, is experimenting with online groceries in the U.S. and Europe and thinks online sales could represent between 5% and 10% of its total--or as much as $4 billion--in five years. "We see a big future for this," says Ahold Executive Vice-President Hans Gobes.
For now, Ahold is one of the more aggressive real-store players online. But that could change fast. "If you ever prove it works," says Whole Foods CEO John Mackey, "Wal-Mart's going to come in and blow you out of the water." Maybe. But if there's any axiom on the Net, it's that there's room for upstarts.