Pc Makers Race To The Bottom
Prices keep sinking--but it's a risky game for manufacturers
by
Two years ago, little-known Monorail Computer Corp. helped spawn a revolution in personal computers. While larger competitors sought top dollar for machines with whizzy new technologies such as Intel's Pentium chips and Microsoft's Windows 95 operating system, Monorail sold machines for as little as $999 in an effort to woo new price-sensitive users. PC giants Compaq Computer Corp. and Packard Bell NEC Inc. followed suit within months--and the PC business has never been the same.
Now, just in time for the upcoming holiday season, another industry pipsqueak is making noise--this time with a sub-$500 PC. Emachines, a startup backed by Korean computer giant TriGem Computer and display maker Korean Data Systems, will unveil a $399 computer--sans monitor--later this month. Sub-$1,000 machines have pushed average retail prices across the PC industry from about $1,600 to $1,200, but prices are still too high to attract droves of new buyers. Emachines believes its E-Tower, which will sell for less than $500 with a monitor, will appeal to the 55% of computerless households with annual incomes of $25,000 to $30,000. "This price point will open up another 20% of the market," promises Emachines CEO Stephen A. Dukker.
Analysts aren't convinced. But Emachines' pricing "certainly has some potential to drive penetration a bit higher," says Martin Reynolds, a PC analyst at Dataquest Inc.
FREE PCs? Lower-priced PCs provide a glimpse of how the industry continues its shift from traditional desktop machines to ultracheap consumer devices. Analysts say the future is in "niche" PCs--some with specific functions for entertainment, others with financial applications or calendar-keeping. Some even anticipate what Webb McKinney, general manager of Hewlett-Packard Co.'s consumer-products group, calls "the era of the free PC"--when consumers could be given PCs by their cable or telephone company, which would then recoup the cost through monthly service fees. "These are the things that are going to carry computing to the masses," says Roger Kay, a senior PC analyst at International Data Corp.
Despite the price tag, E-Tower comes loaded with surprising power. It sports a Cyrix processor made by National Semiconductor Corp., a 2-gigabyte hard drive, 32 megabytes of memory, a CD-ROM drive, a 56-kbps modem, 3-D graphics, and, for an extra $95 after a mail-in rebate, a 14-inch monitor. Add $59, and you get a three-year warranty and technical support.
Retailers have disdained cheap PCs in the past. While the machines have generated traffic, sales "haven't done well," says James F. Halpin, president and CEO of CompUSA Inc. Still, CompUSA and other retailers expect to stock a variety of cheaper PCs this season. By mid-November, Packard Bell NEC will slash the price of its entry-level machine to $599. Even IBM and HP say they may sell machines under $799. Sub-$1,000 PCs could account for 50% to 60% of the industry's unit sales this holiday season, twice as high as last year, says an IBM spokesman.
"A BIT SUICIDAL." Dukker is in talks with retailers such as Best Buy Co. and OfficeMax to sell his computers. But he'll be selling them at close to his manufacturing price--and Emachines could wind up with losses if prices rise for components such as chips and disk drives. "That's a bit suicidal," says International Data's Kay.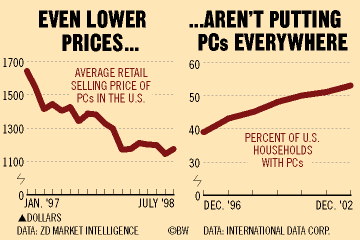 Dukker, formerly a senior executive with Computer City, wants to add on goodies to his Emachines that will generate revenue and develop customer relationships. He plans to bundle each computer with an Internet access plan--a la Midwestern computer maker Gateway Inc., which lets some users pay monthly for their PC and software. He has cut a deal with Netcom On-Line Communication Services Inc. to give his customers Internet access and is negotiating a similar arrangement with an Internet "portal" company.
But will PC buyers want to form a relationship with an unknown? Experts say consumers are more comfortable buying big brands in everything from computers to cars. "We could all be driving Hyundais, but we're not," says Halpin. Emachines could be just another upstart with little hope of starting a price war. On the other hand, that's what they said about Monorail--when PCs were selling for $1,600.
Before it's here, it's on the Bloomberg Terminal.
LEARN MORE