Denmark: One Strike Against The Economy
By
The government stepped in on May 7 to halt Denmark's worst strike in 13 years, as the 10-day stoppage crippled one of Europe's most dynamic economies.
Prime Minister Poul Nyrup Rasmussen implemented an agreement that gave workers more vacation time, but at a cost of smaller pension payments. The deal was only a bit better than the contract turned down earlier, so union officials were not happy with the intervention. But the strike of more than 400,000 workers had already closed factories, schools, and hospitals, and sharply cut food and energy supplies. The Finance Ministry calculated that the strike would cut real gross domestic product growth in 1998 to 2.2% from the initial forecast of 2.7%. The economy was already slowing due to tighter monetary policy and falling oil prices.
Denmark had been one of Europe's strongest economies, buoyed by both solid domestic demand and export gains. Real GDP grew 4.5% in 1997, almost twice as fast as Europe as a whole. The robust economy has tightened Denmark's labor markets--one reason unions felt confident about calling the strike. The jobless rate fell to an 18-year low of 7% in March (chart), after climbing as high as 13.4% in 1994.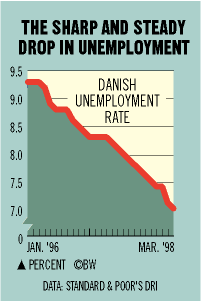 For 1998, the expected growth rate puts Denmark's economy on a par with the rest of the Continent. Denmark's central bank unexpectedly hiked interest rates on May 7 in an effort to help the weakening krone. The move was unusual because it occurred not in conjunction with the Bundesbank. Also, plunging oil prices are cutting into oil revenues. Because of the increase in labor costs, the strike will push up inflation, which stood at 2.3% in March.
With the strike basically over, Denmark's next big economic event will be the May 28 vote on the Amsterdam Treaty, which would expand the European Union and change refugee policies throughout the EU. Polls show a large number of Danes are still undecided. But analysts think that a "no" vote would mean both a weaker krone and higher interest rates.
Before it's here, it's on the Bloomberg Terminal.
LEARN MORE