Cell Phone Meets Laptop
DESIGN EXPLORATION: GOLD MoCCA Designers: Fitch; Digital Equipment; and Carnegie Mellon
Paul C. Judge
Sometimes, great designs spring from humble beginnings. Digital Equipment Corp.'s Mobile Computing & Communication Appliance (MoCCA), for instance, started out as a tool for computer-repair workers, who needed a hands-free way to accept wiring diagrams and pointers from colleagues while up to their elbows in a computer cabinet.
It developed into a concept that is voice-based, wearable, and ultimately "producible" three to five years from now. DEC and its design partner, Fitch Inc., came up with a sleek concept that heralds the future fusion of the laptop computer, cellular phone, and handheld personal organizer. Says juror Peter Trussler, director of the corporate design group at Northern Telecom Ltd.: "It reflected where we think telecommunications and information is going."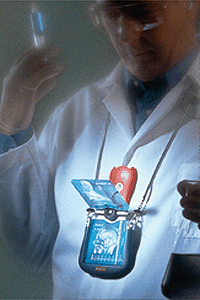 As a "concept" winner, MoCCA relies on technologies that are still in the lab, such as quarter-inch translucent screens, wireless videoconferencing, and an operating system that runs entirely on spoken commands. The design team sweated over how to make a 4-in.-by-4-in. computer that people would want to pick up and use right away. The key was an ergonomically appealing red handle, which lets people unfold the two 3-in.-by-3-in. screens like butterfly wings or pages of a book. The handle also props up MoCCA like a picture frame on the desktop, and it houses a speaker and some serious electronics.
MoCCA could display different data on the two screens--a report or Web browser on one, an address book or calendar on the other. Tilting MoCCA would scroll the data up or down, and shaking it like an Etch A Sketch would clear the screen. When it is worn with a neck strap, a single screen pivots up to be viewed. Guesstimated price? $700.
Before it's here, it's on the Bloomberg Terminal.
LEARN MORE