Amway Ii: The Kids Take Over
Dick DeVos and Steve Van Andel try to shed old baggage
Bill Vlasic
The Tarrant County Convention Center in Fort Worth was rocking last September. Some 10,000 Amway Corp. distributors were on their feet, swaying to the beat of a Christian rock band. Just offstage, Amway Chairman Stephen A. Van Andel awaited the spotlight. Reserved and soft-spoken in private, the lanky, 6-foot-6-inch Van Andel was a changed man when he bounded to the microphone.
"Whoop, whoop, freedom!" he yelled, his fist pumping the air. The crowd erupted. Van Andel had flown 1,500 miles to give a 15-minute speech to a crowd that treated him like a rock star. To them, Steve Van Andel was a crown prince, half of a new team that would lead Amway into the next century. "We have now transitioned to the second generation of the Amway business," he said to thunderous applause. "And it's the first of many transitions to come."
Amway, the enigmatic giant of the direct-sales industry, is passing the torch. Over the past two years, in an unusual dual-family succession, co-CEOs Steve Van Andel and Richard M. "Dick" DeVos Jr., both 42, assumed control of Amway from their fathers, Jay Van Andel and Richard M. "Rich" DeVos. Van Andel and DeVos senior started out in 1959 selling vitamins from their basements in the tiny western Michigan town of Ada. They built Amway into a mass movement of bootstrap capitalism and retired as billionaires, leaving their sons a most unconventional--and controversial--empire to run.
For this is no ordinary company. Amway does almost no advertising to the public. Nor will you find its Glister toothpaste or SA8 laundry detergent on store shelves. Amway's marketing efforts are aimed squarely at the millions of mom-and-pop distributors to whom it sells the hundreds of personal-care and household products it makes.
To keep that market strong, Amway must continually replenish its distributor ranks. Like most direct sellers, it loses about 40% of its distributors each year. To attract new ones, Amway depends on its biggest distributors to sponsor giant revival-meeting type rallies. Those events usually include an appearance by a Van Andel or a DeVos--names revered throughout Amway. "I have to do a certain amount of this," says a weary Steve Van Andel as he prepares for the trip home from Fort Worth. "Amway has to have a face. And it has to be a family face."
LEGAL WOES. But Amway's blend of "soap and hope," as the twin missions of manufacturing and motivation are known inside the company, seems increasingly anachronistic. The giant rallies celebrating family and religious themes alienate some recruits. And although Amway says it can offer low prices by eliminating the middleman, critics say discount chains are cheaper.
That's not to say Amway isn't a moneymaker. Owned equally by the DeVos and Van Andel families, it fields an army of 3 million distributors in 45 countries. Sales have tripled since 1991, to $7 billion last year, thanks to rapid growth overseas. Amway doesn't report earnings, but its publicly traded affiliates in Japan and Hong Kong earned a combined $295 million on revenues of $2.5 billion in the fiscal year ended Aug. 31. The DeVos and Van Andel families own 80% of the two companies--a stake worth $3.4 billion.
On the way to achieving that size, Amway also acquired something else: a reputation for controversy. Past scandals have included a federal pyramid-scheme investigation and fraud charges brought by the Canadian government. Right now, there are legal battles with Procter & Gamble Co. over allegations that Amway distributors spread rumors linking P&G to satanism, and with ex-distributors who lost money pursuing the Amway dream. Amway contends that it has repeatedly tried to squelch the P&G rumors and that only a tiny fraction of distributors leave disgruntled. "There are always going to be those few," says Dick DeVos.
Amway has caused a stir in the political arena, as well. The founding families are fervently conservative, fervently Christian, and hugely influential in the Republican Party. Over the past decade, Amway has been a major GOP contributor. In 1996 it tried to donate $1.3 million to televise the GOP convention on Pat Robertson's cable channel but backed off when Democrats criticized the donation as a ploy to avoid campaign-finance restrictions.
Now, it's up to the eldest sons of the founders to reconcile a small-town entrepreneurial legacy with the realities of running a $7 billion global business and one of the nation's largest privately held companies. Steve Van Andel and Dick DeVos, who serve as chairman and president, respectively, are fiercely proud of their fathers, who are immortalized in life-size bronze statues in the lobby of Amway's sprawling headquarters. But the new leaders face challenges their fathers never knew, including intense family pressures.
And unlike their fathers, the new leaders harbor ambitions outside Amway. Both have hinted they won't spend the rest of their careers in the business. While Steve Van Andel is vague about his plans, Dick DeVos has made no secret of his hope to run for political office, possibly a U.S. Senate seat. Amway insiders believe that the co-leaders could pass the baton to their younger brothers, Douglas L. DeVos, 33, head of Amway North America, and David Van Andel, 38, who runs European operations, within a decade.
As long as the founders are alive, the company is sure to be headed by family members. Amway declines to say which family members control the stock, but whatever the distribution, Rich DeVos, 73, who's recovering from a heart transplant, and Jay Van Andel, 75, battling Parkinson's disease, continue to wield great power. Both have long rejected the idea of taking Amway public or hiring outsiders to run it. "Rich and I built and nurtured a partnership with distributors, and it's important to maintain that trust," says Van Andel.
The founders made it clear that their eldest sons would eventually succeed them, although Dick DeVos and Steve Van Andel say they weren't obliged to do so. Dick put in 15 years with the company after college, but struck out on his own in 1989 to start a venture-capital firm and pursue a career in politics. In 1990, he flirted with a run for the U.S. Senate. He returned in 1993 after his father had a debilitating heart attack, though he stresses that he did so voluntarily. "We've all chosen our paths to Amway," he says carefully. "We have chosen it. That's very important."
It was different for Steve Van Andel, who joined Amway after college and never left. He decided that he preferred the close-knit Amway culture to other companies he was exposed to as a business student. "I realized that every business isn't like Amway," he says.
While Amway has traditionally been guarded with outsiders, this new generation has begun to open up. And for good reason. If the new leaders want to make their mark in business and politics, it is crucial to project a new image for Amway. "Amway has been controversial. I won't deny that," says Dick DeVos. "There have been bumps in the road, and we've made our mistakes along the way." That period, he says, is history. "We're looking at a new Amway, a new generation of leadership."
In many ways, the "new Amway" really is different. When it started, Amway was a direct-sales pioneer, but today it faces scores of competitors. And Amway is decidedly global. Today, some 70% of its distributors are outside North America, and the Amway sales force of 1.2 million in Japan easily outnumbers that in the U.S., at 750,000. Analysts believe earnings in the Asia-Pacific subsidiary could fall by half this year because of the region's economic woes, but Van Andel says Amway will ride out the storm. Overseas expansion remains a cornerstone of the company's strategy.
Internally, the business has changed, too. While the founders had only themselves to answer to, Amway's new leaders report to a board consisting of their fathers and six siblings. Although all proclaim support for Dick DeVos and Steve Van Andel, it's clear there has been tension. When Dick was named president, his brother Daniel, 39, did not hide his disappointment. "There were clearly some hard feelings, but Dan has moved on with his life," says William Nicholson, a former Amway exec and one of two outside advisers to the board. Dan, who left his job at Amway when Dick was anointed, denies that he felt any resentment. "I was not prepared to be president," he says. "There were better options, and we came up with them."
Steering further change at a company as tradition-bound as Amway won't be easy. The company still operates on the system the founders created in the 1950s. Jay Van Andel built Amway's elaborate bonus system while Rich DeVos charged up the troops with a message of Christian beliefs and rock-ribbed conservatism. "Rich was the seller, and Jay kept his eyes on the books. They made a great pair," says former President Gerald Ford, a long-time confidant of the Amway founders.
The lives of the Amway sons have been intertwined since childhood. The two families lived next door to each other in Ada, where the dominant community institution is the Dutch Christian Reformed church. When Rich DeVos organized touch football games, both families joined in. When Jay Van Andel took his clan skiing, the DeVos kids came, too. Dick and Steve attended Amway rallies on Saturdays and swept the basement offices after school.
Their long association shows. The co-CEOs are given to finishing one another's sentences and defer to one another in public. Both wear conservative business attire at all times on the job--even when dishing out hot dogs at the company picnic. DeVos, with a politician's practiced ease and reflexive smile, is more outgoing. Van Andel is an intent listener who admits he needed professional coaching to master public speaking. When they talk about Amway, though, they present a united front. "In essence, Dick and I speak as one person," says Van Andel. "When we make a decision, the decision is the two of us making it."
Their early years with the company were shaped by controversy. In 1979, the Federal Trade Commission concluded a lengthy investigation by ruling that Amway was not an illegal pyramid scheme as charged--because its distributors sold some products to the public and not just to one another. The FTC, however, ordered Amway to stop setting prices at which distributors sold products. In 1983, Amway pleaded guilty to avoiding duties in Canada by undervaluing exports there and paid $50 million to settle the charges. In 1989, Amway teamed up with investor Irwin L. Jacobs to launch a $2.1-billion bid for rival Avon Products Inc., only to retreat when Avon fought the deal.
TOUGH SLOG. Much of the controversy has stemmed from Amway's distributor system. The legions of independent sales reps give the company great reach at minimal cost. But as independent contractors, they are subject to only limited oversight. "We are far more vulnerable than any company because of our [open-door] policy and the low cost of entry," Dick DeVos says. Managing those distributors--recruiting, exhorting, and attempting to hold them in check--remains a huge part of DeVos' and Van Andel's job.
And it's not easy, given the inevitable disappointment of many distributors. Despite the millionaires whose lavish houses and fancy cars are featured at rallies, few people make big money in Amway. The average monthly gross income before expenses for U.S. distributors is just $88, according to the company, which says that most work at Amway part-time.
Amway distributors earn profits on sales and bonuses, but they make more money from their recruits. As a multilevel marketer, Amway has several levels of distributorship. Sales people climb the ladder by bringing in recruits, which gives them a cut of everything that their "downline" distributors earn. Some ex-distributors say they were pressured by their upline sponsors to recruit, but that little emphasis was placed on selling products. Amway says that distributors are required to make 10 sales to the public each month, but admits it has no way of checking that.
Even for good recruiters, the going is tough. To make $25,000 a year, a distributor needs 70 recruits, each generating $200 in sales a month. Only one of every 100 distributors does that well. But, Dick DeVos says, the opportunity is there, and at little risk. An Amway starter kit is only $151 and comes with a money-back guarantee. "We're giving you the materials you need, in a way that's effective and businesslike," he says. "After that, it's totally up to you."
A few distributors succeed spectacularly and may oversee sales organizations numbering in the tens of thousands of people. "How much money do I make? It's in the millions," says Bill Britt, a former city manager in Goldsboro, N.C., and one of Amway's biggest distributors. A lot of that comes from his cut of the sales made by his massive downline, but a big chunk has nothing to do with Amway soap or shampoo. Amway depends on superdistributors such as Britt to fill the ranks as distributors drop out. To do that, the big guns have developed lucrative parallel businesses selling motivational tapes, books, and seminars.
The Fort Worth rally shows the complex relationship between Amway and its big distributors. Britt organized the three-day event, which drew distributors from Louisiana, Mississippi, Texas, and Mexico, and used it as a chance to sell books and tapes. Amway wasn't a sponsor and didn't approve the content, but it did send Steve Van Andel to speak.
According to a class action settled last year, Britt controls at least seven corporations that produce motivational materials, while Dexter Yager, a megadistributor in Charlotte, N.C., heads 10 companies that churn out such books and tapes as I Wanna Be My Own Boss, How? You Work Your Guts Out, and If You Stay In, You'll Make It. The suit alleged that the big distributors coerced their downline into attending rallies and buying their materials. As part of the settlement, distributors were ordered to give notice that such purchases are optional and to guarantee refunds. Amway says it will suspend distributors who break those rules.
For some, Amway becomes a way of life. Seven years ago, Raj Shah, 37, quit his job as a software engineer in Troy, Mich., to become a distributor. He says he now earns $300,000 a year and is a better person. "Now, because of Amway, I don't drink beer, I don't curse, and I admire other people's success," he says. Shah listens to motivational tapes every day, most of which he buys from Britt.
Shah is a believer, but some ex-distributors say they were pressured into buying an endless stream of such materials. "I lost $15,000 in four years buying the tapes, traveling to seminars, staying in hotels," says Ashley Wilkes, 51, a photographer in Sunrise, Minn. "They manipulate you. You become a motivation addict." He quit Amway in 1994 and blames pressure from his upline distributors for the breakup of his marriage. His ex-wife, Tracie Myers, still a distributor, disputes that. "The business can be profitable, but there are more benefits than just money," she says.
POLO AND POLITICS. Amway faces a stronger adversary in P&G, which has filed federal suits in Utah and Texas alleging that Amway distributors defamed it by spreading false rumors of satanism within P&G on Amvox, the voice-mail system used by distributors. Amway says it can't control messages on Amvox and that it has debunked the rumor in its in-house magazine and in memos to distributors. The suits also revive charges that Amway runs a pyramid scheme. P&G contends in court papers that 82% of Amway products are consumed by distributors themselves, creating an artificial market and unfair competition. P&G accuses Amway of defamation, fraud, and racketeering, and seeks unspecified punitive and compensatory damages. Amway denies the charges and argues that P&G is simply trying to squash a growing rival.
Keeping its big distributors within bounds is an especially delicate task these days. With overseas growth crucial, Dick DeVos and Steve Van Andel depend on those distributors to open new territories by holding rallies and signing up recruits.
With operations in so many markets, it's no longer possible to divide the business as neatly as their fathers did--between the outside and inside. Instead, the co-CEOs have divided up territories, with Dick as chairman of Amway (Japan) Ltd. and Steve as chairman of Amway Asia Pacific. Half of the senior management team reports to Van Andel, the other half to DeVos.
But in other ways, the two are hewing closely to the traditions set by their fathers. Dick recently wrote Rediscovering American Values, patterned after his father's onetime best-seller, Believe. Steve has joined the board of the U.S. Chamber of Commerce, an organization his father once led. Like their fathers, both are avid sportsmen. Dick once ran his father's pro basketball team, the Orlando Magic, and he races yachts. Steve breeds horses on his 100-acre Michigan farm and plays polo.
They have also perpetuated the Amway tradition of political involvement, which dates from the FTC case. Government, Rich DeVos says, "has the power to sink you, destroy you--and you better pay attention." According to a BUSINESS WEEK analysis of campaign contributions, Amway, along with the founding families and some top distributors, has donated at least $7 million to GOP causes over the past decade. Last year, Rich DeVos and his wife, Helen, gave $1 million to the Republican National Committee, the second-largest soft-money donation ever, behind Amway's 1994 gift of $2.5 million to the RNC.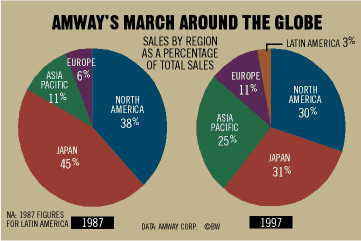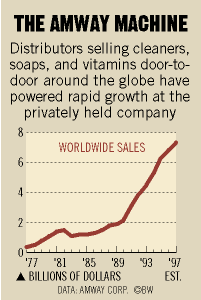 What does Amway get for its largesse? "You buy access to the point where at least you can be heard," says Rich DeVos. Issues Amway has successfully backed include most-favored-nation status for China and a provision in the 1997 tax bill concerning passive foreign investment companies that saved it from having to build plants in Japan. Dick DeVos says Amway is committed to its political involvement. "We are not going to run away and hide on the issues," he says.
Can this new generation bring Amway the respect it craves? Amway continues to attract controversy, and Dick DeVos and Steve Van Andel have yet to prove that they have the grit that enabled their fathers to build an empire. But along with corner offices, the new leaders inherited their dads' unflagging optimism. "I actually think the opportunity for Amway is better now than in the 1960s," says Steve Van Andel. Now, he and Dick DeVos have to prove it.
Before it's here, it's on the Bloomberg Terminal.
LEARN MORE