This Peace Dividend Comes Duty Free...But It's Getting Mixed Reviews
Kirk Albrecht
The nondescript cinder-block buildings of Century Investment Group line dust-swept streets in a largely lifeless industrial park near Jordan's border with Syria. But inside Century's six factories, more than 1,000 workers--mostly with heads covered in strict Muslim tradition--are busy churning out a quiet revolution, thanks to the Middle East peace process. "Peace has made our growth possible," says Century Chairman and CEO Omar Z. Salah.
The future for Century became rosy thanks to some fine print in legislation signed by U.S. President Bill Clinton in November, 1996, to try to jump-start the sputtering Israeli-Palestinian peace. The law allowed Palestinians--and Jordan and Egypt as well--to set up Qualified Industrial Zones (QIZ) that could ship goods duty-free to the U.S. The catch: Some of the product must come from Israel. Jordan--pushed by Century's Salah, since his base in the government-owned Al Hassan Industrial Estate in Irbid could fit perfectly as a QIZ--signed its own deal with Israel and the U.S. establishing the park as a QIZ during the Doha economic conference last November. U.S. conditions said a minimum 35% of content must come from Jordan and Israel or the Palestinian territories. Jordan and Israel agreed that Israel would contribute at least 11%.
The pact naturally delights 30-year old entrepreneur Salah, whose father owns one of the largest construction companies in Jordan. "This is better than what Israel has with the U.S.," he boasts, pointing out that Jordan doesn't have to import any American goods in return for entry to the U.S. "There is no other trade agreement like this in the world with the U.S."
Before the QIZ took shape, Salah had founded his nascent empire on joint ventures with multinationals--or Israeli companies--based in Israel, from where his goods could travel to the U.S. without duties. Starting with textiles, he has expanded into manufacturing aluminum cans, batteries, and even gold jewelry, in 14 joint ventures. Multinationals were attracted by Salah's vision and Jordan's low labor costs, one-tenth Israeli levels. Sales for 1997, the company's second operating year, hit $70 million, mostly from underwear and T-shirts manufactured for such tony brands as Gap, Polo/Ralph Lauren, and Victoria's Secret.
HOT STOCK. Now the QIZ means those goods can go direct to the U.S., and Salah says sales for 1998 should top $100 million. Such growth is luring companies from Israel to Jordan--even sparking protests in Tel Aviv over loss of textile and electronics jobs to its neighbor. Motorola is moving some electronics production to Century's operation in the QIZ, and investors have made Century one of the hottest stocks on the Amman exchange, with shares more than doubling since the company went public in December. So far, though, Century is the only company in the QIZ exporting to the U.S.
Not everyone is happy with the QIZ. In fact, most Jordanians still reject normalizing ties with Israel because of what they see as Israeli stalling in peace talks with the Palestinians. All professional associations, including the Jordanian Businessmen's Assn. (JBA), have refused to open ties with the Jewish state, and many reject the very notion of the QIZ: "I don't want any Israeli partner at this stage," says Hamdi Tabbaa, chairman of the JBA. "This is just a way to force Israeli products on Jordan's economy." Khaldoun Abu Hassan, chairman of the Amman Chamber of Industry, doesn't think much of the Irbid QIZ, either: "This is too little to be termed a good dividend of peace."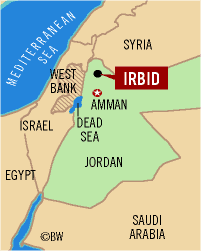 Century's Salah is one of the few Jordanian businesspeople who will admit doing business with Israeli companies, but sources say there may be as many as 35 joint ventures between the two countries. Salah, whose grandfather lost all his land in what is now Hertzelia in 1948, doesn't want to be misunderstood: "I adamantly oppose Netanyahu's policies." But politics hasn't dampened the spirits of the women sewing underwear, who make 30% above the average factory wage in a clean, air-conditioned plant. Hiyam Diab, who has been working at Century for a year, says: "I don't care about politics or Israel--I'm just glad I have a good job."
Before it's here, it's on the Bloomberg Terminal.
LEARN MORE