Taking The Gridlock Out Of Trade
One of the things Alois Kudzia liked best about his job was looking down into the smokestacks of the freighters as they passed under him. Protected by a full-body harness, the 63-year-old ironworker perched 230 feet above the treacherous currents of the St. Clair River as he inserted bolts into steel beams. Kudzia worked for seven months above the 60-ft.-deep St. Clair, one of 240 American and Canadian construction workers laboring on the second span of the Blue Water Bridge connecting Port Huron, Mich., with Point Edward, Ont.
But Kudzia was on terra firma gazing up on July 12 and 13, when choirs, bands, fireworks, and a ceremonial walk across the bridge heralded the opening of the 6,109-ft. span. A 1938 bridge and two underwater railway tunnels (one built in 1995, the other in 1891) already linked Port Huron with Point Edward. But the new $80 million Blue Water Bridge allows traffic at the crossing to double, to more than 17,000 cars and trucks a day. Eastbound traffic will run on the new span, westbound on the old. The Blue Water Bridge is expected to become the fourth-busiest international crossing in North America.
The 1994 North American Free Trade Agreement is a big factor in boosting traffic between the U.S. and its northern neighbor. Trade between the two countries is expected to grow by two-thirds, to $454 billion in 2015 from $272 billion in 1995. Some of those goods--U.S. produce and livestock, wood and paper products, machinery and electronic equipment bound for Canada, and Canadian chemicals, pesticides, and other commodities headed for Chicago, Cincinnati, and Indianapolis--will be trucked across the Blue Water Bridge.
But it is auto trade, which accounts for some 40% of the Port Huron-Point Edward traffic, that will benefit most from the new bridge, 60 miles north of Detroit. Barriers to U.S.-Canadian auto trade were eliminated by a 1965 pact. The bridge is critical to auto manufacturers' just-in-time parts delivery, adopted in recent years to reduce inventory costs. This means suppliers deliver parts to assembly plants in smaller lots than in the past--but do so more frequently. General Motors, Chrysler, and Ford Motor have plants on both sides of the border. Backed-up bridge traffic can throw off time-sensitive delivery schedules, says Michael Robinet, managing director at CSM Forecasting in Farmington Hills, Mich. The expanded Blue Water Bridge will help ease the congestion. In fact, it's likely to make nearby Sarnia, Ont., a large hub for auto transit. The communities at both ends of the bridge expect to reap other economic benefits. Port Huron and Point Edward anticipate a jump in cross-border shopping, for instance.
HOOPLA. On the U.S. side, St. Clair County is taking advantage of the bridge-opening hoopla by targeting European companies. "Our county's access to the U.S. and Canada makes it ideal for Europeans who want to do business in both countries," says Todd Brian, executive director of the Port Huron-based Industrial Development Corp.
On the Canadian side, Point Edward will use the bridge to boost tourism. In June, 1996, 82% of voters approved a change in the law to allow a gambling casino in the town, whose population is 2,400. In November, Point Edward hopes that Ontario will pass further legislation to permit a $100 million entertainment complex with casino, Imax theater, aquatic center, and tennis courts. The facilities, which will occupy the 70,000-square-foot riverfront building of a former steamship company, should open next year. Point Edward is developing a 14-acre family park and improving its marina, too. "An end to long delays on the bridge and increased traffic will expose more people to our village and its amenities," says Deputy Mayor Barbara Horner.
The Michigan Dept. of Transportation and Canada's Blue Water Bridge Authority began planning the new span in 1992. The existing bridge was then clogged with car and truck traffic, which had soared 74%, from 3.5 million vehicles in 1980 to 6.1 million in 1992. Traffic was projected to swell an additional 50% by 2020, largely because of NAFTA.
The construction costs of the new bridge will be repaid from tolls--$1.50 per car and $1.50 per axle for trucks, paid in both directions. Bridge tolls also will cover the $15 million cost of rehabilitating the old bridge. When the two sides were joined last November, U.S. and Canadian customs officials put razor wire on top of the fence in the middle of the bridge that separated the two countries. "It was fairly extreme, but then customs people tend to be that way," says Bruce Campbell, assistant project manager for the Michigan Dept. of Transportation.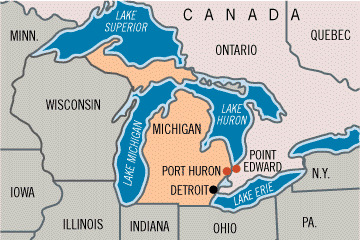 The construction of the bridge did its part to further relations between the two countries. U.S.-Canadian partnerships were formed to bid on construction contracts, fostering development of binational relationships among workers. They labored on their respective sides of the bridge by day, but met each Wednesday night at the Thomas Edison Inn on the U.S. side, or at Stokes Bar in Canada. "We have been quite a brotherhood," says Kudzia, who also worked on the international bridge at Sault Ste. Marie, built 38 years ago.
When Kudzia's stepson, Scott May, also an ironworker, fell on the bridge, seriously injuring himself, Canadian workers took up a collection to help pay his living expenses while he recuperated. Canadian workers also made hospital visits to an American worker who got tangled up in a hoisting device.
Such personal relationships weren't exactly what NAFTA backers had in mind three years ago when the agreement went into effect. But for people like Kudzia, it's proof that NAFTA is already bringing positive results.