The Gloves Come Off Over Latex
Makers of medical gloves face an explosion of lawsuits
Joseph Weber
When West Chester (Pa.) dentist Lise C. Borel broke out in welts, turned bright red, and couldn't catch her breath during a patient exam three years ago, the last thing she thought to blame was the gloves she had just slipped on. But like thousands of Americans, Borel is severely allergic to latex, the rubber-like compound in most medical gloves. Her doctors believe the condition has led to asthma and possibly heart problems, and warn that just a slight exposure to latex could trigger a life-threatening seizure.
Borel, 42, no longer practices dentistry and is in rehabilitation. She can't even spend much time in dental offices. Because the lubricating powder used on most medical gloves absorbs allergenic proteins in the latex--and then becomes airborne--she believes that she could suffer an attack just by inhaling. Says Borel: "My immune system is in overdrive."
Now Borel's and others' latex troubles are spreading to the health-care manufacturers. Johnson & Johnson, Allegiance Healthcare, Safeskin, Ansell Perry, and several smaller companies are facing an explosion of suits from people like Borel. Since January, 1996, the number of latex allergy suits has risen from 25 to about 200 (chart). And that's just the tip of the iceberg. Recently, 45 federal cases were consolidated into one lawsuit before Philadelphia District Judge Edmund V. Ludwig. That will make it easier for plaintiffs' lawyers to investigate the manufacturers--and is expected to spur yet another wave of filings.
The alleged victims, primarily doctors and nurses who come into repeated contact with the gloves, hold the manufacturers responsible for failing to warn them properly--even after studies dating back to the early 1980s showed latex to be risky. "At stake are the careers of potentially hundreds of thousands of health-care providers, nurses, and physicians," says Philadelphia plaintiffs' attorney David S. Shrager, who leads an 18-law-firm steering committee in the federal consolidated suit. That committee is now putting more than $1 million into a "war chest" to fund the litigation, he says.
AIRBORNE. But the companies say the plaintiffs' lawyers' cases are built on untested scientific theories. While the manufacturers generally acknowledge that latex can cause allergies, they say that it is present in thousands of common products other than gloves, including everything from adhesive tape to balloons. They also challenge the plaintiffs' lawyers' key theory that airborne latex proteins can cause allergy attacks. "We've spent more than $2 million researching this ourselves, and a lot of [the plaintiffs'] scientific claims are unconfirmed," says Ansell Perry spokesperson Patty A. Fleming.
Even if the plaintiffs' attorneys' science is inconclusive, concern about latex allergies is spreading. In 1992, the American College of Allergy & Immunology urged precautions for health professionals, noting that more than 600 serious reactions had been reported. In 1993, the FDA urged that manufacturers voluntarily put warnings on glove boxes and is now considering making warnings mandatory. Meanwhile, hospitals across the country are increasingly purchasing low-allergen gloves. Oregon legislators are weighing a bill that would ban powdered latex gloves in hospitals.
Riding this tide of concern, many plaintiffs' lawyers are betting that latex allergy will be the next big tort. While no one knows how many people have serious allergies--in part because the condition is still latent in many of them--New York plaintiffs' lawyer David Rheingold estimates that several thousand health-care workers could be entitled to $1 million or more for lost wages and unreimbursed medical expenses. To recruit new plaintiffs, Rheingold's firm is now advertising on the Internet and in nursing and medical journals. But the competition for clients is growing fierce. Last month, the first "how-to" seminar devoted exclusively to latex allergy cases took place in Washington.
While there's no reason to believe the latex allergy dispute will ever grow to the massive scale of the asbestos or breast-implant litigation, Wall Street now is beginning to pay attention. Should the plaintiffs' lawyers start winning, it could put some small companies that do a large percentage of their business in latex gloves "out of business," says William J. Plovanic, a medical technology analyst at Madison Securities Inc. in Chicago.
WARNING LABELS. The market for latex gloves exploded in the late 1980s, after the federal government required health-care workers to take greater precautions against the HIV virus. But Atlanta plaintiffs' attorney Lauren Antonino says that although medical evidence of the riskiness of latex gloves has existed since the early 1980s, most manufacturers failed to provide any warning labels until 1993--when the Food & Drug Administration suggested they do so. And even then, Antonino says, the warnings were inadequate. They failed to tell people how serious their injuries could be and neglected to tell them to call a doctor if they showed preliminary signs of latex allergy, such as watery eyes and wheezing, says Antonino.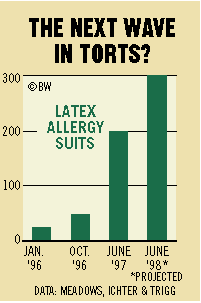 The manufacturers respond that their warnings have been sufficiently powerful. The companies are also likely to have some strong legal defenses. Because many victims took a long time to recognize the symptoms of latex allergies, their claims may be barred by statutes of limitations. Most users also used several brands of gloves, which could make it difficult for them to pin liability on any one maker. And the manufacturers also have a good story to tell in a courtroom: While latex gloves may hurt some health-care workers, they have prevented many injuries as well. "The whole reason there has been a surge in the use of latex gloves is that they make an excellent barrier against transmittable diseases," says Allegiance spokesperson Donna J. Gaidamak. Just as in the asbestos and breast-implant cases, juries will have plenty of evidence on both sides to weigh.
Before it's here, it's on the Bloomberg Terminal.
LEARN MORE