Suharto Capitalism
Will the economy survive his final years in power?
By
In the violence that preceded Indonesia's recent election, one day in May stands out. Rampaging election mobs tore through streets in towns throughout the archipelago, setting fire to a department store and burning alive 123 rioters trapped inside. Anticipating violence, thousands of Indonesians had stocked up on goods and locked themselves up in the safety of their homes. Some had even ordered cable television to watch the news. Thus, Indovision, News Corp.'s pay-TV network in the country, scored a record number of sales as hundreds of new subscribers paid about $1,000 each for their first monthly subscriptions, digital decoders, dish antennas, and installation fees.
Strife, tension, corruption, anger, violence. These are becoming standard terms to describe life in the world's fourth-most-populous country. As an aging President Suharto solidifies his political hold over 200 million people in yet another lopsided election, the capitalist underpinnings of his Indonesia are shaking. In his waning years, Suharto's increasingly autocratic rule is cancelling out some of his most important economic achievements. Ostentatious displays of greed by the President's family and friends are fueling mass resentment. The tiny middle class is feeling just enough trickle-down to make them envious of the rich but not enough to feel satisfied. And small businesspeople cut out of the economic boom are angry too.
Can the system Suharto built from the ashes of upheaval 32 years ago survive? If Suharto--who turns 76 this month--dies without setting up a political transition, a violent upheaval sparked by economic disparities could erase many of the gains of his era. A backlash could plunge Indonesia into violence reminiscent of 1965, the year Suharto himself emerged from bloody chaos. "The entire Indonesian economy is in one hand. If the President is not on duty, or if he passes away, no one can imagine what will happen," says an ex-member of parliament.
Suharto still has a chance to put things right, to allow more of the middle class and business in on economic growth, and to pull more people above the poverty line. Economists and analysts say he could widen the middle class by lowering the cost of doing business. Currently, consumers pay artificially high prices--a chicken in Irian Jaya costs $6.25, or nearly three days' wages. Decentralizing bureaucracy, so that licenses can be granted by local officials instead of national ministries that control all decisions from Jakarta, could spark enterprise and encourage competition. Suharto also could reduce the role of his family and friends in monopolizing industry--and cut the bribery and red tape that is routine in doing business.
CHEAP LABOR. Over the years, Suharto has constructed a remarkable engine of growth, showing flexibility, shrewd fiscal policy, and political cunning. He has opened up the country to $176 billion in pledged foreign investment, luring in companies eager to staff factories with cheap labor, exploit some of the richest natural resources on earth, and enjoy generous tax incentives. Growth has steamed along at an average of 7% over the last decade. Most Indonesians are clearly better off than their parents were.
If this were the sum total of Suharto's economic rule, the President would be one of the great reformers of the region. But he has combined enlightened policies with astonishing cronyism, doling out rewards to his faithful retainers and relatives and using them as his agents to control vast stretches of the economy. Everything from flour milling to petrochemical refining is protected from competition, with licenses doled out to politically powerful friends of Suharto such as Liem Sioe Liong and Mohamad "Bob" Hasan. Major international investors often must give equity to the children, cousins, and pals of Suharto, fearing they would otherwise be unable to land government permits.
HEAVY TOLL. This model benefits mainly an elite, while the middle class has remained small. Nearly 15% of the population lives in abject poverty. Income levels in Jakarta are triple those in the countryside. "On the surface, we can see that the economy is stable. But you must go outside Jakarta to see that inflation is growing very fast and ordinary people can't afford to buy a chicken," says Megawati Sukarnoputri, daughter of Indonesia's founding President Sukarno and a government opponent.
Unemployment also is a problem. The rate is only 4% for men over 35. But for younger men, unemployment is a high 13%. A mass of 2.5 million teenagers comes on the job market every year, full of resentment at a low minimum wage of $2.20 a day and the concentration of wealth in Suharto-linked companies.
Suharto's policy of nepotism, mixed in with monopolistic industrial policy, takes a heavy toll on consumers. Witness Indonesia's national car program, a project granted without bidding to Suharto's 34-year-old son Hutomo Mandala Putra, or Tommy. The goal was to put an affordable car on the streets for the middle class, and Tommy was given preferential luxury-tax and duty breaks to import sedans manufactured by Kia Motors Corp. in South Korea. The price is $15,000 each, double what his venture, Kia-Timor Motor, purchases them for and more than 10 times the average per capita income of $1,300.
Some foreign investors are finding this climate too hot to handle. Both Motorola Inc. and Ford Motor Co. have decided to reduce their involvement in the country, and GTE has decided not to invest at all. On Apr. 30, Ford said it was dropping plans to build a car factory because of Tommy's monopoly. Then, in May, Motorola pulled out of a joint venture to sell pagers because its Indonesian partner, Starpage, refused to stop paying "donations" of $10,000 a month to the Posts, Telecommunications & Tourism Ministry, industry sources say. That's potentially a violation of the Foreign Corrupt Practices Act. Motorola declines to comment, except to say that it is remaining in its other ventures.
Other foreign investors are staying put. But even they get buffeted. Denver-based Newmont Mining decided to remain in Indonesia but refused a sudden demand in May by Mining & Energy Minister I.B. Sudjana to give up 10% of its 85% stake in a $1.9 billion gold and copper mine on the island of Sumbawa. The 10% would have gone to two companies run by Prajogo Pangestu, a close friend of the President, and Suharto's daughter Siti Hardiyanti Rukmana, known as Tutut, a possible successor to her father. Even though the Mining Minister issued a few thinly veiled threats to revoke Newmont's contract, he eventually dropped the demand. "That would have wrecked investor confidence," says one mining executive.
Suharto's capitalism hasn't always been so treacherous. In the early days of his regime, he relied on a group of U.S.-educated technocrats, the so-called Berkeley mafia, to rescue his economy. They ratcheted down inflation, which had been running at 1,000% annually, stabilized the currency, and wooed foreign investors. Then, in the mid-1980s, when the price of oil collapsed and forced the petroleum-rich country to its knees, Suharto again turned to his Western-trained technocrats for help. They slashed tariffs and ended import protections--even for some of the favored industries--to attract foreign investment. Swiss company Societe Generale de Surveillance, or SGS, was brought in to oversee the notoriously corrupt customs service. Capital controls were abolished, and the stock market was opened to foreigners.
The results were stunning: Exports and manufacturing boomed, the stock market developed into a thriving regional bourse, and banks sprouted like mushrooms. Growth surged mostly because of a jump in manufacturing, as companies such as Nike Inc. and Mattel Inc. moved to Indonesia.
THREE UNDERLINGS. But the prosperity of the 1990s, brought about by these measures, as well as an end-of-dynasty assets grab, has caused Suharto to revert to former practices. Now the signs of backsliding are everywhere, from Tommy's national car monopoly to the termination of the SGS contract. Economists were also dismayed in April when Sudjana sacked three of his underlings in the Mining & Energy Ministry who had clean reputations among foreign investors.
Most observers say this perhaps-final term of Suharto is crucial if he is to ensure stability after his death. The question is whether he will do enough, if anything. "I have no confidence that he's willing to change," says Sofyan Wanandi, chairman of Gemala Group, an ethnic-Chinese, family-run conglomerate with diverse holdings from supermarkets in Jakarta to a trailer assembly plant in Arkansas. "He has been successful for the past 30 years, and the government party got a mandate of 75% of the vote, so he thinks, `Why do I have to change?"'
Suharto has made some half-hearted attempts to even out income gaps and defuse social tension. In May, he summoned Muslim Javanese small businessmen and ethnic Chinese conglomerate leaders to his summer palace in Bogor, West Java. There, he reminded the Chinese that they were "obliged" under the constitution to form "partnerships" with small businesses. Then he said he had collected donations of 2% of the conglomerates' earnings to distribute to the poor. Suharto also banned construction of shopping malls and supermarkets in rural areas after a street peddler had publicly complained that he couldn't compete with the slick new rivals.
RULE OF LAW. These measures alone won't solve Indonesia's problems. What the country needs is more openness, less corruption, and more freedom for entrepreneurs. Some say the key to making Indonesia more stable lies in giving courts more autonomy to pass just verdicts. Under the current system, judges behave as bureaucrats acting to enforce decisions of Cabinet ministers. "Without rule of law, you cannot give certainty to people, including the business community," says Adnan Buyung Nasution, a human-rights lawyer and founder of the Legal Aid Foundation of Indonesia.
Analysts say Suharto's top priority should be planning an exit that ensures political stability and guarantees democratic reforms. Suharto, however, shows no sign of doing this. "When you talk about economic institutions, Indonesia is going global. When you talk about political institutions, Indonesia is Jurassic Park," says Sjahrir, a Harvard University-educated economist who runs the Econit consultancy in Jakarta.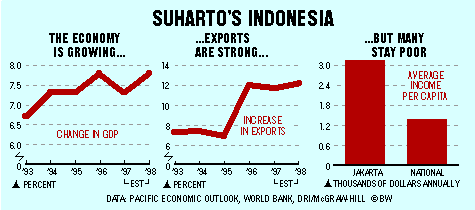 Suharto could also strengthen the role of technocrats. There's a lot for good government to do in Indonesia, from ensuring that land rights of the poor are respected to dealing with Jakarta's growing environmental crisis, which forces the poor to spend a good part of their daily wages on clean drinking water--or run the risk of disease.
But don't expect to hear this from Suharto himself. When he appears in public, it is in carefully choreographed events where he seems kindly, presidential, in control. No one outside his inner circle knows how Suharto views the challenges that lie before him, or even if he cares about them at all. Yet only he can prepare his economy and people for the great uncertainties that await Indonesia when the patriarch exits the scene.