At Ups, Part Time Work Is A Full Time Issue
If the delivery giant doesn't produce more full-time jobs, the union could walk
Aaron Bernstein
United Parcel Service of America Inc. is a powerhouse of a company. In recent years, it has racked up record profits and enjoys the delivery industry's highest margins. It is invading the turf of rivals such as Federal Express Corp. in air deliveries. The Atlanta company also pays top dollar to its 190,000 Teamsters employees: Delivery drivers earn $20 an hour, while part-time sorters and loaders start at $8 and hit $10 after two years.
The pretty picture stems in part from an aggressive growth strategy based on hiring scads of part-timers to keep labor costs low. True, UPS has created 46,000 new unionized jobs since 1993, a stunning 27% increase. But more than 80% of the newcomers are part-timers, whose pay rates haven't changed since 1982. With few full-time jobs opening up, many part-timers feel they have no prospects of jumping up to the better posts and that their work is demanding and dangerous: UPS has twice the injury rate of other delivery companies. UPS says the union exaggerates the safety problems. Turnover among part-timers exceeds 400% a year.
STANDOFF. The issue is coming to a head in contract talks with the Teamsters, whose pact with UPS expires on July 31. Teamsters President Ronald Carey, himself a former UPS driver, wants to turn thousands of part-time jobs into full-time ones and narrow the pay gap. UPS may lift part-time rates a little, to attract new hires amid mounting labor shortages. But the company says it can't come close to meeting Carey's demands. In fact, UPS wants to use more lower-wage part-timers to fend off nonunion rivals nipping at its heels. The standoff prompted Carey and his bargaining team to abruptly storm out of negotiations on May 13, returning only on June 3. "We're married to part-time work," says UPS chief labor negotiator Dave Murray. "We don't have any choice in the matter."
It's too early to tell how much both sides are posturing or whether the Teamsters would actually strike. Whatever happens at UPS, though, it isn't the only place where these issues are playing out. Across the country, millions remain stuck in temporary or part-time jobs that pay less and offer fewer routes for advancement, despite soaring profits, plentiful jobs, and rising wages. The good jobs remain scarce for many workers who lack college degrees. What happens at UPS may be something of an indicator for the economy as a whole. After all, "if a company as strong as UPS doesn't feel it can create more good jobs, few others are likely to either," says University of Pennsylvania management professor Peter Cappelli.
UPS's extensive use of cheaper part-timers arose almost by accident. Originally, delivery drivers loaded their own trucks. But that became impossible as delivery became more complex. So the company sought college students who didn't want a career at UPS to load trucks in the morning and unload the pickups at night.
As UPS grew, the Teamsters never pushed for higher part-time wages. Instead, they focused on the full-time drivers who were more committed to the union. So the pay gap between the two groups widened (chart, page 90). And while the closely held company has doubled its stock price since 1991, union members, who are two-thirds of total employees, own just 2.7% of the company (28,000 managers own about 29%). The company, for its part, reaped an increasing cost advantage from the lower pay of part-timers, who also get reduced benefits.
Then, in 1988, UPS started its air division to compete with FedEx and other rivals that deliver overnight. UPS has done well, and its air revenues have more than doubled in the 1990s, to $6 billion last year, or 27% of UPS's sales. But to keep costs down, it has hired mostly part-timers. The rationale: FedEx drivers earn 30% to 50% less than UPS ones. And because FedEx is nonunion, "they can change [work rules] overnight," says Murray.
Today, though, many part-time jobs aren't really so part-time. Air delivery service means that large UPS facilities are virtually round-the-clock operations. Many are staffed by staggered four-hour shifts that often start just an hour or two after the last one. Fully 10% of the company's 128,000 part-timers work 30 or more hours a week, yet they're still paid the lower rates. Meanwhile, few full-time drivers leave their plum jobs. At the main air hub in Louisville, part-timers comprise about 4,900 of the 5,200 workers. Just 50 have landed full-time jobs since 1993. Throughout the company, only 13,000 part-timers have moved up since then, out of some half a million who have been hired.
Craig S. Burns is one who has stuck it out. He joined UPS in college in 1986 at the Louisville hub, but stayed on after he got a ba in business. Today, at age 35, he works 30 hours a week and makes $13.59 an hour as a part-time loader. He's No.170 on Louisville's seniority list, ahead of 4,000 others. But at today's rate of openings, he'll have to wait a decade to land a $20-an-hour driver job. "I'm fed up, but the people after me are a lot worse off," says Burns.
Despite the Teamsters' vocal demands, it's not clear how hard the union will actually push for part-timers. True, they wield more clout in the union now that they're a majority of the UPS membership. And even full-timers sympathize: 75% ranked more full-time job opportunities as a high priority for the current talks in a recent Teamsters survey. Still, local Teamsters leaders for years all but ignored part-timers, because so many quit the company--and the union. Locals also keep all of a new member's union initiation fee, which is as much as $500 in some cities. So high turnover is a financial boon to the locals.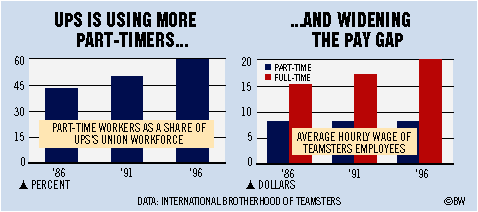 Still, Carey seems determined to confront the issue. He has a personal interest; he drove a UPS truck for 12 years and then headed the Teamsters' largest UPS local for 24 years before winning the union's top job in 1992. In recent months, the union has called hundreds of rallies at UPS sites around the country. "We can't let big companies shift good jobs into lousy ones with low pay," Carey told a May 22 rally at a distribution hub in Chamblee, Ga.
UPS is vulnerable even to a partial walkout and probably will meet at least some of the Teamsters' concerns. But the heart of the conflict--the second-tier status of part-timers--is likely to remain an issue for years to come.
Before it's here, it's on the Bloomberg Terminal.
LEARN MORE