business
Viacom's Headache: It's A Blockbuster
The company wanted a cash cow. Did it buy a turkey?
Elizabeth Lesly
Viacom Inc. Chief Executive Sumner M. Redstone has a big problem. He runs a media giant with several promising businesses run by executives eager to expand their franchises. But owing to a huge debt load of about $10 billion and a stock that is 60% off its high, Viacom has to retrench to get its financial house in order.
Inevitably, those limitations have prompted some ambitious managers to jump ship. The latest casualty is Blockbuster Entertainment Group chief Bill Fields, hired away from Wal-Mart Stores Inc. barely a year ago and once hailed by Redstone as his possible successor. Fields abruptly left Viacom on Apr. 22. He wasn't available for comment, and a Viacom spokesman wouldn't say whether Fields was fired or quit. But Fields is expected to take a senior position at another large retailer shortly. The stock market reacted violently to the news: Viacom lost $1.6 billion of market value in the two days following the announcement.
MOVIE SHORTAGE. What went wrong? Analysts and investment bankers say that Fields's aggressive plan to transform Blockbuster into a one-stop retailer of videos, music, books, and computer games conflicted with Redstone's need to trim capital investments. And sources say Fields's effort to save money by centralizing the licensing operations of all Viacom units ran afoul of other corporate fiefdoms.
In addition, the video industry is undergoing a shift away from rentals to lower-priced tapes that consumers buy from supermarkets or general retailers. That trend--along with the dearth of hit movies going to video--is hurting Blockbuster's cash flow, which Viacom says declined by as much as 20% in the first quarter. So no matter how solid Fields's turnaround plan might have been, Blockbuster wasn't generating the results Redstone needed to pay down debt. "Clearly, there was a falling-out between Fields and Redstone as to how that business would be managed," says Furman Selz Inc. media analyst Frederick Moran. "Redstone is a very hands-on individual, who likes to have the division heads execute the strategy while he determines that strategy."
What will Viacom do about Blockbuster now? On the day Fields left, the media conglomerate announced plans to issue in early 1998 a separate class of stock tied to Blockbuster's performance. Viacom didn't say what portion of Blockbuster would be sold, or at what price. The deal is unusual because companies typically issue tracking stock for units performing better than the parent company. And the announcement backfired because it led analysts to focus on how little Blockbuster might be worth.
And how little is that? Viacom paid $8.4 billion for Blockbuster in 1994. Now, says Merrill Lynch & Co. media analyst Jessica Reif-Cohen, it's worth just $4.6 billion, because of its slipping cash flow. "That's an incredible loss of value in only three years," says Reif-Cohen. And now, with Fields gone and his turnaround plan aborted, "they have to start the clock again." The Viacom spokesman says the company believes Blockbuster is worth between $6 billion and $8 billion.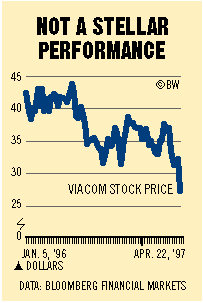 EXODUS. Oddly enough, Viacom bought Blockbuster largely because it produced enough cash to enable Viacom to buy Paramount Communications Inc. in 1994. But Viacom soon learned that in order to keep fueling the video-rental chain's growth, Blockbuster's cash flow had to be reinvested in new retail outlets. Then, changes in the method Blockbuster used to account for its tape inventory made the chain's margins appear lower in 1996.
Fields follows several executives who have left the financially pressed Viacom in the past 18 months. Nickelodeon chief Geraldine Laybourne skipped to Walt Disney Co. CEO Frank Biondi was fired in 1996 and now heads Universal Studios Inc. Former Blockbuster chief Steven R. Berrard left to rejoin former Blockbuster owner Wayne Huizenga. Technology chief Edward D. Horowitz left for Citicorp.
Top executives at any large company come and go. But at Viacom lately, it seems they only go.
Before it's here, it's on the Bloomberg Terminal.
LEARN MORE