What Price The Snapple Debacle?
Greg Burns
Quaker Oats Co.'s $1.7 billion purchase of Snapple in late 1994 surely stands as one of the decade's worst acquisitions. With Snapple dragging it down, Quaker's stock stagnated while the Dow Jones industrial average moved up by roughly 70%. So now that Quaker is unloading the beverage brand, should its shareholders celebrate?
Mourning would be more appropriate. Like a death in the family, the Snapple debacle leaves behind a traumatized survivor, facing a difficult path to recovery. The price Quaker will pay for its soft-drink misadventure goes well beyond the $1.4 billion in losses directly associated with the sale of Snapple to Triarc Cos. for just $300 million. In addition, Quaker has absorbed $100 million-plus in cash losses and charges related to Snapple. And since the deal damaged its balance sheet, Quaker's credit rating has suffered, raising its cost of capital.
Another cost: Quaker helped pay for the acquisition by selling off pet-food and candy businesses that gave it a larger scale, steady earnings, and international reach. It paid punishing capital-gains taxes on those sales. And its biggest divestiture has turned into a windfall for the buyer: H.J. Heinz Co. has more than doubled the operating profits of pet-food brands such as Kibbles 'n Bits that it bought from Quaker for $725 million. "Heinz did phenomenally well," says analyst Nomi Ghez of Goldman, Sachs & Co. For Quaker, "the mistake was double," she says.
BRAIN DRAIN. The miscalculations have led to other problems. The Snapple trauma knocked the wind out of Quaker's once gung ho corporate culture. Layoffs related to the pet-food divestitures sent a bunch of talented managers packing, and Snapple's poor performance claimed still more casualties. The upshot: a severe brain drain, culminating in the loss of Chairman William D. Smithburg's onetime heir apparent, Philip A. Marineau, to up-and-coming Dean Foods Co.
Smithburg's Snapple experience should be a warning to cocksure executives. Smithburg bought Snapple after a major triumph: building the Gatorade sports drink into a billion-dollar brand. He wanted to repeat his success, and that distracted him and his team from Snapple's problems. Smithburg discounted Snapple's woes--onerous bottler contracts, tired marketing programs, and a distribution network unsuited to a national brand--and overestimated his ability to sort them out. Then, under his management, tactical errors made the worst of a bad situation.
The whole affair has compromised Smithburg's credibility and has raised doubts about Quaker's long-tenured board. While Smithburg's directors withheld his bonuses in 1995 and '96, that's the only public evidence of dissatisfaction. The board doubtless cut Smithburg slack because of his strong track record in the '80s. But Quaker today needs good judgment more than ever, and Smithburg is carrying a lot of baggage.
"TERRIBLE BLEMISH." That could influence his decision-making--in the wrong ways. "He has a terrible blemish on his record," says money-manager Donald A. Yacktman, a Quaker investor. "He's going to be cautious and tempered by this." Alternatively, he could err in another direction--trying to redeem himself with a drastic step such as spinning off the Gatorade unit--or shopping the entire company. Either way, the board needs to become a model of vigilance.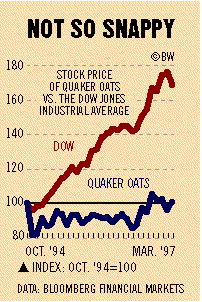 For now, Smithburg has some breathing room. Investors are relieved to be rid of Snapple--even at a bargain-basement price. Analysts have duly noted that Quaker stands to recoup some of its mammoth tax bill by selling at a loss. First-quarter earnings due out in late April should be solid. Quaker's U.S. Gatorade franchise remains unassailable. And it is gaining market share in key categories such as breakfast cereal.
When Smithburg faces shareholders at his annual meeting on May 14, count on him to emphasize the future. If he rejects the option of a major sale or spin-off, however, the most pressing issue facing the company becomes succession. Marineau's departure left a vacuum that could prove hard to fill. And as Quaker faces life after Snapple, it needs a plan for life after Smithburg--sooner rather than later.
Before it's here, it's on the Bloomberg Terminal.
LEARN MORE