Jimmy Lee's Global Chase
He wants to extend the loan leader's dominance
Alison Rea
In mid-1995, after making several acquisitions, Time Warner Inc. decided it needed to reduce its debt costs. Richard J. Bressler, the media giant's chief financial officer, went straight to James B. Lee Jr., head of global investment banking at what was then Chemical Banking Corp. Bressler had a difficult list of requirements. For starters, he wanted $8.3 billion, an unusually large chunk of change. And because of Time's prestige and size, he wanted below-market pricing. Recalls Bressler: "Without calling anyone back at his bank, Jimmy said, `We'll be able to deliver on that,' and he did."
Just another day's work for Jimmy Lee. His ability to pull together huge sums virtually overnight at aggressive prices helped make Chemical and then, after its 1996 merger, Chase Manhattan Corp. king of the $888 billion U.S. syndicated loan market. Along with most of the world's largest banks, Chase arranges loans and then parcels them out to other banks. As the nation's largest bank, with $336 billion in assets, Chase has a lot of clout in the market and can afford to commit more of its own money than most rivals. In 1996, it led $301 billion of deals in the U.S. to control an eye-popping 20% market share, according to Loan Pricing Corp/Gold Sheets, a newsletter that tracks commercial lending. Few have had such a hold on such a large market since Michael R. Milken dominated junk bonds in the 1980s.
Lee, who was recently named vice-chairman of Chase's banking unit, has been expanding the bank beyond loans into lucrative junk bonds and advisory work. Last year, he helped Clayton, Dubilier & Rice Inc. complete a leveraged buyout of Riverwood International Corp., a deal in which Chase was adviser, lead bank on both loans and junk bonds, and an equity investor. It was Lee's dream of one-stop-shopping. He envisions Chase as the provider of choice for all the financing needs of the world's corporations. "We are using the loan business as a platform to build a new type of global competitor," he says.
This bold ambition may be tough to achieve. U.S. and foreign investment and commercial banks are trying to chip away at Chase's top spot in syndication. And they're not readily ceding ground on the junk bond and advisory fronts, although Lee has pushed Chase to No.6 in U.S. junk bonds, says Securities Data Corp., in just four years. Plus, Wall Street owns equity underwriting--key to many financings--an area in which Chase is just starting.
Lee's muscle has made him a controversial figure. Rivals complain he sometimes uses strong-arm tactics to pull off deals. And they say his sharp pricing narrows spreads, making deals riskier. Lee dismisses such complaints.
Lee's investment banking group last year earned about 20% of Chase's $3.5 billion operating profits. Lee says fees from loans, bonds, and advisory work--nearly half his group's $2.2 billion revenues--can keep growing at an average annual rate of over 20% if markets don't flag and if Chase stays focused.
No one doubts that Lee is focused. He leaves his Greenwich (Conn.) home by 6 a.m. armed for combat in his signature silver-dollar suspenders and a blue shirt with white collar and cuffs. At 7:45 a.m. the 44-year-old Lee rallies some 300 of his troops. "There are two parts to the meetings," says Lee. "One is motivational. The other is about managing market and credit risk." Says Herbert A. Allen, president of investment banking firm Allen & Co.: "Jimmy is dead honest, extraordinarily energetic, and competitive."
That is true of Lee whether on the ski slope, tennis court, or in the marketplace. "He is a wonderful person to go into battle with. He likes to win," says Stephen A. Schwarzman, president of the Blackstone Group. Says one rival: "When he is competing, he is trying to strangle and knife you. He is a very fierce competitor." But Lee says he lives by a hokey maxim: "Be the best you can be, and do it daily."
A Williams College economics major, Lee joined the old Chemical 22 years ago, but it wasn't until the 1990-93 credit crunch that he gained visibility, thanks to his decision to continue lending. Lee won kudos from big borrowers with long memories. In 1993, for instance, he led a complex $25 billion loan to General Motors Corp.--his proudest achievement. "Jimmy brings good market judgment, market muscle, and a strong staff," says GM Treasurer John D. Finnegan.
Lee's seniority and access to his boss, Vice-Chairman William B. Harrison, and to Chairman and CEO Walter V. Shipley give him authority to make quick decisions. "When he takes ahold of a deal, you've got virtually the highest level of the bank there making the decision," says Robert M. Neumeister, CFO at Sprint PCS.
Lee is adept at executing tough deals fast. In 1995, when Union Carbide Corp. was about to spin off to the public its UCAR unit, Lee got a call from Schwarzman. Blackstone wanted to buy UCAR but needed up-front financing to stop the spin-off. Lee committed to underwriting $1.1 billion of the price tag. He has thrived on forging close, long-term ties with such dealmakers as Schwarzman, Henry Kra-vis, Richard Rainwater, and Ronald Perelman. Says Perelman: "He's an old-fashioned banker who lends not just on the financials but also on the people."
Some rivals fault Lee's methods. To get investors and banks on board tough syndications, they say, Lee sometimes threatens to cut them from the next deal. Rivals also float stories that Lee gives preferential pricing under the table to lure reluctant banks to deals. Lee denies both allegations: "You can't sustain a business that way. Customers won't put up with it."
As a control freak who runs a tight ship, Lee is not always easy to work for. He is even harder to leave. Those who do may find themselves in a face-off with Lee, upset that they have violated the absolute loyalty he demands.
While there have been few problems with the 700-odd loans Chase leads globally a year, Lee is not infallible. In 1995, Lee led a $1 billion loan to DreamWorks SKG--a startup venture of Steven Spielberg, Jeffrey Katzenberg, and David Geffen. The company was well-capitalized and got investment-grade pricing, but it had no cash flow. Many banks balked, calling terms unrealistic and Lee starstruck. Some criticized him for being on DreamWorks' board. Critics say Chase had to keep $400 million of the loans, although Lee says the amount is "substantially lower." He says it's common for senior lenders to be on client boards. And he lauds the deal's potential: "I knew that whoever was there at the beginning stood the best chance of being there during the golden years."
ARM-TWISTING. In 1993 and 1995, Chase led $650 million of loans to Ronald Perelman's Marvel Entertainment Group. Late last year, the comic book company went bankrupt. Lee gathered some 150 lenders in a room and, after some arm-twisting and Perelman agreeing to add new money, the banks agreed to ante up $100 million in new loans. Marvel bondholders allied with Carl C. Icahn have challenged that plan, but Lee expects banks to be repaid.
Some rivals claim that Lee's business-grabbing practices are undermining the loan market's profitability and raising risks, especially if the credit cycle heads south. (Lee blames the competition.) Take Chase's capture in 1996 of the lead position on a $2 billion loan to Sprint Spectrum. The company had been working with Citicorp, J.P. Morgan, and Toronto Dominion Bank. But Lee swooped in with easier terms, lower fees, more money, and a commitment to underwrite the full loan. "We got a better deal, and it was better for our shareholders," says Sprint's Neumeister.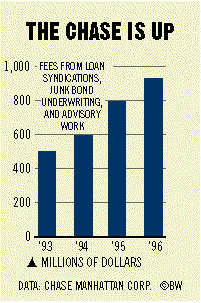 The real test of Lee's skill will be whether he can avoid being hurt by the next cycle of credit problems. Granted, loans now have more equity than they did in the late 1980s: 20% to 30% vs. 5% to 10%. And banks now keep less of each loan. Lee says he manages his business to reduce risk concentrations. He adheres to strict loan-holding limits and passes on dicey deals. Says Harrison: "We are in the risk business. We worry about everything, but we are still within the range of what is prudent."
Though Lee has detractors, even they credit him for getting Chase into the big leagues of corporate financing. "Love him or hate him, he knows what he's doing," says one. For now, all that matters to customers such as Time Warner's Bressler is that Jimmy Lee gets the job done.
Before it's here, it's on the Bloomberg Terminal.
LEARN MORE