Twa Is Carrying Some Heavy Baggage
New CEO Gitner faces big losses and an angry union
Susan Chandler
It's hard to envy Trans World Airlines Inc. CEO Gerald L. Gitner. Even before he assumed the top job permanently on Feb. 12, after acting as chief since December, the airline's largest union was calling for his resignation. While every other major airline posted hefty profits in 1996, TWA lost $259 million on revenues of $3.6 billion. And on Mar. 25, TWA's auditors expressed doubts about the airline's ability to continue as a going concern.
Gitner, a longtime board member who retains his job as head of investment banking firm Avalon Group Ltd., acts as if it's no big deal: "It goes with the territory. Nobody ever said it was going to be easy." True enough, but Gitner, 51, may find the job even more daunting than did the three CEOs who have come and gone since a bankruptcy ended raider Carl Icahn's ownership in 1993.
This CEO faces problems that his predecessors didn't. Employee unity--which kept the St. Louis-based airline alive through two bankruptcies and last summer's Flight 800 tragedy--is crumbling. Workers have gone without raises for a decade, and now, two major unions are in opposite camps: pro- and anti-Gitner. "They can't fight an internal battle and a battle for survival at the same time," predicts Michael J. Boyd, president of Aviation Systems Research Corp. in Golden, Colo.
TWA has almost no margin for error. Its cash position has shrunk to a meager $182 million, down from $304 million a year ago. Costs for maintenance are soaring. And while airline travel overall is up, consumers are still spooked by the as-yet-unexplained TWA crash off Long Island. The airline's passenger revenue declined by 1% in the fourth quarter, to $687 million. What's more, TWA's union contracts come up for renewal in September. And employees, who have traded wage concessions for 30% of TWA's equity, are no longer willing to postpone meaningful raises.
Getting TWA's unions on his side may be Gitner's toughest problem. In early February, leaders of the International Association of Machinists (IAM) publicly labeled Gitner unqualified because he lacks operating experience, calling for him to step down. On Feb. 27, the IAM gained more leverage when it won a contentious election to represent TWA's 5,200 flight attendants. The machinists now represent 80% of TWA's workforce and have three board seats.
OUTSIDE INTEREST. The IAM has its own ideas about how to run the troubled airline. It has been trying to find an investor to buy TWA and bring in new management. In December, when Gitner became acting CEO, IAM members flooded TWA's board with thousands of faxes urging that the top job go to Jonathan Ornstein, the head of Brussels-based Virgin Express. Ornstein, who has ties to the David Bonderman investor group, which controls Continental Airlines Inc., had approached the IAM with a reported $150 million proposal to recapitalize TWA. "TWA is a very interesting situation, and with the right ingredients, it could be fixed," says Ornstein. Says William L. Scheri, the IAM's airline vice-president: "We're always interested in people who want to bring money into TWA and turn around the airline."
While the Ornstein deal never resulted in a concrete offer, it caused a rift with the TWA pilots, who back Gitner. "My money is on Gerry Gitner at the moment," says Don Jacobs, head of TWA's Air Line Pilots Assn. The investors who are flirting with the IAM are "vulture capitalists," he says, who want to buy TWA for almost nothing. Gitner says he takes the IAM's moves philosophically: "I can't stop it, so I can't let it bother me."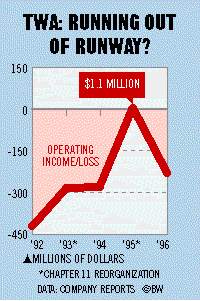 Meanwhile, Gitner is doing what he can to smooth things over. On Mar. 20, he flew to Washington for a meeting he requested with Scheri, which Gitner says was at least cordial. And Gitner is visiting TWA's bases around the country to meet with rank-and-file workers.
Airline experts have been predicting TWA's demise for years. And '97 looks like another touch-and-go year. The latest snag: That alarming auditors' report could halt a $50 million private placement TWA has in the market. Still, Gitner insists the downsizing is over for now. And given forecasts of a strong summer travel season, TWA could rebound in '97--if employees stay on board.
Before it's here, it's on the Bloomberg Terminal.
LEARN MORE