The $9 Billion Company Nobody Knows
Savvy deals push drug wholesaler Cardinal to the top ranks
Peter Galuszka
Cardinal Health Inc. Chief Executive Robert D. Walter has never liked working for others. After college, he got an engineering job with a unit of what is now Rockwell International Corp. in Columbus, Ohio. Frustrated with what he saw as bureaucracy, Walter lasted six months. "It was," he says, "the worst experience of my life." So he quit, went to Harvard business school, and decided to start an enterprise where he could to do things
his way.
Twenty-seven years later, Walter, 51, has done what he set out to do--and more. Through savvy acquisitions, he has quietly catapulted once tiny drug wholesaler Cardinal Health into a race with longtime industry titans McKesson Corp. and Bergen Brunswig Corp. for the No.1 spot. Indeed, he has been so successful that Cardinal's latest purchases--intended to fuel Walter's drive to make it the drug distributor of choice for hospitals and nursing homes nationwide--have drawn the attention of the Federal Trade Commission.
For all that, Cardinal is hardly a household name--unless you're in the drug business. Cardinal buys drugs in bulk and sells them to pharmacies, hospitals, and HMOs. It's not a glamorous business, but investors don't mind. From 1991 to 1996, sales for the fiscal year ended in June surged from $1.2 billion to $8.9 billion, and profits rose from $17.4 million to $159.7 million. That has sent the Dublin, Ohio, company's split-adjusted stock soaring from 22 in April, 1994, to about 63 today. "We wish every stock could make as much money as Cardinal," gushes William H. Bales, an equity analyst at Denver-based Janus Capital Corp., which owns nearly four million Cardinal shares. He thinks fiscal 1997 earnings could hit $200 million, on sales as high as $11 billion.
Cardinal's success is all the more surprising in this brutally competitive industry. The march to managed care has pushed the health-care industry into a cost-cutting frenzy, and drug distribution is no exception. Individual pharmacies and small regional chains have long been wholesalers' most profitable customers, but as they have been swallowed up by national chains with more bargaining brawn, distributors have had to bulk up, too.
Those changes have shrunk the $50 billion industry from 280 companies to 45 in the past 15 years; the top five players now control 75% of the market. Average gross margins have slumped to 6% from 11%. Even some big guns have fallen: FoxMeyer Drug Co., a unit of $5.5 billion FoxMeyer Health Corp., declared bankruptcy last year following a price war and technical problems at a new distribution facility. Yet for those remaining, there is a silver lining: The industry is growing at a 20% rate. "The aging population is growing, and pharmaceuticals are a more efficient way of treating them," says Walter.
That explains why Walter--whose 5% stake in Cardinal is worth roughly $296 million--is continuing his breathless dealmaking pace. Using mostly stock and cash, he has bought up a storm without diluting earnings; he has done five acquisitions in the past two years alone. Walter's strategy seems basic, but it has worked for him since 1979. That's when he sold a food business to get into drug wholesaling, which he saw as ripe for consolidation. The rules: Go slow, buy good companies, never do a hostile takeover, and keep the old management. Walter only considers those who are No.1 or No.2 in their regions and operate in some aspect of drug distribution. "We're not interested in research and development or manufacturing," he says.
The tight focus and sharp execution have helped Walter boost pretax operating margins to 3.1%, more than double the industry average. They have also brought effusive praise, even from rivals. "It is a top-notch company," says Robert E. McHugh, vice-president for industry affairs and investor relations at Malvern (Penn.)-based AmeriSource Health Corp., the No.4 wholesaler. "We are continually in admiration of their ability to manage their company."
Cardinal's reach has won it important new business. Last summer, it signed a $9 billion, five-year contract to provide drugs for Kmart Corp.'s 1,500 in-store pharmacies--the largest deal of its kind. Cardinal will now control all of Kmart's drug inventory. "This allows us to get a quicker response to the customer," says Jerome J. Kuske, Kmart's vice-president for general merchandise and manager for health, beauty care, and pharmacy. "We're very happy."
ANTITRUST TROUBLES? Yet Cardinal can hardly afford to sit still. With many of the easy consolidation gains done and customers continuing to demand better deals on drugs, Walter is moving into higher-margin services. "Every business becomes commoditized over time," he says. Last May, he spent $962 million in stock to acquire Pyxis Corp., which makes hospital drug dispensers that operate much like automatic teller machines. Although Pyxis has about 85% of the estimated $1 billion market, its machines are currently used in only about one-third of the country's 6,000 hospitals. And last November, Cardinal moved into pharmacy management with the announced purchase of Houston-based Owen Healthcare Inc., which runs pharmacies at more than 300 hospitals.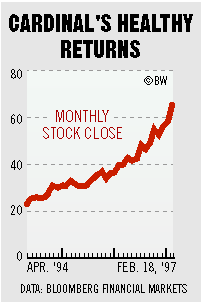 The match, say analysts, is a great one, since the acquisition gives Cardinal a foothold inside hospitals. Perhaps it's too great: The FTC has asked for more information, raising the specter of antitrust problems. That may be because Owen has its own automatic drug dispenser, called Meditrol--which, with Pyxis', could be anticompetitive. In the worst case, says Debra Hadley, Cardinal's director of investor relations, the FTC might make Cardinal sell Meditrol, which accounts for about 4% of Owen's sales. The FTC declined comment.
Another worry is the ever changing health-care battlefield. While drug prices remain strong, any government push to use more generics as part of Medicare reform could further slice margins. For now, though, few will bet against Cardinal. "It's one of the best management teams that I've ever met," says Janus' Bales, "not only in the pharmaceutical business, but in any business." Living up to praise like that isn't easy, but things could be worse.