Can Dinosaurs Save Acclaim?
Its Turok video game may help stave off extinction
Neil Gross
A thick fog has descended. You're wounded, and you're out of ammo. Fierce predators circle for the kill.
The scene is from Acclaim Entertainment Inc.'s new video game, Turok: Dinosaur Hunter. But it could just as easily describe the dire straits at the Glen Cove (N.Y.) software company. Awash in inventory of poor-selling games, Acclaim lost $221 million on revenues of $376 million in its 1996 fiscal year, ended Aug. 31, and $19 million in the first quarter of fiscal 1997.
Turok is Acclaim's best hope of a turnaround. Developed for the hot-selling Nintendo 64 system, the game is due in stores in March with a list price of $79.99. Its lush scenery, sound effects, and dinosaur gore have won raves from game magazines. Alex. Brown Inc. analyst Lawrence F. Marcus figures Acclaim could sell 1 million copies of Turok this year, bringing in about $45 million. "It will warrant a good, hard look at the company," says Marcus.
Big plus: With Turok, Acclaim is well-positioned to piggyback on the rekindled popularity of Nintendo, which sold 1.7 million N64 machines last fall--slightly outselling Sony Corp's PlayStation. And since there are just 10 N64 games on the market, the field is wide-open for Acclaim.
On the other hand, there's a reason why the N64 has attracted so few titles: The games run on cartridges, which are fast, but cost 10 times as much as PlayStation compact disks to produce. Lead times are also longer, so N64 game producers have more risk of getting stuck with costly inventory. Indeed, Acclaim's big inventory write-downs covered cartridges for older Nintendo players.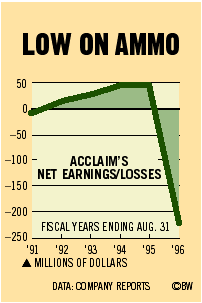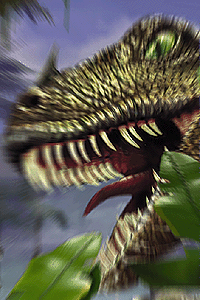 RAVES. Outweighing all that, however, is the possibility of launching a blockbuster. Turok has scored high points with reviewers and kids who have tried it. "This is a very involving game," says James Granger, a ninth-grader in Manhattan, as he slaughters raptors on Turok. One of the dinos grabs him from behind, and a "Low Health!" warning flashes. "Amazing weapons," Granger whispers, switching deftly among assault rifles, grenade launchers, and a fusion cannon. "It's almost scarily real."
Scary enough, in fact, for Turok to carry a "mature" rating: for kids 17 and up. That could crimp sales to parents of younger children. Meanwhile, analysts are already wondering what Acclaim will have for next Christmas. Long before then, though, if kids don't glom on to Turok, Acclaim could be looking at Low Health.
Before it's here, it's on the Bloomberg Terminal.
LEARN MORE