For $19.95 A Month, Unlimited Headaches For Aol
An online jam-up due to flat-rate pricing leads to legal hassles
Amy Barrett
Steven C. Borsse is fed up. Last November, Borsse, who runs his own underwater search business in Sebastian, Fla., coughed up $358 for a two-year, prepaid membership on America Online Inc. Borsse uses the service to search for potential customers. But since AOL went to a monthly $19.95 flat rate in December, Borsse tries to go online sometimes 20 times a night without getting a connection. More frustrating, he can't get through to AOL's jammed customer-service center. "It's literally impossible to get on AOL at night," says Borsse. "I do business on the Internet, and this has really hurt me."
Borsse isn't alone--and now AOL's busy signal is starting to cause it legal headaches. On Jan. 14, five AOL customers filed a class action in a state court in Los Angeles alleging that the company fraudulently misrepresented its service. A day earlier, another AOL user filed a class action in New York alleging breach of contract. And a group of state attorneys general, who have probed online industry billing practices for months, are now scrutinizing the latest AOL snafu. State officials won't comment on specific inquiries. But warns Thomas F. Pursell, senior counsel for the Minnesota Attorney General: "If somebody advertises a service and charges for it, but people can't use it, it's a potential legal issue."
GRIDLOCK. Industry experts think AOL and other online service providers may have to rethink their unrestricted flat-rate plans. Competitors CompuServe Inc. and Netcom On-Line Communication Services Inc. have already abandoned the mass consumer market, in part because of cutthroat pricing. And executives at Microsoft Corp.'s Microsoft Network, which began charging a flat rate at Thanksgiving, are monitoring traffic and say they are expanding capacity by 25% to avoid the same problem.
The fallout is most severe for AOL, the largest online service provider, with 8 million subscribers. And much of the industry is watching to see how--and if--AOL solves the problem. "I don't think flat-rate pricing is going to work long term," says John W. Sidgmore, head of Internet service provider UUNet Technologies Inc.
Not so, says Robert W. Pittman, president of AOL Networks. He says that the company will spend about $250 million by June to expand the capacity of its network to handle the surge in demand. AOL is also putting the brakes on advertising to reduce the number of new customers who are signing up. And the company says it expects to prevail in the recent lawsuits. "This is a problem," Pittman acknowledges. "But it is solvable."
The current service nightmare is hardly the first misstep by the Dulles (Va.) company. Complaints about AOL billing led to a series of lawsuits in 1995--settled as a class action last July in a deal giving members free time online. The agreement cost AOL about $8 million. Then, AOL's plan late last year to move all of its members automatically to the new $19.95 flat rate drew more flak. In December, the company signed an agreement with 20 states allowing members to select the pricing plan they prefer. The deal also forces AOL to give refunds to customers who switch back to their old plan before Apr. 10--$9.95 for five hours of online time, $2.95 for each hour after that. Still an issue in some states: whether AOL and others make it easy enough for customers to quit. AOL members can't cancel online, and some say they can't reach customer service to cancel over the telephone.
FIERCE RIVALS. AOL's latest problem is the result of a wildly successful marketing ploy. About 75% of AOL's customers have taken the flat-rate offer, analysts say. As a result, total daily AOL customer use has soared from 1.6 million hours online in October to more than 4 million hours this month. In the past quarter, AOL added a record 1.2 million new subscribers. The increase is central to AOL's efforts to woo more advertisers to its sites.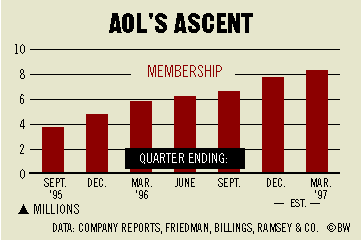 But the company risks alienating new subscribers with busy signals. And competition from Internet-based services such as MSN and other Web-based content providers remains fierce. Laura Jennings, a vice-president at Microsoft Network, says MSN, for one, expects to lure dissatisfied customers away from AOL.
Wall Street loves the company's new pricing, anyway. Mounting fears about competition and pricing pressure had knocked AOL's stock down as low as 22 3/4 back in October. But the company's renewed growth under the flat rate has driven it back to nearly 38.
That's nice for the shareholders. But the subscribers want attention--fast. Until AOL fixes its network glitches, the company is risking a major customer backlash and more pesky probes from regulators.
Before it's here, it's on the Bloomberg Terminal.
LEARN MORE