The Lords Of Aluminum
How Britain's Trans-World nabbed half the Russian industry
Julia Flynn and Patricia Kranz
It was one of the biggest price collapses metals traders had ever witnessed. As aluminum prices plunged nearly 50% in the early 1990s, industry experts largely blamed the Soviet Union's breakup for the chaos. Millions of tons of Soviet aluminum flooded the world market. Amid the tumult, an obscure London trading company made a bundle on the wild selling, then bought up half of Russia's aluminum industry. Now, Trans-World Metals Ltd. and its associates control a formidable 5% of the world's aluminum output.
The rise of this little known private company is a tale from the front lines of frontier capitalism. It's also an example of how the naked grab for Russia's riches spilled onto global markets. In the lawless atmosphere after the Soviet Union's breakup in 1991, factory managers, bureaucrats, and gangsters scrambled to cash in on Russia's natural-resource exports. Trans-World was one of the few foreign companies that joined the fray.
The battle over Russia's aluminum industry, the world's second-largest after the U.S., has been fierce. At least six Russian businessmen involved in aluminum have been murdered in apparent contract killings. Both Russian and Western security sources say their agencies have investigated possible international money-laundering schemes, tax evasion, and customs violations, although no companies or executives have been charged. A Trans-World joint venture with Russian partner Lev Chernoy was investigated for the alleged use of fraudulent letters of credit in 1992, but the Russian Interior Ministry found no evidence of his involvement in such a scheme. Trans-World denies any wrongdoing. "We wouldn't do anything wrong. We've got too much at risk," Trans-World Chairman David Reuben, 56, told BUSINESS WEEK in a rare interview. But he adds: "We have a lot of enemies."
Trans-World maintains its grip on the Russian market through companies incorporated in Monaco, the Bahamas, Cyprus, Switzerland, and Russia. Its empire includes aluminum and steel plants, raw-material suppliers, ports, and banks from Moscow to Ka-zakhstan. A few years ago, Trans-World was just a tiny player specializing in metal arbitrage. It was founded by Reuben, an Indian-born British national, and U.S. partners in 1976, when Merrill Lynch & Co. spun off a metals trading operation. Over time, Reuben and his brother, Simon, bought control of the company.
In 1991, Reuben teamed up with Lev and Mikhail Chernoy, who at the time were among the earliest private businessmen to plunge into import-export from the Soviet Union. Trading in timber and metals, they kept a low profile but were known for their rough business style. Like many entrepreneurs, they have been accused by the Russian press of having links with organized crime. "They are not criminals," Reuben says. He adds: "Lev gave me the blueprint for how to do business in the former Soviet Union." Lev and Mikhail, who has since quit Trans-World, declined to comment.
"FILTHY RICH." Lev Chernoy's plan seemed simple enough: With the Soviet breakup, smelters were left without cash to buy raw materials and were struggling to find aluminum buyers without state help. If Trans-World would arrange delivery of raw materials and pay cash in advance for finished aluminum, Lev explained, the Chernoys would guarantee lucrative export contracts.
The deal was indeed lucrative. The government exempted the industry from most import and export duties. And Russian production costs were far below world levels. In 1992, Russia's domestic aluminum price ran from $300 to $600 a ton, while the world price was about $1,200. A Moscow expert says Trans-World and the Chernoys "did the right things at the start and made a lot of money. They're filthy rich."
Those profits encouraged Trans-World to cement relations with Russian producers. The key moment came when Moscow privatized aluminum in 1993. Lev Chernoy and smelter managers urged Reuben to buy stakes to prevent "foreigners [excluding Chernoy] or gangsters" from gaining control, Reuben says. Trans-World picked up 60% of Sayansk, Russia's third-largest smelter, and 50% of Bratsk Aluminum Co., the world's largest. Trans-World's investment in the former Soviet Union is $1.5 billion; global sales topped $6 billion in 1995, Reuben says.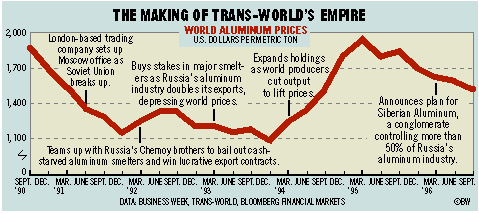 Trans-World is not without problems. It is fighting to regain a contested 20% stake in the Krasnoyarsk smelter, Russia's largest. Reuben says his main worry is raising $500 million from Western banks to help modernize his smelters, where production costs have jumped 70% since 1994. To boost efficiency, Trans-World created Siberian Aluminum, a holding company linking smelters, suppliers, and electricity producers. "Given time, the Siberian plants will become cost-efficient," Reuben says.
Such long-term thinking isn't typical of metal traders. But Reuben and Chernoy appear to be thinking like managers. Now on top in the scramble for the world's No.2 aluminum industry, they've got to hold on to their empire.
Before it's here, it's on the Bloomberg Terminal.
LEARN MORE