Levi's Vs. The Dress Code
Its stealth campaign is redefining business wear
Linda Himelstein
Last summer, Charles Schwab & Co. decided to take its broker-next-door image a step further and do something nice for employees at the same time. Its dresses-and-suits-dress code was relaxed to include casual attire as well. But when workers started showing up in the office wearing everything from sweat suits to torn jeans, Schwab knew it needed help. So it called in another San Francisco company, Levi Strauss & Co., for a little fashion advice.
What it got was a lot more than advice. The world's largest branded-apparel maker sent over some snazzy brochures showing how dress could be casual without being sloppy. It provided lists of other companies that had successfully shed traditional attire and studies that showed how the apparel shift had improved workers' productivity and morale. And Levi's dispatched a video that it produced on the subject of casual business wear, which Schwab played in its cafeteria and at meetings. "People asked whether we were pushing Levi's merchandise," recalls Julius James, a human-resource director.
TIELESS. They weren't doing that, exactly, but a sales message was carried into the corporate corridors nonetheless. Schwab is just one of many stops in an elaborate and stealthy marketing campaign in which the jeans giant influences its customers through their employers. Over the past three years, Levi's has visited or advised more than 22,000 corporations in the U.S., including IBM, Nynex, and Aetna Life & Casualty. The apparel maker recognized early on that, once freed from the uniform of a coat and tie, many workers had no idea how to dress for the office. Who better to provide some helpful advice than Levi's?
The campaign, which has cost Levi's only $5 million so far, has ranged from putting on fashion shows featuring the company's clothing to manning a toll-free number for employers who have questions about casual business wear to holding seminars for human-resource directors. But Levi's keeps the sales message subtle and packages it with information and services that companies want: It is concerned that employers might resist outright product pitches on their premises. Levi's started the effort in late 1992, when it commissioned a study to document the trend to casual office duds. That done, it mailed a newsletter to 65,000 human-resource managers. Last year, it made the video that Schwab received, which so far has been sent to 7,000 other companies. Levi's effort "is very unusual," says Peter W. Harding of retail consultants Kurt Salmon Associates. "It's trying to create a dress code for dress-down wear."
The effort is still at full throttle. Levi's has built an extensive database of corporate workers and human-resource contacts. Last fall, it mailed postcards to 25,000 companies in the Philadelphia area inviting employees to a runway fashion show at a mall where it had just opened a Dockers shop. The event drew 400 people and helped make the store a top-performing new shop. In 1994, employees of Nationwide Insurance were treated to a fashion show at their Columbus (Ohio) headquarters. Levi's plans to add more on-site fashion shows this year. The New England Employee Benefits Council, a professional group, recently let Levi's make a presentation at one of its meetings in Boston to help members craft policies that give employees more freedom in dress while maintaining acceptable office standards.
At many events, attendees leave their names and addresses--which are fed into Levi's database. "It's a very good marketing ploy," says Lea P. Davies, a human-resource director at Nynex. "It helps Levi's and gives us good practices for how to dress."
Levi's was lucky: The casual-dress trend clearly favors its business. But it was also smart. By catching the wave early and proselytizing aggressively, Levi's has helped create momentum. As a result, 75% of businesses now allow workers to dress casually at least once a week, up from 37% in 1992, according to Levi's research. The apparel maker figures that this translates into 5 million individuals with 20 million additional uses for casual clothing a week. That could mean an additional 11 million articles of clothing for Levi's to sell every year. So far, it appears to be getting a healthy share of the increase. At a time when most of the apparel industry is languishing, Levi's earned $734.7 million, up 32%, on record sales of $6.7 billion, up 10%, in 1995. "We did not create casual business wear," explains Daniel M. Chew, Levi's consumer marketing director for North America. "What we did was identify a trend and see a business opportunity."
GRUMPY SUITS. Now, Levi's is taking its war against traditional work wear global. In late March, it was preparing to launch an $8 million marketing campaign dubbed "The Mission." An irreverent 32-page advertisement will run in newspapers and be handed out on street corners in London, New York, Manila, Milan, and 10 other cities. It portrays briefcases as enemies and men in suits as grumpy. A tongue-in-cheek "Guide to Casual Science" states that dress-down clothes can have a positive effect on things ranging from divorce to dandruff. On the subject of fertility, for instance, Levi's advises: "Effective sperm can only be produced in the kind of calm and comfortable environment created by a pair of casual pants." Says James H. Capon, president of Levi's Dockers brand: "We don't want to offend. But that doesn't mean we can't at times be a little bit provocative."
To kick off the promotion, Levi's hired actors to stage mock demonstrations against conservative attire. On Mar. 22 about 100 men dressed in suits were scheduled to parade outside stock exchanges and elsewhere in financial districts around the world, cut their ties, strip down to their boxers, and put on khakis. "Levi's is capitalizing on its brand name and teaching men how they should look," says retail analyst Janet J. Kloppenburg at Robertson, Stephens & Co. "They certainly get market share from this."
The demand for more relaxed business attire and Levi's success at taking its fashion advice to workers through employers haven't been lost on the rest of the apparel industry. Eddie Bauer, which since 1994 has opened 15 new stores that cater specifically to the casual-business-wear trend, will soon offer its own guide to workplace dress, joining apparel manufacturers such as Haggar Corp. Target Stores, the nation's third-largest discounter, began selling a video on casual clothing tips last September. And Gap Inc., which is dressing up khakis with sport coats and ties in its Banana Republic outlets, says it will soon begin marketing its business wear ideas directly to companies. "Levi's was certainly out there earlier and stronger than a lot of people," says Gap Chief Financial Officer Warren R. Hashagen Jr. "But any time people get a better understanding of casual wear, we benefit."
IN TATTERS. And then, of course, there are the folks who don't benefit. Makers and sellers of tailored clothing have recently endured some of their worst seasons ever--as consumers buy fewer suits and dresses. For many companies, including Today's Man, Edison Brothers, and Plaid Clothing Group, the trend has translated into bankruptcy. In 1995, 22 men's clothing stores went out of business in Chicago alone, further damaging the market with a flood of cheap suits. Some blame Levi's, at least in part. "Levi Strauss led the assault for very selfish purposes," says H. Gene Silverberg, president of Bigsy & Kruthers Inc., a tailored-clothing retailer. "But you have to blame the balance of the industry for not standing up to it."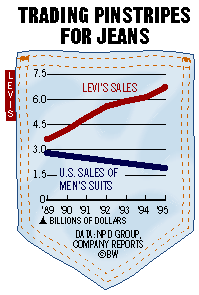 And it looks as if Levi's will continue the assault. This summer, it is introducing Slates, its first new brand since its $1 billion-dollar Dockers line was launched a decade ago. The new line of men's dress pants is Levi's attempt to dress up--and expand--the definition of casual business wear. Levi's is also sprucing up women's Dockers, which has been a weak sister to the men's business. Meanwhile, the blitz of Corporate America continues. Levi's recently sent letters to employees, mostly human-resource managers, at 12,500 U.S. companies, inviting them to visit a Dockers shop for in-store fashion shows and seminars. Takers receive a free Dockers outfit, and Levi's gets still more names to add to its customer database.
And Levi's campaign seems to be making headway even in the land of the ubiquitous blue suit. In Japan, where Dockers was recently introduced, a newspaper ad offering executives information on casual business wear quickly generated more than 1,000 requests. "Our goal is to take a leadership position in casual business wear in this country and around the world," says Levi's Chew. No trend lasts forever, but as long as workers prefer muted plaid to starched white, Levi's may actually get its way.
Before it's here, it's on the Bloomberg Terminal.
LEARN MORE