Bronfman And Diller: Together Forever?
Their odd business ties limit both execs' ability to compete
By and
Edgar Bronfman Jr. should feel satisfied. Since December, the Seagram Co. chief executive has seen the stock of the Montreal-based company his grandfather founded 76 years ago rise more than 34%. Seagram was also set to release strong quarterly results on Feb. 9. And though Time Warner Inc.'s planned merger with EMI Group PLC will eclipse the music empire the younger Bronfman has assembled, his Universal Music Group is, for now, the largest on the planet.
But despite this, the pressure is on Bronfman to do even more. For all of his wheeling and dealing in recent years to establish Seagram as an operating company in entertainment and beverages geared heavily to music, he has two big problems: First, like other old media conglomerates, Seagram risks being marginalized in the wake of the merger of America Online Inc. and Time Warner. And second, there is Seagram's lucrative but unusual relationship with Barry Diller's USA Networks Inc. The partnership, which requires each to sign off on big ventures that USA would consider is looking more and more like a roadblock to both companies' plans to compete in the new media landscape.
Yet even with Diller in tow, Bronfman cannot seem to suppress rumors that he may be looking to cash in on his company's recently rising share price. Seagram executives refused to comment, but some of Bronfman's close associates claim that Edgar Jr. may be willing to sell not only his loss-plagued film operations, Universal Studios Inc., but all of Seagram. Why? The time for getting a hefty price for his company may never be better. According to one confidant, Bronfman wants a hefty premium to Seagram's current market value of about $25 billion--and would prefer to be paid in the convertible preferred stock of a bigger entity. That would give the Bronfman family, which owns 24% of Seagram, favorable tax treatment and dividends of up to $1 billion a year. For Bronfman personally, according to this person, an ideal transaction would also give him a pivotal stake in the bigger entity should he decide to convert those shares.
Logically, Diller is in the best position to buy Bronfman's share of Universal and combine it with his USA Networks, which includes television and film production as well as cable networks and TV stations. But Diller denies any current interest--and he probably couldn't swallow all of Seagram anyway. For that, Bronfman would need a buyer on the scale of Rupert Murdoch's News Corp. Insiders say that both News Corp. and France's Canal Plus have had casual chats with Bronfman, but no deal is in the picture. News Corp. wouldn't comment, and a Canal Plus spokesman says any talk of a deal is "completely groundless."
In the meantime, however, sources close to Diller say that he and Bronfman are looking at ways to rework their tricky relationship. Currently, Diller can vote Seagram's 46% stake in USA Networks for life, but Bronfman can veto any USA deal that's worth more than $2 billion. Seagram would not comment, and Diller would say only that relations with Bronfman are good.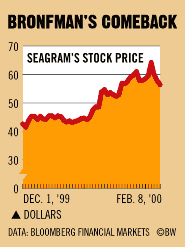 DEALBREAKER. Still, strategic differences between the two have built up, and even if no serious sale effort emerges, pressure is rising for Bronfman and Diller to come up with a better working model. While Bronfman has focused on Seagram's music, booze, and studio assets, he has effectively outsourced Universal's television business to Diller. Since the USA Networks deal was put together in 1998, Diller has given Seagram a paper gain of close to $9 billion. But there's a catch: Bronfman vetoed Diller when he tried to buy NBC in 1998 because he didn't want to dilute Seagram's controlling stake. Insiders say it's not the only deal Diller has pursued that has been knocked down.
Bronfman's original plan was that Diller would build USA Networks into a great company and, on Diller's retirement, Seagram would exercise its right to assume control of it. But Diller, like Bronfman, has to grow his company to avoid being swept under by the AOL-Time Warner deal. And for now, they seem to be stuck in the same boat arguing over who will row.