TECHNOLOGY & IDEAS
That Rattling? It's Elliott at Korea's Gates
The world's largest chipmaker must get serious about corporate governance.
Anjani Trivedi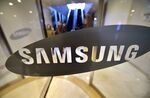 SAMSUNG C&T CORP
+500.00
At Closing, May 21st
SAMSUNG ELECTRONICS CO LTD
+500.00
At Closing, May 21st
It's taken a little while but the barbarians have finally arrived at South Korea's gates, and companies are scrambling.
Affiliates of Samsung Electronics Co., the world's largest chipmaker, intend to sell a stake worth about $1 billion in the company's de facto holding firm, Samsung C&T Corp., the Wall Street Journal reported, citing people familiar with the matter. The boards of the two affiliates – Samsung Electro-Mechanics Co. and Samsung Fire & Marine Insurance Co. – still need to vote on the transactions.
It's a plan that looks awfully familiar.
Almost two years ago, Paul Singer's Elliott Management Corp. took on Samsung, with limited success. The billionaire hedge fund manager walked away with some spoils, including higher dividends and a streamlined balance sheet after Samsung canceled treasury shares that concentrate voting power.
But Samsung didn't promise to clean up its corporate structure, a framework that has been creating inefficiencies and sapping minority shareholder returns. At the time, the company, which also makes smartphones, said changes wouldn't help competitiveness, and could potentially cause regulatory issues.
In its so-called Samsung Electronics Value Enhancement plan, Elliott had proposed separating Samsung Electronics into a listed holding and operating companies. It then suggested what was effectively a share swap between the HoldCo and OpCo. It also put forward a merger of the HoldCo with another affiliate, Samsung C&T.
Samsung's belated move in this direction smells of fear.
The ground in South Korea is shifting and corporate governance is primed for an overhaul, as the recent events at Korean Air Lines Co. owner, Hanjin Group, and Hyundai Motor Co. show.
In addition, Korea's Fair Trade Commission, a quasi-judicial body run by a corporate governance firebrand, is upping the ante. It's demanded chaebol get their act together by unwinding complex shareholding webs and cutting intra-company transactions.
The nation's fair trade law broadly mandates that voting power can't be concentrated, and prohibits debt guarantees within affiliate networks. Meanwhile, shadow voting was banned in Korea this year, a practice that had allowed the exercising of voting rights on behalf of absent investors.
To be sure, Samsung has been making changes since it announced its long-term shareholder value plan in November 2016, albeit slowly.
But it's also now dealing with the fallout of a bribery scandal that landed family scion Jay Y. Lee in jail, and a reputation that hasn't quite recovered.
The outlook for Samsung is fair but there are concerns the memory chip cycle is peaking and its mobile phones business is slowing. That's been a drag on the stock, which is trading at 7.3 times forward earnings, the lowest in almost four years.
If Samsung doesn't take action on the corporate governance front, it risks being left behind. Chaebol that have restructured in one way or another generally outperform the nation's Kospi Index, and Goldman Sachs Group Inc. has found that to be especially true in the years immediately before and after the revamp.
Two years ago, Samsung managed to shake off Elliott when it tried to block a merger of Samsung C&T and Cheil Industries Inc. The balance of power is shifting, though.
Hyundai Motor is taking the hint. Elliott's demands there have been similar – raise dividends, scrap treasury shareholdings and simplify the corporate structure. Hyundai has so far obliged by promising a higher payout and canceling around $900 million of treasury stock for the first time in more than a decade. That could push the company's dividend payout ratio on its common shares up to over 40 percent, from around 28 percent last year. Hyundai has acquiesced far quicker, too.
During the latest Korean earnings season, proxy vote exercise rates increased almost 50 percent, while dissent rates for the seven largest domestic asset managers doubled, according to CLSA Ltd. analysts.
Samsung needs to get on board. Those gates won't hold forever.
To contact the editor responsible for this story:
Katrina Nicholas at knicholas2@bloomberg.net
Before it's here, it's on the Bloomberg Terminal.
LEARN MORE