a little knowledge
Ignorance Is Bliss in Trump's China Trade Fight
The radical agenda of his better-informed advisers is far more dangerous.
By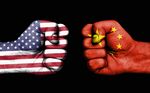 It's a commonplace of U.S. policy discussions to lament the way President Donald Trump is broadly ignorant of detail and given to rash decisions based on gut instincts.
In the case of the on-again, off-again trade battles with China, that tendency is an asset, not a liability. It's the well-versed policy wonks the world needs to worry about.
For much of this week trade tensions seemed to be in abeyance, as attention moved toward Syria and the Mueller investigation, while the weak-tea concessions in a speech by President Xi Jinping appeared to placate his U.S. counterpart.
The ceasefire seems to be over. Almost simultaneously with news that Trump has ordered officials to explore re-entering the Trans-Pacific Partnership deal he excoriated as a candidate, the Wall Street Journal reported that the Treasury Department and the Office of the U.S. Trade Representative are planning ways to ratchet up pressure on Beijing again: 
... the Treasury Department is crafting sharp prohibitions on Chinese investment in advanced U.S. technology, whether by acquisition, joint ventures, licensing or any other arrangement, according to a senior administration official. The agency is targeting China's subsidization of domestic industries to turn them into so-called technology national champions, the official said.
That speaks to a set of complaints similar to the ones laid out in Trade Representative Robert Lighthizer's January report to Congress on China's World Trade Organization compliance. The report was heavy on criticisms of Beijing's role in the economy and the industrial policy that guides its Made in China 2025 plan, a road map to increasing indigenous innovation in key technology industries.
Lighthizer, a seasoned trade lawyer who brawled with Japanese negotiators in the 1980s, has some justification in leveling those complaints. As Gadfly argued last month and my colleague Tim Culpan wrote this week, China's claims to be a bastion of free trade don't really pass the laugh test. But those waging wars need to ask not just if their conflicts are justified, but whether they're winnable.
That's the risk in the current situation. The core of the complaint about China's trade regime from wiser heads in the U.S. is that support for state-owned enterprises and government industrial policy are incompatible with claims to be a market economy, and thus with WTO membership. But such dirigisme is winked at in Europe, India and other parts of the world, while the U.S. itself employs more than 800,000 people in state-owned enterprises.
You can't base your political appeal on a promise to wield state power to bring blue-collar jobs back to America, and then complain that other countries have their own industrial policies.
What the world economy needs right now is a step back from the drumbeat of trade war that has roiled financial markets for the past three months. With his impatience, disregard for detail and desire to seek easy political victories, President Trump may be the perfect person to strike such a deal with his "friend" Xi.
What the best and the brightest in Washington want, however, is far more radical: For Xi to relinquish control over the economy at a time when he's just consolidated power to the greatest extent of any Chinese leader in decades. What they see as an overdue reform of trading relations is, for the Chinese Communist Party, an existential issue -- and American trade officials probably overestimate the U.S.'s ability to prevail should the conflict turn hot.
Xi sees China's destiny as avenging the "humiliation and sorrow" that followed the 19th century opium wars, the last time Beijing gave in to foreign bullying to open itself to free trade. Faced with that adversary, we should hope that ignorance and bluster in the Oval Office win out over the extremism of the president's sage advisers.
To contact the editor responsible for this story:
Matthew Brooker at mbrooker1@bloomberg.net
Before it's here, it's on the Bloomberg Terminal.
LEARN MORE