Shifting Sands
Trump Tariffs Stick It to U.S. Manufacturers
Firms might as well give back half of that $26 billion-a-year tax cut they just got.
By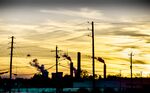 U.S. manufacturers have done pretty well out of the Trump administration.
While profits in the sector haven't quite matched the heady levels seen in President Obama's last years in office, they've been better than in almost any prior period.
Spending has been running hot. The most established gauge of expected manufacturing activity, the Institute of Supply Management's purchasing managers index, edged above 60 in February, a level that's been breached only a handful of times since the Federal Reserve brought inflation under control in the early 1980s.
Then there are the corporate tax cuts passed in December. Manufacturing is likely to be the single biggest beneficiary from the measures, adding $262 billion to the bottom line over the decade through 2027.
Such a handsome set of rewards had to come with some strings attached. The bill came due Tuesday, in the form of the latest front in the simmering U.S.-China trade war: A list of roughly a thousand separate products that U.S. Trade Representative Robert Lighthizer plans to subject to a 25 percent supplementary tariff.
In contrast to some of the initial skirmishes in this battle, the list appears to have been chosen with care. Officials started with all products felt to benefit from Chinese industrial policies, before removing those that were "likely to cause disruptions to the U.S. economy," those that would hit consumers' pockets hardest, and those that couldn't have levies for legal or administrative reasons.
The protection of individuals' wallets is probably the most important part of that. As Gadfly has argued, China has a substantial advantage in this trade war in that the majority of its biggest exports to the U.S. are consumer goods whose purchasers tend to be price-sensitive voters. Trade in the opposite direction focuses far more on intermediate products bought by Chinese companies expected to do their bit for Beijing. By sparing consumers, Lighthizer is sending a strong signal he won't let this fight be lost because of discontent on the home front.
That's why, while hundreds of product lines under tariff code 85 (electrical machinery and equipment and parts thereof) will be subject to a 25 percent impost, subsection 8517 -- mobile phones, which constitute about 40 percent of U.S. imports from China for that category -- won't suffer a cent.
Most of the pain will be felt in more obscure fields, such as 85322400 (ceramic dielectric fixed capacitors, multilayer), 85437042 (flight data recorders) and 85016200 (AC generators [alternators] of an output exceeding 75 kVA but not exceeding 375 kVA).
I'm only dimly aware of what most of those products are, let alone how potent they'll be in a trade war. But even without a line-by-line analysis there are two obvious problems with the list as currently constituted.
First is the fact that the plan will most likely hurt the parts of the economy it purports to help. Another way of looking at the $12.5 billion 1 that will be levied is that it's essentially the government taking back about half of that roughly $26 billion-a-year tax cut it just delivered to manufacturers.
Once you consider the ways domestic suppliers could raise prices in response to the reduced competition from China (as is already happening with steel and aluminum), the cost to end-product manufacturers will probably be higher. Producer prices in the sector are already rising at the fastest pace in almost six years; the squeeze to profits should intensify before it eases.
The second point is related. The list at present isn't written in stone -- instead it will be put out to industry consultation for 60 days. That gives manufacturers ample time to make their complaints to Washington, and to get their carve-outs in return. The Trump administration isn't famed for its resistance to such influence: 195 of the executive branch's 2,684 appointees are former lobbyists, according to a database by journalism nonprofit ProPublica.
Such pushback will probably be to the benefit of a U.S. economy that was doing perfectly well before the current skirmish came along. But it will weaken Washington's hand in the months ahead. The National Association of Manufacturers is already calling for a trade agreement, rather than the current path toward a conflict.
President Donald Trump must now choose whether his main objective is helping American manufacturers, or sticking it to the Chinese. He can't have both.
To contact the editor responsible for this story:
Katrina Nicholas at knicholas2@bloomberg.net
Before it's here, it's on the Bloomberg Terminal.
LEARN MORE