Shrinking Franchise
Deutsche Bank's Infighting Has a Cost
The bank is losing market share in areas it once dominated.
By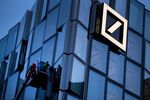 DEUTSCHE BANK AG-REGISTERED
+0.08
As of 2:03 AM EDT
JPMORGAN CHASE & CO
-1.83
At Closing, May 18th
As Deutsche Bank AG hurries to rearrange the deckchairs in its boardroom, the firm is losing market share in some of its most important investment banking divisions. If something doesn't change soon, there won't be much of a business left for its new directors to oversee.
In international bond underwriting, the largest fixed-income category for which Bloomberg compiles league tables, Deutsche Bank's market share slumped in the first-quarter to its lowest since the data begin in 1999. Back in 2012, a record year for international sales, the German lender commanded 6.66 percent of the market, second only to JPMorgan Chase & Co.'s 7.5 percent.
Midwifing the fundraising efforts of borrowers in the bond market is far from the most lucrative of investment banking activities. The average fee earned in the first three months of the year by the 280 or so banks involved in the international bond market was just 0.36 percent, while Deutsche Bank has garnered a bit more than 0.26 percent.
But managing bond sales ought to get your bankers in the room with corporate executives to build the relationships that lead to more lucrative customer business, such as mergers and acquisitions. So far this year, though, Deutsche Bank's position in the rankings of advisers on deals announced this year has fallen to thirteenth place, down from eighth in 2017.
It's not just in the bond market where Deutsche Bank is missing in action. A year ago, it led the pack in managing loans for companies in Europe, the Middle East and Africa. Now, it's down to fourth place after losing more than 3 percentage points of market share.
Maybe Deutsche Bank should focus harder on its home market. JPMorgan analysts Kian Abouhossein and Amit Ranjan argue in a research note Wednesday that scaling back the bank's U.S. operations would shrink a business that's suffered "persistently low profitability."
That would chime with a review the bank itself is undertaking of its trading business, Bloomberg News reported last week. Freeing up balance sheet resources would give Deutsche Bank more firepower to target on regaining market share in its domestic market.
For sure, it's early days. Three-quarters of the year remains for Deutsche Bank to rediscover its market mojo. But dissent at the top, where Chairman Paul Achleitner has mulled replacing Chief Executive Officer John Cryan after less than two years in the job, is clearly distracting the firm's rainmakers and clients. Little wonder the lender's shares are down by almost a third this year.
To contact the editor responsible for this story:
Edward Evans at eevans3@bloomberg.net
Before it's here, it's on the Bloomberg Terminal.
LEARN MORE