Spendthrift
IQiyi Investors Are China Content War Truce Believers
Profitability may be a way off for the content-streaming service.
By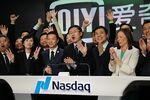 YY INC-ADR
-3.47
As of 12:44 PM EDT
Investors who bought into iQiyi Inc. during its initial public offering got a rude shock.
A 14 percent drop on day one made the Chinese content-streaming service the worst-performing technology debut on the Nasdaq Global Select Market in at least five years. (The list is otherwise dominated by healthcare and biotech firms.) Shareholders got some reprieve Monday when the stock rallied 1 percent.
Maybe it's not the rocky start that's a surprise, but the fact investors were interested in the first place. IQiyi, a Baidu Inc. spinoff, is unprofitable, and it doesn't look like the fundamentals will change any time soon.
Gross margins are razor thin because of the huge outlay required to make and acquire content. They've even dipped into negative territory twice in the past six quarters. That metric got a nice bump in the fourth quarter, but I wonder whether that's thanks to some pre-IPO juicing. Almost half the $2.25 billion raised will go toward content development.
IQiyi is also facing stiff competition from rivals backed by Alibaba Group Holding Ltd. and Tencent Holdings Ltd., along with a plethora of live-streaming offerings from the likes of YY Inc., Momo Inc. and 17Media. So it's unlikely the Beijing-based firm can take its foot off the spending throttle.
IQiyi may need around $16 billion of new capital through either debt or equity, according to Bernstein analyst Bhavtosh Vajpayee.
That makes CEO Yu Gong's comments to Bloomberg's Selina Wang a little bewildering:
"After eight years of development, iQiyi has a very mature business model."
I guess that in his view, maturity doesn't actually require profitability.
Gong then said in a later interview that content costs will moderate and the era of irrationally intensive investments will soon be over.
If he's right -- and I wonder about his definition of soon -- then iQiyi still needs to boost gross margins while spending the money just raised and the $5.7 billion in current assets available at the end of December. Assuming operating costs are kept at the 23 percent averaged over the past six quarters, then gross margins must widen from an average 0.27 percent to more than 23 percent.
Netflix Inc. has managed such margins for at least the past decade, but then it pioneered the business model and doesn't face the same competitive pressures. Youku Tudou Inc. never managed to turn enough of a gross profit to cover operating expenses before it was bought by Alibaba in 2016.
Investors shouldn't underestimate the many distractions in China that compete for users' time. YY, for example, has increased its marketing spend to keep users on its platform.
This market is difficult to understand for those outside of Asia. What needs to be recognized, though, is that two battles are going on here: One among recorded streaming services such as iQiyi and Youku Tudou, and another among live-streaming operators such as YY and Momo. Think of the way Netflix not only competes with Amazon.com Inc., but also broadcast and cable TV.
This means iQiyi investors aren't just betting on a more rational recorded streaming market, but a truce in the entire content sector.
That will happen eventually, but shareholders need to decide how long they're prepared to wait.
To contact the editor responsible for this story:
Katrina Nicholas at knicholas2@bloomberg.net
Before it's here, it's on the Bloomberg Terminal.
LEARN MORE