Over the Moonves
CBS and Viacom Shouldn't Let Egos Stop a Merger
The network operators need each other as ratings fall and rivals join forces.
By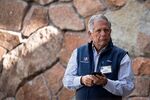 CBS CORP-CLASS B NON VOTING
-0.48
At Closing, May 22rd
VIACOM INC-CLASS B
+0.12
At Closing, May 22rd
The corporate governance problems at Sumner Redstone's empire are once again on full display.  
To understand how, you first need to know the background: The ailing 94-year-old and his daughter, Shari Redstone, control TV-network operators CBS Corp. and Viacom Inc. by way of their family's National Amusements Inc. (NAI) entity. With Sumner Redstone these days said to be barely able to speak and using an iPad to communicate, Shari has been calling the shots -- though whether those decisions have been in line with her father's wishes is part of the years-long drama surrounding the family and its inner circle.
In fact, a Wall Street Journal article Tuesday said NAI quietly updated its bylaws in 2016 to make clear that even though Sumner Redstone owns 80 percent of NAI's voting shares, he gets just a single vote among its seven directors in decisions tied to CBS and Viacom, such as a potential merger of the companies. 
Well, what do you know, Shari Redstone this year directed CBS and Viacom to explore recombining their businesses. Everyone seems to agree that -- for the sake of scale, cost containment and general survival in the age of cord-cutting -- this is the right move. But corporate infighting and egos are once again getting in the way. 
The powers that be at CBS and Viacom disagree about who should run the combined company, which I predicted in February would be the sticking point for a merger. According to a CNBC report Tuesday, CBS CEO Les Moonves -- who helped discourage the merger idea last time around in 2016 -- wants CBS chief operating officer Joseph Ianniello to remain his No. 2. But Shari Redstone would like to see that role go to Viacom CEO Bob Bakish, which makes sense.
Bakish took the helm at Viacom in late 2016, following a public spat between his predecessor Philippe Dauman and Shari Redstone that led to Dauman's ouster. Bakish has since made some progress turning around networks such as MTV and Nickelodeon, when many analysts and investors saw little hope. At 54 years old, and with Redstone now in his corner, Bakish would make an obvious successor candidate for Moonves, 68, who may run the merged company for at least two years and then retire.
CBS and Viacom don't have time for another round of ego-driven wrangling when TV ratings are falling and rivals are joining forces. Walt Disney Co. has already made its move for Twenty-First Century Fox Inc.'s entertainment assets and Sky Plc, a complex situation that has also drawn Comcast Corp. into the mix.
Discovery Communications Inc., backed by dealmaker John Malone, recently completed a takeover of Scripps Networks Interactive Inc., the parent of HGTV. Time Warner Inc. will be even more powerful in the hands of AT&T Inc., should the judge in that antitrust case let the deal proceed.

CBS shares have taken quite a hit over the past year as both companies suffer ratings pressure. However, reports that CBS is nearing an all-stock takeover bid for Viacom at below the market price lifted CBS about 3 percent Tuesday. Unless Redstone is willing to see CBS or Viacom sell to a rival or industry interloper such as Verizon Communications Inc., it would seem the network operators need each other -- at the least. Putting them together may also make the assets more attractive to a suitor down the road.
Moonves is well-regarded by shareholders and the industry for his leadership at CBS, and he was even elevated to chairman two years ago. But as chairman and CEO, he has a fiduciary responsibility to all shareholders, which would seem to translate into finally hammering out a deal with Viacom. Resisting Shari Redstone's wishes didn't work out so well for Dauman, so Moonves shouldn't assume he's safe in his perch. 
To contact the editor responsible for this story:
Mark Gongloff at mgongloff1@bloomberg.net
Before it's here, it's on the Bloomberg Terminal.
LEARN MORE