Ready Player One
It's Amazon's Turn in the Tech Hot Seat
There's a perception issue, and Trump's tweets aren't helping.
By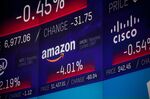 AMAZON.COM INC
+0.08
At Closing, April 25th
Wednesday was a bad day for Amazon.com Inc. shares, even though the company did nothing wrong. The computer-chip maker Nvidia Corp. didn't fumble an earnings forecast, but its stock tumbled this week, too. Facebook Inc.'s financial power hasn't weakened (so far), yet it has shed a Morgan Stanley worth of market value in two weeks. 
Right now, investors worry technology companies might succumb not to competition or business missteps, but to consequences of their own hubris or market power. It all feels overdue, but also odd. We've been writing for so long about the looming technology reckoning that it's surprising to realize investors finally care. 
Amazon's stock price fell 4.4 percent on Wednesday after Axios reported that President Donald Trump is "obsessed" with the e-commerce titan and imagines ways to curtail its power. In a tweet on Thursday, Trump confirmed that he's concerned about Amazon's impact on cities and states, the U.S. Postal Service and smaller retailers. In response, Amazon shares are falling in early trading.
Facebook has dropped since revelations that a political consulting firm took advantage of the company's formerly lax data rules. Nvidia shares are down almost 10 percent this week after the company said it would suspend tests of driverless cars on public roads in response to an Uber autonomous car hitting and killing a pedestrian. (Nvidia provides technology for Uber's autonomous cars.)    
These companies aren't all faultless victims. Amazon is not a cuddly charity. Years of Facebook's cavalier attitude about data privacy and the downsides of its social network have created this crisis. Right now, though, investors are realizing that tech companies are so big, pervasive and economically important that suspicion is a permanent fact of life now, and backlash has become a real cost of doing business. 
I was both surprised, and not, at Amazon's stock reaction. The U.S. president's antipathy for Amazon or CEO Jeff Bezos is no secret. Last summer, Trump tweeted a not-quite-accurate criticism about Amazon's tax payments. He also said previously that Amazon had a "huge antitrust problem," and tweeted that the company is hurting U.S. cities and states. In December and again in Thursday's tweet, Trump said the U.S. Postal Service's finances were hurt by its business with Amazon. (That one is more complicated than 280 characters can convey). It's tough to know whether Trump truly believes Amazon is causing harm, or whether he harbors a grudge against the Bezos-owned Washington Post. Maybe both. 
Trump isn't alone in questioning Amazon's power, but there's not an easy legal weapon to wield. Axios said Trump has "talked about changing Amazon's tax treatment," but it's not clear how tax changes could specifically target Amazon. 1 The company is well-regarded by consumers. Amazon is a  bogeyman of many industries, but it only captures perhaps a few percentage points of total U.S. retail spending. Conventional approaches to antitrust law don't apply easily to Amazon, although some academics have said the applications of the law need to change. And needless to say, the White House doesn't directly control U.S. antitrust authorities. 
Assuming Trump's tweet barrage against Amazon doesn't continue, the company's stock decline is likely to be short-lived. But investors' temporary panic is understandable. It's far better for powerful tech companies like Amazon to fly under the radar right now. Apple and Amazon should have sent thank-you cards to Mark Zuckerberg for drawing 100 percent of the fire recently from members of Congress, global regulators and skeptical tech journalists. But the fresh glimpse at Trump's thinking showed that there's plenty of unwanted attention to go around for the tech giants. 
There's also general investor rethinking -- not for the first time -- about the tech concentration in the stock market after several years of outsize gains in the sector. As with market reaction to the tech backlash, this has little to do with the tech superpowers' current businesses, which remain solid. Nothing has changed. Except everything has changed.
A version of this column originally appeared in Bloomberg's Fully Charged technology newsletter. You can sign up here.
In a White House press briefing on Wednesday, a spokeswoman said the Trump administration isn't considering specific policy changes directed at Amazon. 
To contact the editor responsible for this story:
Daniel Niemi at dniemi1@bloomberg.net
Before it's here, it's on the Bloomberg Terminal.
LEARN MORE