The $50 Million-Plus Crowd
Super-Wealthy Brits Are Disappearing
The U.K.'s $50 million-plus crowd shrank last year.
By and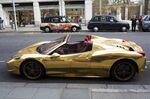 Jeremy Corbyn isn't even prime minister, and Britain's ranks of the super-wealthy are already thinning out. The U.K. was home to just 4,580 lucky people with a net worth of more than $50 million last year, according to real estate firm Knight Frank. That's 2 percent fewer than in 2016 and a 6 percent decline over five years. The striking thing about the U.K. drop is that it happened as the global ranks of the $50 million-plus crowd swelled by 10 percent to almost 125,000, as our Bloomberg News colleagues reported.
Of the countries included in the survey, Nigeria, Turkey and Egypt were the only others to see a year-on-year decline.

None of this is to say that Britain's allure to the private jet class has been fatally compromised by Brexit (yet) or the robust polling for Corbyn's ever-more Socialist opposition Labour Party, at least not yet. Figures culled by Knight Frank from the Bank for International Settlements show the U.K. was second only to the U.S. in terms of increased money flows into the country from "non-banks." 1 The number of super-wealthy Brits is still expected to increase by another 16 percent by 2022, according to the report.
Given that inequality is fueling populism around the world, some would argue that it might be better if the numbers didn't surge again. If Corbyn manages to win on his platform of punitive taxation and nationalization, they almost certainly won't.
To contact the editor responsible for this story:
Jennifer Ryan at jryan13@bloomberg.net
Before it's here, it's on the Bloomberg Terminal.
LEARN MORE