Singer v. Bollore
Billionaire Singer Is a Welcome Addition to Italian Drama
Anything that dilutes Bollore's control at Telecom Italia would be a good thing politically.
By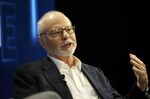 TELECOM ITALIA SPA
+0.00
At Closing, June 18th
VIVENDI
-0.14
At Closing, June 18th
Activist hedge fund Elliott Management Corp isn't letting a messy Italian election get in the way of a golden opportunity. According to Bloomberg News, it is building a stake in Telecom Italia Spa -- a fiendishly complicated tangle of vested interests that includes billionaires, politicians and unions.
The move would put Paul Singer's outfit on the opposite side of the table to fellow tycoon Vincent Bollore, the smart and connected Frenchman whose Vivendi SA controls the Italian operator. Not the easiest bargaining partner. Still, it might offer hope to Telecom Italia's poor shareholders, provided Elliott can navigate the politics.
Investors could certainly use a counterweight to media group Vivendi, which controls 10 out of 15 board seats even though it owns just 24 percent of Telecom Italia. This stranglehold has caused unease in Rome, leading the Italian operator down some unhelpful paths. Regulatory pressure is set to force a spin-off of the company's valuable landline network -- an asset deemed of strategic national importance. Meanwhile, Bollore's attempt to build his broader media empire caused a spat with Silvio Berlusconi over a pay-TV deal gone sour.
As long as its involvement doesn't just add to the strategic confusion, there's a potential role for Elliott. Its past work with Berlusconi might help.
Much will depend on how the hedge fund communicates with politicians and the public, if it stays the course. Telecom Italia's minority shareholders have seen the share price fall nearly 30 percent in three years, so they will be willing listeners. Bollore's relations with other stakeholders such as regulators and staff have been uneasy at times. 
Still, he has a lifetime experience navigating the country's corridors of power, and is trying to mollify the authorities. It's fair to ask how much Elliott could help with that.
Asset sales are a different story. Bollore seems to believe he has several years to coax a return on his investment in Telecom Italia. But the company is having to respond to the arrival of arch price-cutter Xavier Niel in the country. And it still has one of the industry's biggest debt piles.
Elliott would no doubt look again at the perennial question of whether to sell Telecom Italia's Brazil unit -- a jewel in the crown that accounts for about one-fifth of revenue. Local rivals such as Oi have circled the asset before. 
Having two canny investors on board might even be cast as good news for Telecom Italia's minority shareholders. Anything that lessens Vivendi's absolute control might make the company less vulnerable to political interference, according to Bloomberg Intelligence's Erhan Gurses. Nevertheless, this is not your average activist bet. Power games will count as much as profit. 
(
A previous version of this story said that Vincent Bollore is chairman of Telecom Italia. He is in fact chairman of Vivendi.
)
To contact the editor responsible for this story:
James Boxell at jboxell@bloomberg.net
Before it's here, it's on the Bloomberg Terminal.
LEARN MORE