Parent trap
Foxconn's China Bounty Might Be a Taiwan Headache
Not everybody will win in this fast-tracked Shanghai listing.
By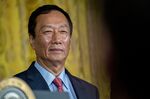 Labor in China is no longer cheap, but Terry Gou may have found a new way to profit from the mainland.
Gou's Foxconn Industrial Internet Co. is poised to list in China as early as April, just two months after filing an IPO application. Its Taiwan-traded parent, Hon Hai Precision Industry Co., will hold about 85 percent of Foxconn Industrial's shares, with around 10 percent held by the public.
This is speed-dating at its most efficient. At the time of its application Feb. 1, the Foxconn unit had less than the three years of continuous operation in China that is required for listing on the Shanghai main board. Foxconn's prospectus said it had already won approval from the "appropriate regulatory department" -- the State Council, according to the respected Caixin site -- for an exemption.
From filing its application to a review of IPO paperwork by the China Securities Regulatory Commission took Foxconn little more than a month, leapfrogging almost 400 companies on the waiting list. Some of the less fortunate applicants have been in the pipeline since 2015.
Foxconn is a perfect fit for Beijing's narrative as the National People's Congress gets underway this week. Technology entrepreneurs have a stronger presence on China's political scene than ever before. Last week, the government unveiled sweeping plans, from tax benefits to co-investment in state-owned enterprises, to draw Taiwan businesses closer to the mainland.
For Gou, the mainland valuation prospects are mouthwatering: Retail investors will buy anything with a strong brand and a tech focus.
The Foxconn boss could look to 360 Security Technology Inc., previously known as Qihoo 360 Technology Co., for inspiration. Through a backdoor listing, the maker of online security software is now trading at 143 times forward earnings and has a $53 billion market cap, making the company's $10 billion take-private deal from New York well worth the trouble. Its founder, Zhou Hongyi, is China's 12th-richest person with a net worth of $13.6 billion, according to Venus Feng and Blake Schmidt of Bloomberg News. 
With tech titans Apple Inc. and Amazon.com Inc. as its key customers (the top five clients accounted for 73 percent of Foxconn Industrial's business last year), Gou's company looks like a tier one global player. And Foxconn Industrial is a lot more profitable than 360 Security.
In addition, the five large-cap tech hardware companies listed in China trade between 16 and 47 times past earnings, data compiled by Gadfly show. The Foxconn unit could be worth anywhere from $35 billion to more than $100 billion. 
So it's entirely conceivable that Foxconn Industrial will have a bigger market cap than its Taiwan parent, whose shares have lagged behind the broader market. Hon Hai now has a market cap a little above $50 billion and trades at 11 times earnings.
In no time, Gou -- and Hon Hai's shareholders -- will point to the China unit and argue the Taiwan company is severely undervalued.
But if history is any guide, that will be a hard sell. Look at chipmaker MediaTek Inc., which until November 2017 held 20 percent of Shenzhen Huiding Technology Co., a maker of components for smartphone recognition systems under the name Goodix. When Goodix took off after a Shenzhen listing in October 2016, not only did MediaTek's shares fail to follow suit, they languished.
After all, Taiwan is not part of China, and the two stock markets are very different in terms of liquidity and investor preferences. While China lacks technology companies, Taiwan has too many of them.
Foxconn's A-share listing may look like a huge success for Gou, but he'll have to try harder to convince Taiwan and global investors.
(
Fixes title of National People's Congress in fifth paragraph.
)
To contact the editor responsible for this story:
Paul Sillitoe at psillitoe@bloomberg.net
Before it's here, it's on the Bloomberg Terminal.
LEARN MORE