Gadfly
Throwing Your Predecessor Under the Bus
LafargeHolcim's new leader is exorcising the ghost of Lafarge.
By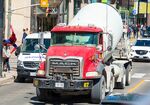 LAFARGEHOLCIM LTD-REG
+0.02
At Closing, March 16th
Three years after the Franco-Swiss mega-merger that created LafargeHolcim Ltd., the new guard is having no qualms about throwing the former Lafarge business under the bus.
In the run up to the deal that created the world's largest cement maker, Holcim of Switzerland went out of its way to be diplomatic: the French got precedence in the new name; Lafarge CEO Eric Olsen assumed the same role at the combined business; and dual listings and headquarters were maintained in France and Switzerland.
Then, allegations emerged last year that Lafarge managers made payments to armed groups in Syria in return for keeping a cement plant running. Olsen was forced to resign, and subsequently charged by French authorities with funding terrorist groups. (He said at the time he wasn't involved in or aware of any wrongdoing.)
In his stead came Jan Jenisch, a veteran Swiss manager under whose leadership shares of competitor Sika AG rose more than threefold over five years. On Friday, he unveiled his five-year plan to revive the fortunes of LafargeHolcim, whose shares have fallen more than 20 percent since the merger was completed.
Amid the growth pledges, which were largely in line with those of previous years, came a 3.8 billion Swiss-franc ($4.1 billion) writedown of assets in Algeria, Malaysia, Iraq, Brazil, Indonesia and Egypt. An examination of the respective capacities of the two companies in 2014, the year before the merger, shows that the majority of the production capacity in those countries belonged to Lafarge.
So why didn't his predecessor recognize the impairment? Perhaps it was easier for an outsider. The top of the company now looks very different from the team which initially engineered the deal and took the reins immediately afterwards. The chairman, CEO and CFO have all changed.
The company's center of gravity seems to have shifted to Switzerland, with Holcim emerging as the senior partner in what was originally structured as a merger of equals. While there are fears in France that the company may shutter the Paris headquarters, Jenisch promised on Friday that there were no plans to do so.
Jenisch's record at Sika is admirable, and exorcising the ghosts of Lafarge is a significant first step in his new role. Divesting businesses valued at more than 2 billion francs and focus on core markets should help to reduce costs in time. But targeting annual net sales growth of 3 percent to 5 percent through 2022 seems unambitious. That's a sign of how difficult it can be to wade through wet concrete.
To contact the editor responsible for this story:
Edward Evans at eevans3@bloomberg.net
Before it's here, it's on the Bloomberg Terminal.
LEARN MORE