Charted
European Companies' Alarming Leverage
Why indebtedness is going to be a key problem for the region's corporates.
By and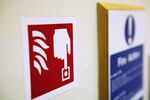 Much has been written recently about whether companies are going to look overstretched as monetary policy is tightened and bond yields rise.
Some excellent research on European non-financial corporates by our Bloomberg Intelligence colleagues Laurent Douillet and Tim Craighead shines more light on the subject. It's a slightly worrying picture.
First off, they looked at cumulative free cash flows over the five years between 2012 and 2016, and then compared them with shareholder payouts and M&A spending. In every sector, except telecoms, free cash flow was exceeded by combined dividends, buybacks and deal-making, as this chart shows:

Consumer companies, drugs makers and industrials have splurged the most on dividends and takeovers. When you take a first glance at leverage, this doesn't appear to be the end of the world. When you look at the most recent period, net debt to Ebitda looks pretty undemanding, except for the utilities -- which are something of a problem child in Europe generally. Even if you look at free cash flow as a proportion of total debt, utilities are probably the only real outlier.

Yet if you take a stricter view of what makes up debt, and include pension deficits and operating lease obligations, things start to look less benign. Operating leases are something that Gadfly's Chris Bryant has looked at before, as companies will have to include them as part of their assets and associated debts when the new IFRS 16 accounting rules come in next year.
If you use an adjusted measure of debt by including pensions and leases, as our BI colleagues have done, you get this:

As you can see, health care and consumer staples look much more stretched. And these are industries that have been the most active in terms of deals as firms strive to bolster their revenue. So the result will probably be fewer of the AB InBev-type mega-deals of the past few years and more bolt-ons, as investors demand that they prioritize debt repayment and dividends. Shareholders will also take a dim view of acquisitions with monster premiums, as French drugmaker Sanofi has discovered to its cost.
For big mature companies whose only real path to growth is through acquisition, this may become a problem.
To contact the editor responsible for this story:
Edward Evans at eevans3@bloomberg.net
Before it's here, it's on the Bloomberg Terminal.
LEARN MORE