Pay Pain
Imagine a World with No Bank Bonuses
Might shareholders and employees actually be better off?
By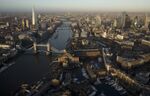 In the financial world, bonus disappointment is cause for anguish, outrage, and sometimes a job change. Rather than enjoy guides on how to splurge on a foreign bolt-hole, victims are left instead to write pseudonymous columns about how Jeremy Corbyn's views now pervade the corner office.
When even Deutsche Bank AG pays bonuses, it seems unfair not to get what you think you deserve. But what if we lived in a world without bonuses? 
Think about it: A job with a fixed salary, above current levels, with dollops of long-term incentives paid out over decades. There would be a pension, and corporate perks -- and that's it.
No more door-slamming, Corbyn-baiting, property-boosting windfalls, and perhaps even a slightly less yawning gender pay gap. The debate so far has been restricted to what kind of limits, if any, should be applied to variable compensation. European regulators already cap bonuses at twice base pay with shareholder approval. The City of London has bristled at this. Even Mark Carney has suggested it could be reversed.
But there are some banks that voluntarily don't pay bonuses, like Sweden's Handelsbanken. There, pay is almost all fixed, isn't tied to sales targets, and the company's incentive plan only pays out when an employee turns 60.
Before you scoff at the idea of a bank stuffed with lazy jobsworths, note that Handelsbanken's stock has doubled in ten years, while the European sector's has halved. The bank's U.K. head Mikael Sorensen says a life without bonuses is "wonderful."
There are also banks that don't pay bonuses because, well, they can't. Firms bailed out by the Irish taxpayer were banned from paying bonuses and salaries were capped at 500,000 euros.
Sure, competing on the world stage with pay caps can make hiring "difficult" -- that's how Allied Irish Banks put it last year -- but investors still lapped up AIB's IPO. Its shares even trade at a premium to book value, unlike many of peers.
Does this mean every bank should follow suit? There are objections. Some argue No Bonus Bank would bleed star performers. But, if salaries remained competitive, many of the people left behind would be those who actually wanted to do the job. Psychologist Dan Ariely's research suggests offering short-term financial incentives to people who don't actually want to do the work can actually lead to worse, not better, performance.
You might also imagine No Bonus Bank would have a lower tolerance for risk than rivals, and that's no bad thing. In the run up to the crisis, traders were tempted to be more aggressive in the short term, safe in the knowledge they could jump to an equally lucrative job elsewhere before long-term losses materialized. A reward program stepped over many years could help blunt that.
A 2014 Cornell Law paper found that the more a bank used short-term incentive packages for non-executive staff (ie traders) from 2003 to 2006, the greater the boost to its excess shareholder returns during 2007-2009 -- but also, the greater the hit to the market value of the bank's assets, relative to their book value. A reliance on short-term pay incentives led to inefficient behavior and risk management, according to the paper.
Now, clearly, not every bank can afford to inhibit the risk impulse. There may be less incentive to take good, profitable risks if all rewards are the same. But do all employees beyond a tiny core of risk-takers need variable pay?
Handelsbanken, for example, only allows about 2 percent of employees to depart from the no-bonus rule -- and they can't earn fee-based profits or deal in transactions that subject the bank to credit, market or liquidity risk. Now consider that 64 percent of high-earning bankers in Europe have a material impact on institutional risk, according to regulators. Is a bonus the best form of remuneration for them?
Deutsche Bank CEO John Cryan once said he had no idea why he was offered a bonus. Shareholders would be within their rights to ask why so many bankers are offered them.
To contact the editor responsible for this story:
Edward Evans at eevans3@bloomberg.net
Before it's here, it's on the Bloomberg Terminal.
LEARN MORE