Colonel's Blunder
KFC's Chicken Foul Up
How a change to the supply chain failure triggered chaos in the U.K.
By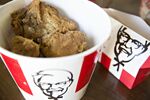 In the ranks of Valentine's Days breakups, this one will go down as one of the most painful in history.
KFC's decision to dump the company responsible for transporting poultry to the company's near 900 U.K. outlets caused chaos. Its new delivery partner, Deutsche Post AG's DHL, has struggled to get chickens into restaurants, leaving hungry customers disappointed. At one point, police even urged consumers to stop contacting them about the shortage.

Less than a week after the switch, two-thirds of KFC restaurants had closed. As of Feb. 21, just under a third remained closed. Even the open ones are operating with limited menus or shortened hours.
To put it in context: KFC generated almost 413 million pounds ($577 million) of revenue in the U.K. in 2016, the most recent year for which figures are available.
KFC has tried to contain the damage, blaming "teething" problems at DHL and mounting a cheeky social media campaign that includes inevitable puns about chickens crossing roads.
But it isn't a joke. The breakdown has lost the company revenue, many employees' wages -- and seen good chicken go to waste. It's a stark reminder of the risk a single point of failure in the supply chain can pose to an entire business, and of the responsibility managers have to mitigate it effectively. The Colonel has fouled up.
To contact the editor responsible for this story:
Edward Evans at eevans3@bloomberg.net
Before it's here, it's on the Bloomberg Terminal.
LEARN MORE