Same Old Story
Merck Does a Fine Deal, But Not the One It Needs
Instead of finding new growth sources, the drugmaker doubles down on Keytruda.
By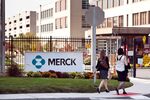 Merck & Co. Inc. just keeps doubling down on Keytruda.
On Wednesday, the company said it was paying A$502 million to buy Australian biotech Viralytics Ltd. It's a risky bet on early-stage trial data for a drug that could be a combination partner for Keytruda, the anchor of Merck's immune-boosting cancer-drug program.
As far as these deals have gone recently, this one is relatively cheap. Bristol-Myers Squibb Co. paid substantially more last week for limited access to a Nektar Therapeutics Inc. medicine with more heavily hyped early trial data. 
But Merck is overly dependent on Keytruda, which is expected to account for 14 percent of revenue in 2018 and 25 percent in 2022. And it seems laser-focused on deepening that commitment. Its previous big deal, the $137 million acquisition of Rigontec GmbH in September, was also IO-focused. Its licensing deal for AstraZeneca PLC's cancer drug Lynparza will generate revenue, but will likely only really pay off if the drug succeeds in combination with Keytruda. 
Keytruda is set to become the sales leader among the five FDA-approved drugs in immuno-oncology, but that has come at a cost. Merck's trailing 12-month R&D spending is the third largest in big pharma, ahead of companies that generate significantly more revenue. Merck noted on its latest earnings call that there are more than 700 registered clinical studies involving Keytruda.
There are worse drugs on which to depend. The use of IO medicines is expanding rapidly and may grow even faster if combination trials increase the addressable patient population. Merck is the current market leader for a reason. It's invested heavily and intelligently and has succeeded by running cautious trials while competitors have overreached. 
But no lead is safe in this market. Bristol-Myers was solidly in first place less than two years ago, before a large lung-cancer trial failed. IO trials are fundamentally risky. And given the success of medicines such as Keytruda when used alone, combination studies face a high bar to justify the higher expense of using multiple costly drugs. Merck's own trials could fail -- some already have --  or a competitor could find a combo breakthrough first. With five of these medicines on the market and more on the way, crowding is a real long-term concern. 
If Keytruda's potential is curtailed, then Merck is in trouble. Its diabetes franchise faces heavy competition. Its hepatitis C drug Zepatier is consigned to a small and heavily discounted share of a rapidly shrinking market. Remicade, Zetia, and Vytorin are off-patent. Parts of its vaccine business are growing, but that will be partially negated as shingles vaccine Zostavax is supplanted by a GlaxoSmithKline PLC alternative.
And the pipeline is thin outside of Keytruda. Merck recently canceled a highly anticipated late-stage Alzheimer's trial. There are some vaccines, a few other cancer programs, and a heart drug in late-stage trials. But there's nothing to particularly excite investors. The company is badly in need of other sources of potential growth. 
This isn't an abstract concern -- it's a weight on Merck's stock price. Shares still haven't recovered from Roche Holding AG's November release of positive data from a competing combination study in lung-cancer patients  -- even though Merck has since produced impressive combo data in the same group. 
Merck needs to make a concerted effort at something other than living and dying by Keytruda. 
To contact the editor responsible for this story:
Mark Gongloff at mgongloff1@bloomberg.net
Before it's here, it's on the Bloomberg Terminal.
LEARN MORE