Club Rules
Soho House Membership Is Closer than You Think
Adventurous IPO plans raise the risk of brand dilution.
By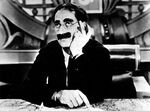 SOHO CHINA LTD
+0.05
As of 10:22 PM EST
LVMH MOET HENNESSY LOUIS VUI
-1.65
At Closing, February 22nd
Everyone knows Groucho Marx's old gag about refusing to belong to any club that would have him as a member. Here's a 21st-century twist: An exclusive  club that usually snubs financiers now wants their help to take it public.
Soho House is mulling a 1.4 billion-pound ($2 billion) IPO, according to Sky News. That would put it on the way to becoming the restaurant equivalent of luxury group LVMH or Kering. But that reported valuation -- about five times 2015 revenue, according to Moody's -- looks pricey, considering the firm's indebtedness and its ambitions to put a club on almost every posh street corner. Exuberant growth and strained finances risk leading to decisions that dilute the brand.
Soho House's most recent accounts show its U.K. arm lost money in 2016. The company is spending on new openings and refurbishments to keep its brand in growth mode. More than half of revenue comes from food and drink, meaning a lot depends on input costs and discretionary spending.
To be sure, this is a rare global brand that, for the time being, has kept its aura of exclusivity. Soho House has about 18 outlets around the world in cities like Mumbai and New York, and has a long waiting list to boot. The success of its new banker-friendly venue The Ned in the City of London shows there is still latent demand for what it's selling. The U.K. business had a gross margin of 82 percent in 2016. That's close to the LVMH and Kerings of this world and indicates it clearly has pricing power over its members. This is all attractive to potential investors.
The problem lies with identifying the point at which break-neck growth becomes self-defeating for a brand that has no Hermes handbags to call its own. Soho House has plans to open three or four more venues annually, according to the Financial Times. Does the model of swimming pool, hotel and members' club work in every global city? Brand dilution hasn't happened yet, but in time it could.
A smaller club might ask members to invest in the business or pay more in subscription fees; a bigger brand might have the strength to focus on costs or find a more efficient operating model. Soho House risks being caught between the two. The day it finds itself reined in by shareholders may well be the one it starts to annoy its creative membership by raising its fees or letting almost everyone join -- even, whisper it, bankers.
To contact the editor responsible for this story:
Edward Evans at eevans3@bloomberg.net
Before it's here, it's on the Bloomberg Terminal.
LEARN MORE