Panic Attack
Don't Worry About Bonds Just Yet, Stock Investors
Yields have a way to go before they disrupt equities.
By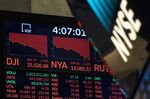 Stock investors need to pause and catch their breath after the great market freakout that caused stocks to plunge last week.
The Dow Jones Industrial Average fell an ominous nearly 666 points on Friday, or 2.5 percent, capping the worst week for the market since early 2016. There were a number of reasons for the sudden panic -- poor tech earnings, ugly politics, rising inflation -- but the biggest concern, it appeared, was interest rates. Bond yields have been rising rapidly. The yield on the 10-year Treasury hit 2.84 percent on Friday. It started the year at just 2.4 percent and was as low as 2.1 percent in early September.
That's scary stuff for stock investors (and bond investors, too, but that's another story). Bond yields are important to the direction of stocks for two reasons. One is the substitution factor -- investors might switch their money to bonds if the yield climbs high enough. But more important, higher interest rates make future earnings worth less, causing stocks to fall.
So investors should be worried about higher interest rates, just not yet. The reason is the earnings yield, which is the inverse of the price-to-earnings ratio. The earnings yield for stocks, even after their amazing run-up in the past year and a half -- and factoring in Friday's drop -- is a relatively high 5.6 percent. That's still double the interest rate on the 10-year Treasury.
Stocks should have an implied payout that is higher than bonds because they are riskier. It's when the relationship has flipped that stocks have had problems. In 1987, the stock earnings yield dropped to 4 percentage points below the 10-year Treasury. In 2000, it was a negative 3 percentage points. The spread never dropped into negative territory before the stock crash during the financial crisis era, but it did shrink to just 1.4 percent at the height of the market in 2007. The spread between stock and bond yields is double that now.
To get to where stock yields were relative to bonds before the financial crisis, 10-year Treasury yields would have to rise to 4.2 percent, or stocks would have to rise an additional 35 percent, or to roughly 35,000 on the Dow, not factoring in earnings, which have recently been rising in the double digits. That's a long way off on both accounts. Stocks have been on quite a run recently, so they are vulnerable to a few stumbles. But bond yields have a long way to go before they should be able land anything other than a glancing blow.
To contact the editor responsible for this story:
Daniel Niemi at dniemi1@bloomberg.net
Before it's here, it's on the Bloomberg Terminal.
LEARN MORE