Mountains and Molehills
An Ant Financial IPO? Not So Fast
There's a reason Alibaba is buying an equity stake, but it's not that.
By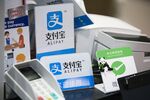 ALIBABA GROUP HOLDING-SP ADR
+4.54
At Closing, February 23th
A mega IPO from the world's largest fintech unicorn? Don't bet on it.
Alibaba Group Holding Ltd. said Thursday it plans to acquire 33 percent of its affiliate Ant Financial in exchange for certain intellectual property rights. When the deal closes, the companies will end the profit-sharing arrangement by which Ant pays royalty and other fees equaling 37.5 percent of its pretax profit to Alibaba.
The news sparked speculation Alibaba may be planning to take Ant public. The owner of Alipay was last valued at $60 billion, making it the world's second-most-valuable startup after Uber Technologies Inc.
But a look at Ant's earnings doesn't make the case that it's ready for a share sale. In the quarter through Dec. 31, Alibaba received a payment of 193 million yuan ($31 million) from Ant, down from 2 billion yuan in the September period. That's a 90 percent drop. Alibaba said that subsidy payments to acquire new Alipay users were behind the decline.
The nagging question is why Alibaba is doing this now, when it's had the option to buy into Ant since 2014. 1
Ant's business is facing some challenges. My guess is Alibaba management can see this is a company that can't afford to be paying out 37.5 percent of pretax income in the form of a dividend. In taking an equity stake, it's lending a helping hand.
As I wrote in December, Ant must navigate an increasingly complex web of rules covering everything from micro loans to the billions of dollars of client money it holds in escrow. Regulators in China tend to leave flourishing sectors like fintech alone, until they don't -- then out comes the wooden paddle.
Until recently, micro lending was very lucrative. Ant's two micro-lending subsidiaries have over the past year packaged up thousands of consumer loans and sold them to institutional investors in the form of asset-backed securities. As a result, in the first nine months of 2017, one of the units, Jiebei, generated 5.3 billion yuan of operating profit on just 3.8 billion yuan of capital. According to Bernstein Research, consumer lending accounts for almost 20 percent of Ant's income.
The milk in that cash cow turned sour in December, when Beijing said Ant couldn't issue ABS exceeding 2.3 times its total capital. Now, to grow its micro-lending business, Ant needs to inject cash. In mid-December, Ant raised Jiebei's registered capital to 12 billion yuan.
Other areas of Ant's empire are under pressure. Because of Alibaba's dominance in e-commerce, Ant holds billions of dollars of client money in escrow, on which it can earn substantial interest income. But 12 months ago, the People's Bank of China ruled that all third-party payment platforms must deposit 20 percent of those funds in non-interest-earning reserves at designated banks. That threshold may be raised to 50 percent this year. This easy money used to comprise about 17 percent of Ant's revenue.
Don't think I'm all down on this deal, however.
Were Ant to IPO, investors in Asia, and possibly beyond, would have a chance to buy into China's dominant mobile-payments provider. And while middle-class consumers may not want the cheap stuff on Alibaba's Taobao, no doubt we'll all be using Alipay one day for everything from train tickets in Hong Kong to taxis in Singapore and clothes shopping in Osaka.
U.S. investors have been advocating for years for an Ant IPO to unlock the so-called conglomerate discount. What they need is patience. Ant's financials may not be looking so rosy now but this is a company with huge potential. It could one day become even bigger than Alibaba itself. Now that would be a share sale worth waiting for.
To contact the editor responsible for this story:
Katrina Nicholas at knicholas2@bloomberg.net
Before it's here, it's on the Bloomberg Terminal.
LEARN MORE