Highflier
Boeing Just Needs to Stay Out of Its Own Way
Its climb is even more impressive in the context of its extra-curricular setbacks.
By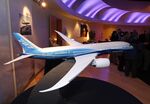 BOEING CO/THE
-1.42
At Closing, February 16th
BOMBARDIER INC-B
+0.09
At Closing, February 16th
What goes up must come down, unless we're talking about Boeing Co.
The planemaker -- now also the biggest U.S. industrial company after doubling its market value over the last year -- reported fourth-quarter results on Wednesday that were nearly perfect. The recently passed U.S. tax legislation contributed an outsized $1.74 to Boeing's fourth-quarter earnings per share, equating to a roughly $1 billion of extra profit based on its most recent share count. Boeing expects its effective tax rate next year to be just 16 percent, well below the 21 percent corporate rate targeted by the tax bill. 1
Even without the tax benefit, Boeing earned more than anticipated as aircraft deliveries surge. Its outlook for 2018 is also impressive, partly because of the tax bill but also owing to its knack for finding new ways to drive sales and cash flow higher just as analysts start to worry expectations have exceeded the reality. Boeing thinks revenue may reach $98 billion in 2018, implying a growth rate under new accounting standards that's roughly four times greater than what analysts had been modeling. Talk about an over achievement. Next year is set to be Boeing's first year of sales growth since 2015 as new models start to recoup the revenue lost via a slowdown of output for its 777 jetliner.
Boeing shares were up about 6 percent in mid-morning trading on Tuesday, blowing past analysts' average 12-month price target … again. Setting parameters for Boeing's stock price these days is akin to a wild goose chase, and the goose is winning.
Its climb is even more impressive in the context of Boeing's extra-curricular setbacks. The company waged an ill-advised trade war with Bombardier Inc. over its C-Series jet, successfully convincing the U.S. Commerce Department to slap duties of almost 300 percent on the company only to have those tariffs vetoed by the International Trade Commission this month. Boeing doesn't have a regional-jet product that's truly comparable to the C-Series, as has become even more clear through its attempt to acquire Bombardier competitor Embraer SA of Brazil. 

Talks are still ongoing, but that deal has taken on an added importance for Boeing in light of the (predictable) backfiring of the trade dispute. Bombardier turned to Airbus SE for financial support as Boeing's claims of unfair competition essentially cut off its access to the U.S. market and new orders. Airbus's majority stake in the C-Series project makes it a much more significant competitive threat than if Boeing had just left the whole thing alone.
The Embraer deal isn't a horrible one, but it doesn't really fit with Boeing's stated goal of expanding into higher-margin services. That business saw revenue jump 17 percent in the fourth-quarter, contributing to the company's sales beat, and is a priority for investors.
Boeing's stock euphoria looks set to continue -- as long as it can stay out of its own way.
To contact the editor responsible for this story:
Beth Williams at bewilliams@bloomberg.net
Before it's here, it's on the Bloomberg Terminal.
LEARN MORE