Starbucks Falls Out of Step
By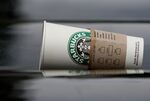 It would be an overstatement to say 2017 was a bad year for Starbucks Corp. But the coffee giant did start to look a bit less invincible.
It posted its slowest same-store sales growth since the Great Recession. It disappointed investors in November when it offered a lower long-term earnings outlook.
If that had you worried about Starbucks, then the company's first-quarter 2018 results probably didn't do anything to help your jitters. The company said Thursday that same-store sales increased 2 percent over a year earlier. That's not awful, but it means Starbucks has an uphill climb to hit the 3 to 5 percent growth in comparable sales it expects for the full year.
Look closely at the results for its Americas division, and there's more cause for concern. Last year, weak traffic in this segment was offset by customers ringing up bigger checks.
In the latest quarter, Starbucks got no closer to mending that problem, with transactions in the Americas flat compared to a year earlier. The lackluster traffic suggests Starbucks needs to work harder at its stated goal of turning itself into more of a lunch destination than just a place to slurp down caffeine. 
Plus, the great promise of Starbucks's much-lauded innovation in mobile ordering was that it theoretically let the retailer serve more customers per store. The soft traffic numbers raise questions about how well that is working.
The company has recently taken steps to keep the explosion of mobile orders from gumming up customer service. But I don't think we're seeing clear evidence it has ironed that out yet.
Starbucks urgently needs to fix these operational challenges. Mobile ordering, an innovation customers really like, is only going to further rattle the whole restaurant sector, particularly as delivery becomes an important battleground.   
Meanwhile, Starbucks's tepid results are particularly worrisome given the wider industry backdrop. The restaurant business overall has improved in recent months, with same-store sales rising after a long slump of declines or only meager growth.
It's not clear yet what propelled the change in momentum, but perhaps it's the same consumer optimism that pushed the non-food portion of the retail industry to its best holiday-season sales growth since 2010. 1
I had thought Starbucks would coast to strong U.S. sales this quarter simply because of this more-favorable environment. In fact, it struggled to get a piece of the action: On a conference call with investors, executives said limited-time holiday beverages, gift cards, and merchandise underperformed in the quarter. It's possible some competitors outgunned it. We should get some clarity on that in the next couple of weeks, when quick-service restaurants, including a resurgent McDonald's Corp., report earnings. 
At least Starbucks can take some comfort in its performance in China, where comparable sales jumped a healthy 6 percent over a year earlier. Given that the U.S. coffee market is extremely crowded, that division is an increasingly important driver of growth and profitability for Starbucks.
Sara Senatore, a restaurant industry analyst with Bernstein, points out in a research note that Western dining chains appear to be using KFC China -- which has more than 5,200 outposts -- as a template for how many locations the Chinese market can support. Starbucks, with about 3,000 stores in that country, has plenty of room for expansion. So while it may sound crazy that the coffee company says it is opening a new store every 15 hours in China, it doesn't appear to be going too far with its expansion plans -- at least for now.
A bigger business in China, though, can only partially solve Starbucks's problem. Its hardest challenge is in its home market, and I'm not convinced yet the company knows how to address it. 
To contact the editor responsible for this story:
Mark Gongloff at mgongloff1@bloomberg.net
Before it's here, it's on the Bloomberg Terminal.
LEARN MORE